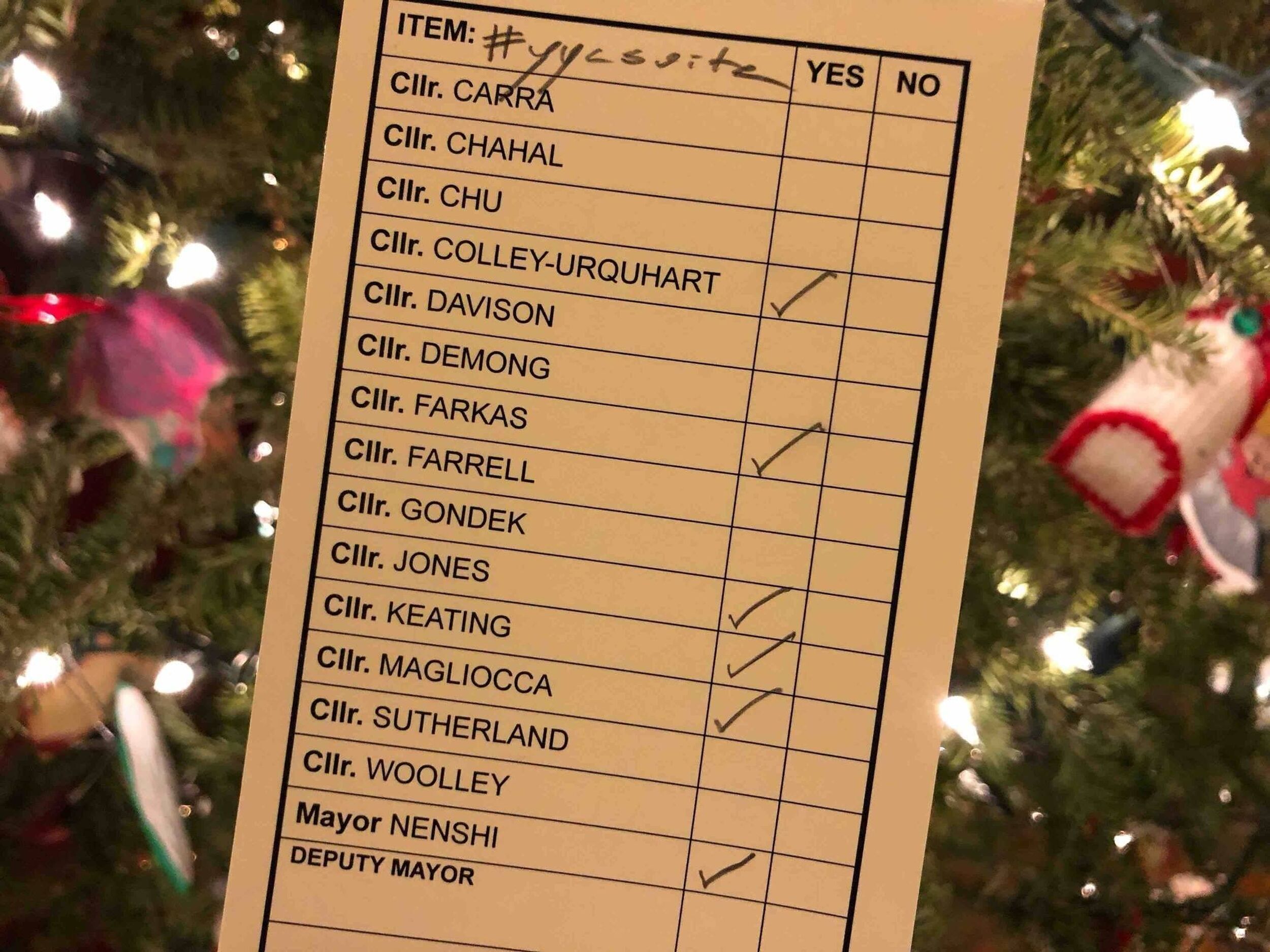 OPINION: It's time to (finally!) reform secondary suites
Could this be it? An early Christmas gift for Calgarians?
Could this be it? An early Christmas gift for Calgarians?
If all goes well at city hall on Monday, December 11, council will take its first steps toward citywide secondary suite reform. This has been proposed many times since 2010—and failed. But with a new council elected, and six council members joining to enact reform, it *might* actually happen this time.
The three-part motion going before council would: a) direct admin to report back with bylaw amendments that would make suites a discretionary use citywide (more on that below); b) make enrolment in the city's secondary suite registry mandatory, with visible tags on new units; and c) reinstate the fee for suite applications (council removed these fees in 2013 in an effort to encourage safe, legal suites).
The motion is a mixed bag, in other words. It could lead to a loosening of zoning rules but also add red tape. The Sprawl will be at city hall on Monday to report on the debate and vote. We're calling it Sprawl 2.1—a mini-edition of sorts, an extension of our budget coverage. Be sure to follow along on Twitter!
In the meantime, here are 7 reasons for councillors to (finally!) reform secondary suites.
Suites are really NBD (no big deal)! Calgary has clung to regressive suite rules even as cities throughout Canada and the U.S. have liberalized theirs—with no subsequent apocalypse. Past Calgary councils have made this issue more complicated than it needs to be. Contemplating even modest reforms, councillors furrow their brows and stroke their chins. "Hmmmm," they say, eventually balking at change. Well, stop it. This isn't that difficult. Don't pretend it is.
Suites are really NBD! What's on the table isn't radical. If anything, it's timid. The motion suggests making suites a discretionary use citywide, which is different than a permitted use. Discretionary use is still subject to approval and appeal — but it would no longer have to go through the city council rigamarole. Administration would make the call.
Suites are really NBD! During the civic election, candidates of all political persuasions agreed that Calgary's secondary suite process is broken, embarrassing and inefficient, having eaten up around 20% of council's time last year. Candidates varied on the details of how it should change, but there was consensus on the need to end the monthly circus that sees suite applicants plead their case before council. City council has big things to deal with. Applications for basement suites don't fall into that category.
Suites are really NBD! Opponents of suites repeatedly trot out the same bogeymen: more traffic, parking trouble and undesirables—or erosion of neighbourhood "character." Nonsense. "These claims appear to be largely based on fear, and have not been supported by academic literature," says a recent study on suites in The Canadian Geographer, authored by U of C academics Pernille Goodbrand, Tamara Humphrey and Jyoti Gondek (before she was elected councillor). "In fact, the opposite is often found. Suites provide social and environmental benefits, and very likely increase home values."
Suites are really NBD! Wanna talk parking? Let's chat. In 1971, Calgary households had, on average, 1.19 cars. By 1981 it was up to 1.5. By 2011, it was 1.85—and 2.44 for households of four. Where do these cars go once the garage/driveway is full? That's right: they spill onto the street. If you really want to deal with the proliferation of cars on residential streets, suites are the least of your worries.
Suites are really NBD! They help students go to school! They keep multigenerational families living together! (One in four suite applicants have family as their motivation, according to the U of C study.) They help homeowners pay off their mortgages! Good for cities, good for people.
Suites are really NBD! Suites are already allowed in new neighbourhoods and many inner-city communities — again, with no disaster to report. But most established neighbourhoods of single-family homes still require rezoning of each individual parcel of land. What we have, in essence, are "invisibly gated communities," as Maclean's writer (and longtime Calgary city hall reporter) Jason Markusoff put it last month. It's silly.
Knowing how things go at city hall, council likely won't handle this motion cleanly. We expect it to be picked apart and revised. It will probably get quite complicated—again. Regardless, we'll be there to bring you the latest.
Support in-depth Calgary journalism.
Sign Me Up!
We connect Calgarians with their city through in-depth, curiosity-driven journalism—but we can't do it alone. We rely on our readers and listeners for support. Join us by becoming a Sprawl member today!