The Sprawl is Calgary pop-up journalism. It's crowdfunded, 
ad-free, and made in Calgary—
a reinvention of local journalism 
in tough times. The 11 principles of the Sprawl Manifesto guide all we do.

We do depth,

not breadth.

The Sprawl doesn't do press release journalism. Instead of trying to cover everything in the city all the time, we make pop-up editions that go deep on specific stories for certain periods of time. Then we fold up our tables and chairs and go away for a bit. We also make Sprawlcast, a monthly radio show/​podcast in collaboration with CJSW 90.9 FM.

We do context,

not clickbait.

The Sprawl is a local riff on a global movement toward ​"slow journalism": nuanced, high-quality, curiosity-driven reporting for people who want more than the daily news grind. We ask: how can our journalism deepen Calgarians' understanding of their city?

In a world of noise,

we embrace quiet.

Periods of silence are built into The Sprawl's design — and that's a good thing. No one needs another incessant torrent of fragmented information flying at them. We go quiet so we can return with journalism that's worth your time.

We aim to surprise

and delight.

Since we have no beast to feed — no next day's newspaper, no nightly newscast — we're free to use different platforms and formats for Sprawl storytelling. Instead of just cranking out one article after another, we ask: how might we tell this story in a new way?

We are constructive,

not cynical.

We seek solutions in our reporting rather than just gleefully pointing out mistakes. We ask: as a city, what can we learn from this situation? And how can our journalism contribute to a better, more connected Calgary?

We reject polarization,

seeking common ground.

We'd rather engage Calgarians than enrage them. And we'd rather dig beneath labels than unthinkingly apply them. In an age of fear, divisiveness and insularity, we ask: how can we better understand each other?

We see Sprawlers as engaged citizens and local experts, not passive news consumers.

Our journalism isn't a product that we package up and deliver. That's the old news model. Instead, we invite readers and listeners into our editorial process, actively seeking their expertise and insight throughout.

We question our own

assumptions and privilege.

Rather than pretending to be objective, we are upfront about where we come from and how it informs our work, always recognizing that we have more — much more! — to learn. We welcome feedback without defensiveness.

We strive for inclusiveness that goes beyond tokenism.

The Sprawl is not a ​"voice for the voiceless." Instead, we recognize that in Calgary, as elsewhere, some voices are heard more than others. We ask: how can we listen to and amplify diverse local voices, building reciprocal relationships instead of extracting quotes?

We're not afraid to expand our audience and seek financial support.

We don't scold anyone on why journalism matters. Instead, we optimistically follow the journalistic maxim of ​"show, don't tell." We do the work, then invite you to be part of it by becoming a Sprawl member (if you like what you see, sign up today!).

We're a work in progress.

The Sprawl is not some grand, hidebound journalistic institution. We're small, nimble and experimental. And we're always open to change.
Now that you know where we stand, you can hold us accountable. Go!
Okay, but how did this come about?!
We launched in September 2017 to cover Calgary's municipal election. It began as a zany experiment. And hey, it worked! A surge of community support turned our tiny shop into a going concern. In 2018, The Sprawl won a national Digital Publishing Award for best news coverage (small newsroom).
Today we're supported by ordinary people—800 monthly members and counting!—who want to see Calgary journalism done differently.
In addition to crowdfunding, in 2018 The Sprawl received $100,000 through the Digital News Innovation Challenge, a partnership between Ryerson University and the Facebook Journalism Project to support emerging news startups in Canada.
The Sprawl is a member of the National NewsMedia Council, a voluntary self-regulatory organization that deals with ethical and journalistic practices in gathering and reporting the news. See mediacouncil.ca or call 1-844-877-1163 for more information.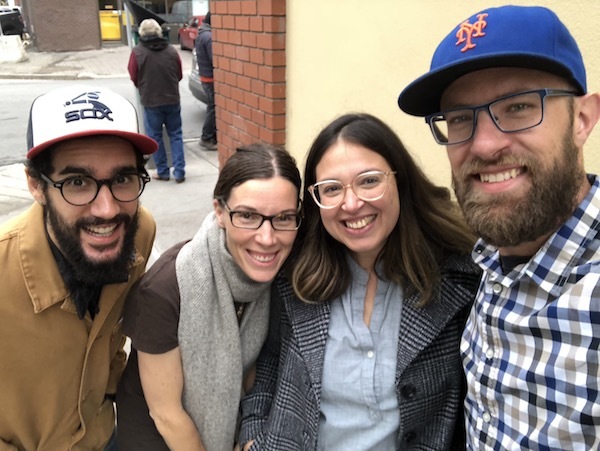 Founder/Editor—Jeremy Klaszus
Jeremy is a Calgary journalist who has written about the city for more than 15 years—for the Calgary Herald, Swerve, Metro, CBC, CTV, Monocle, you name it.
Jeremy grew up in small-town Alberta, attended fundamentalist Christian schools and eagerly subscribed to the right-wing Alberta Report as a teenager. (One of his first email addresses was i_hate_liberals@hotmail.com — seriously!) Then he swung the other way: after moving to Calgary, he became a staff writer for the alt-weekly newspaper FFWD (R.I.P.), which once described itself on t-shirts as a purveyor of "leftist commie crap." At FFWD, Jeremy got his reporting chops and got hooked on municipal politics.
Nowadays Jeremy is deeply suspicious of leaders who are full of certitude (political, religious or otherwise). And for reasons he can't fully explain, he still can't get enough of urban affairs and city politics.

Membership Coordinator—Ximena González
Ximena is a communications professional specializing in architecture and design. As The Sprawl's membership coordinator, she takes care of Sprawl members and fields their questions about everything membership-related, including swag and payments

Sam Hester is a Calgary-based graphic recorder and longtime indie comics creator who has collaborated with a wide range of organizations in Canada. She captures visual stories by drawing upon deep listening skills, a unique graphic style, a passion for community-building… and a lot of markers. She makes The Listener, The Sprawl's comics journalism series.
Art Director/Designer—Chris Pecora

Chris is a design and illustration hybrid (basically, a Prius) creating work for clients across North America as well as plenty of personal projects just for kicks. He aims to bring thoughtful ideas to life using bold shapes, bright colours, humour, and a smattering of texture. chrispecora.com