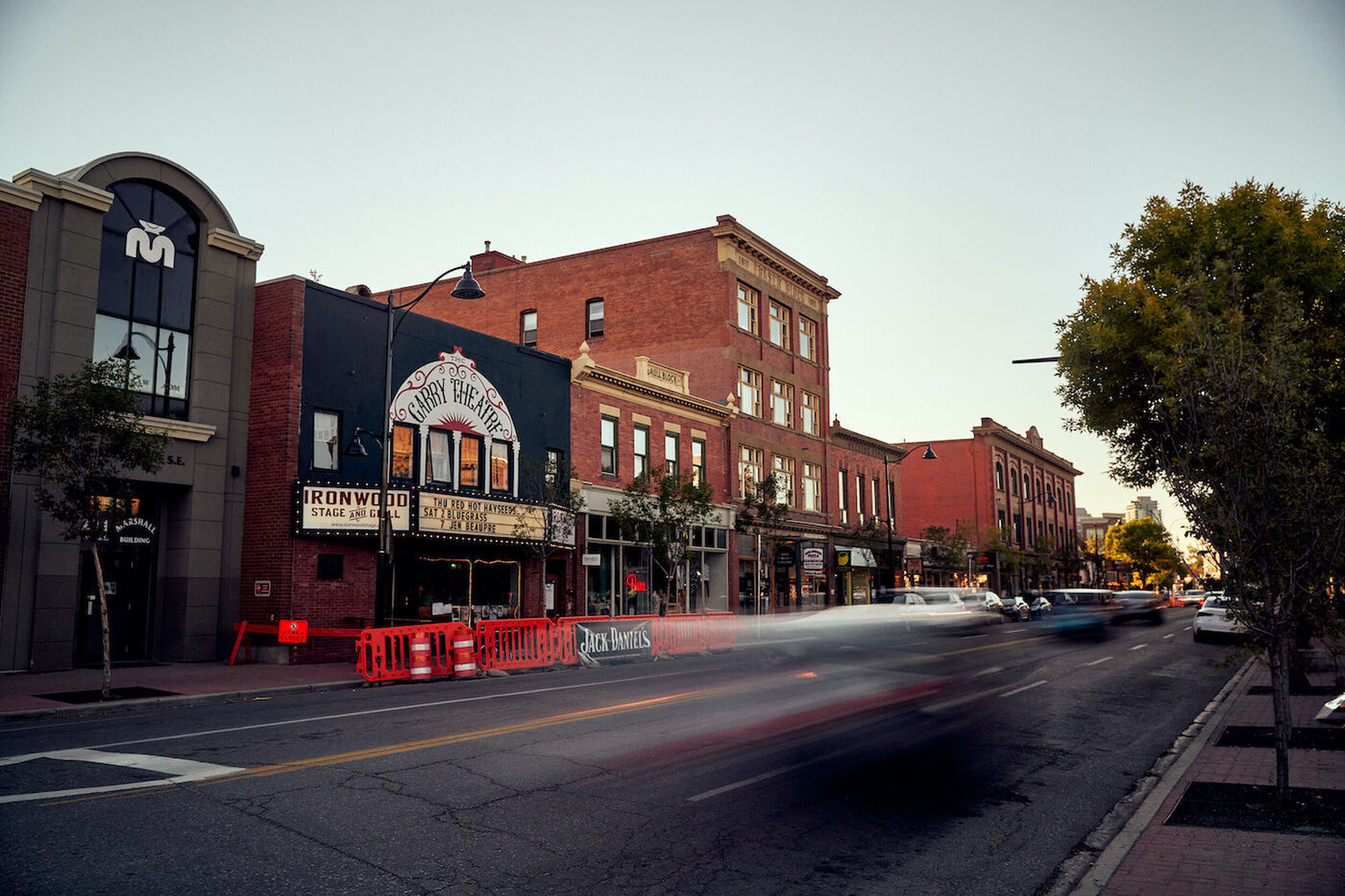 The debate over density in Calgary's historic Inglewood
Does growth clash with the community's ​
'

intrinsic vibe'?
Support in-depth Calgary journalism.
Sign Me Up!
We connect Calgarians with their city through in-depth, curiosity-driven journalism—but we can't do it alone. We rely on our readers and listeners for support. Join us by becoming a Sprawl member today!
In 1909, the Calgary Municipal Railway, which later became Calgary Transit, extended its line to east Calgary, now known as the neighbourhoods of Inglewood and Ramsay.
This expansion preceded an economic boom across the city in 1912, which was felt in east Calgary. Many of the neighbourhood's historic buildings date back to that time. Walking along 9 Ave. S.E., with its myriad two- to four-storey buildings, it becomes apparent the neighbourhood, for the most part, has been developed to maintain its historic character.
Now with the Green Line coming to Inglewood, developers say it's time to upscale some buildings to facilitate the Ward 9 neighbourhood's growth while increasing density. But there's a struggle over how, and where, redevelopment should occur in the inner city—and that's a significant issue for many voters.
To grow the neighbourhood upward, developers have asked to be allowed to at least double the maximum building size in Inglewood to 12 storeys. This came to a head in 2020, with RNDSQR's application to redevelop a used car lot adjacent to the historic CIBC building.

Inglewood's Business Improvement Area (BIA) and community association say these developments will destroy the area's character and slowly turn it into just another part of town for the benefit of well-connected developers. The BIA also says that despite extensive consultation with the city, its concerns have been pushed aside.
In a Calgary Herald op-ed published in June, Rebecca O'Brien of the Inglewood BIA decried the city's "tokenistic engagement" in developing a Local Area Plan (LAP) for Inglewood and Ramsay, which is designed to determine the confines in which development can occur. She cautioned that this could drive active community members to support right-wing populists in the upcoming civic election "who offer overly simplistic answers—framed in emotion—to complex questions."
Incumbent Ward 9 Coun. Gian-Carlo Carra, who before getting elected to council in 2010 served as president of the Inglewood Community Association for seven years, says he agrees with O'Brien that the city needs to do a better job consulting with active members of the community and synthesizing their ideas, but says that some community leaders have also been part of the problem.
There's a struggle over how, and where, redevelopment should occur in the inner city, and that's a significant issue for many voters.
He says the community association and BIA have been hijacked by "heritage fetishists" and "gentrification NIMBYs" who are ideologically opposed to any new development that doesn't exactly fit the neighbourhood as it is, and don't represent the desires of the community at large.
'Gentrification in a big way'
Dan Allard, co-owner of Cold Garden brewery and board chair of the BIA, says he's in favour of development, but that it shouldn't come at the expense of maintaining Inglewood's unique character as a "classic lower east side neighbourhood in a metropolis neighbourhood" with an "intrinsic community vibe."
Allard believes the area already has the "perfect infrastructure" to maintain its grimier working class roots, while attracting development that spruces up the neighbourhood. "Now we're seeing gentrification in a big way," said Allard. "That is a crystal ball you can follow from any major city in North America, and Inglewood and Ramsay [are] no different."
According to Allard, the BIA has supported 500,000 square feet of development since 2015, but the new developments proposed alongside the local area plan are too much of a radical break with the neighbourhood's past.
The Draft Historic East Calgary Area Redevelopment Plan (ARP) from 2018, which became a local area plan, defined mid-rise buildings as six to 10 storeys, which it allowed in certain areas around 9 Ave. and 11 St. S.E.
The city hired a third-party consultant to issue an independent report in November 2019, which recommended the local area plan use the same definitions as the Guidebook for Great Communities, which defined mid-rise as six to 12 stories. The report identified a few locations where taller buildings would be a good fit: the west edge of 9 Ave. S.E., the south side of 9 Ave. and the main intersection of 9 Ave. and 12 St.
With Carra's blessing, the BIA commissioned a second independent opinion from Toronto-based Urban Strategies Inc., which was released in November 2020.
"There is no clear and compelling urban design rationale to permit 12-storey buildings on 9 Avenue S.E., and such buildings would have significantly adverse impacts on the character and pedestrian experience of the street and on nearby properties, including a historic open space," the report concluded.
While the second opinion was in the works, council heard RNDSQR's proposal to build a 12-story tower beside the CIBC building on July 27, 2020, with 26 people in attendance to speak, most of whom opposed the project.
Empty highrises do Inglewood no good.
RNDSQR pitched the development as a way for the city to make a return on its investments in Inglewood, offering up $700,000 in property taxes while preserving the CIBC building next door and providing $400,000 for the Inglewood Lawn Bowling Club across the street to replace its grass with astroturf to compensate for the sunlight the building will block.
David White of CivicWorks, the consultant who brought RNDSQR's application forward, dismissed the USI report, which was in draft form at the time. White accused the BIA of subverting the consultation process. "We haven't given it a lot of oxygen, because what we're seeing and what we're seeing is, in our opinion, very thin," White said in his presentation.
Council voted 13-1 in favour of the land-use bylaw change for the RNDSQR building, with Carra in favour and Coun. Jeromy Farkas opposed.
Is city hall beholden to developers?
O'Brien previously worked on the $40-million 9th Avenue Streetscape Master Plan, which Carra has high praise for. The plan was designed to envision how the neighbourhood's main street could be revitalized and beautified while maintaining its character.
But, he says, the sorts of developments envisioned by RNDSQR, as well as others of a similar scale—including a 20-storey building adjacent to the future LRT station in Ramsay, approved by council in August 2021—are an integral part of bringing that plan into practice.
"The streetscape development plan is contingent on a thoughtful rezoning of the street to create a tax base worthy of that kind of public investment in the street," said Carra.
So does this mean the city planners and councillors are at developers' mercy? "To a certain extent, the answer is yes," said Carra, who, like all councillors, has received large sums of developer funds for campaigns.
The city does need the tax revenues raised from development to fund the amenities and services it provides to residents, which is increasingly challenging as the city spreads itself thin through urban sprawl.
"It's certainly part of the conversation, but to characterize that as the conversation, and the city being a victim of market forces—it's not a victim of market forces," he said. "It's a player within, and subject to, market forces, like everyone else is."
Carra acknowledges that developers are proposing significant changes to Inglewood, but calls the BIA's view that this is the beginning of the end of Inglewood as we know it "specious misinformation," rejecting the notion that the city is putting its thumbs on the scale for developers because it needs the cash.
I don't see this as a developer versus community proposition.
"I don't see this as a developer versus community proposition, I view this as a collaborative challenge to maximize benefit between the cooperative interests of a community, a development industry and a city," he said.
How much change is acceptable?
One of Carra's opponents in the Oct. 18 civic election, Naomi Withers, agrees that council needs to work with developers and community members to strike a balance between densification and heritage preservation, but she says the projects approved by council "will dramatically change the landscape of 9th Avenue" and could contribute to the "permanent dissolving of a historical main street."
This isn't just about increased building heights, but also the introduction of alien styles of architecture, she added.
"Yes, getting people to 9th Avenue makes sense to support local businesses, but the reason that they're coming is because of the feel and because of what they get out of a historical neighbourhood," Withers said. "It's something different. It's not the same old that you get in Mission or Marda Loop or 17th Avenue."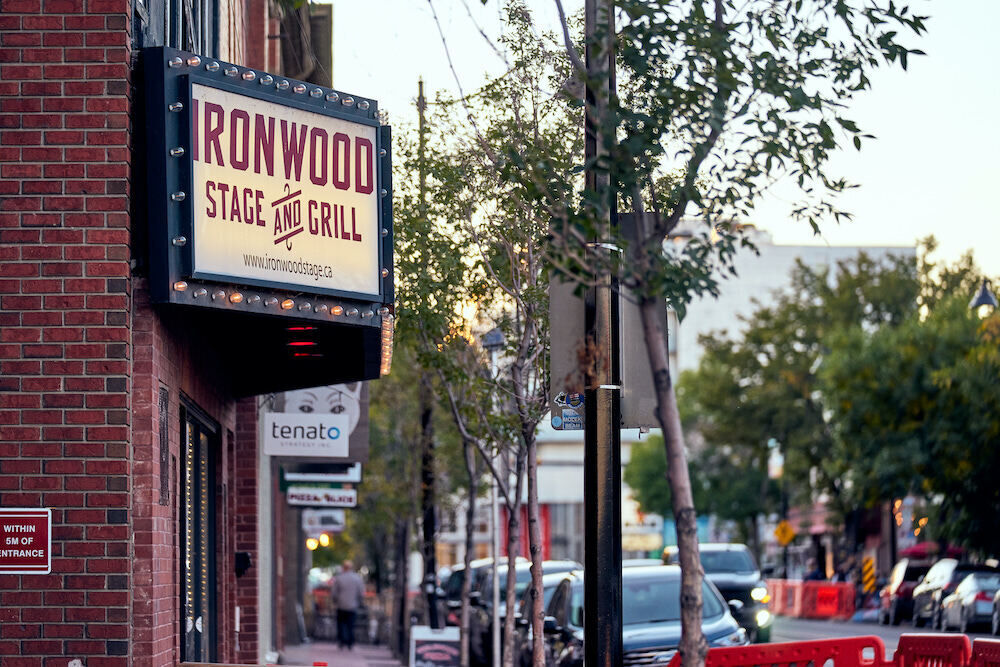 Withers acknowledges it's a tough balance to strike between densification and preservation, but says that's why she wants to create a coalition of community groups to meet regularly and proactively discuss the community's needs.
The city did make a genuine effort at community consultation for the purposes of gathering information, Withers says, "but at what level the citizens' voices actually were built into the decision making isn't obvious to anybody who participated in the engagement."
She says the fatal flaw of the local area plan process is that no study has been done specifically on whether the neighbourhood's population growth is sufficient to justify the scale of density being proposed. "Empty highrises do Inglewood no good," Withers said.
Jeremy Appel is the municipal politics reporter for The Sprawl.
CORRECTION 09/18/21: A previous version of this story stated that both the Inglewood and Ramsay community associations say developments like the RNDSQR building will destroy the area's character. While the Inglewood community association has been outspoken on the matter, Ramsay's community association clarified that it has not taken this position. The Sprawl regrets the error.

Support in-depth Calgary journalism.
Sign Me Up!
We connect Calgarians with their city through in-depth, curiosity-driven journalism—but we can't do it alone. We rely on our readers and listeners for support. Join us by becoming a Sprawl member today!