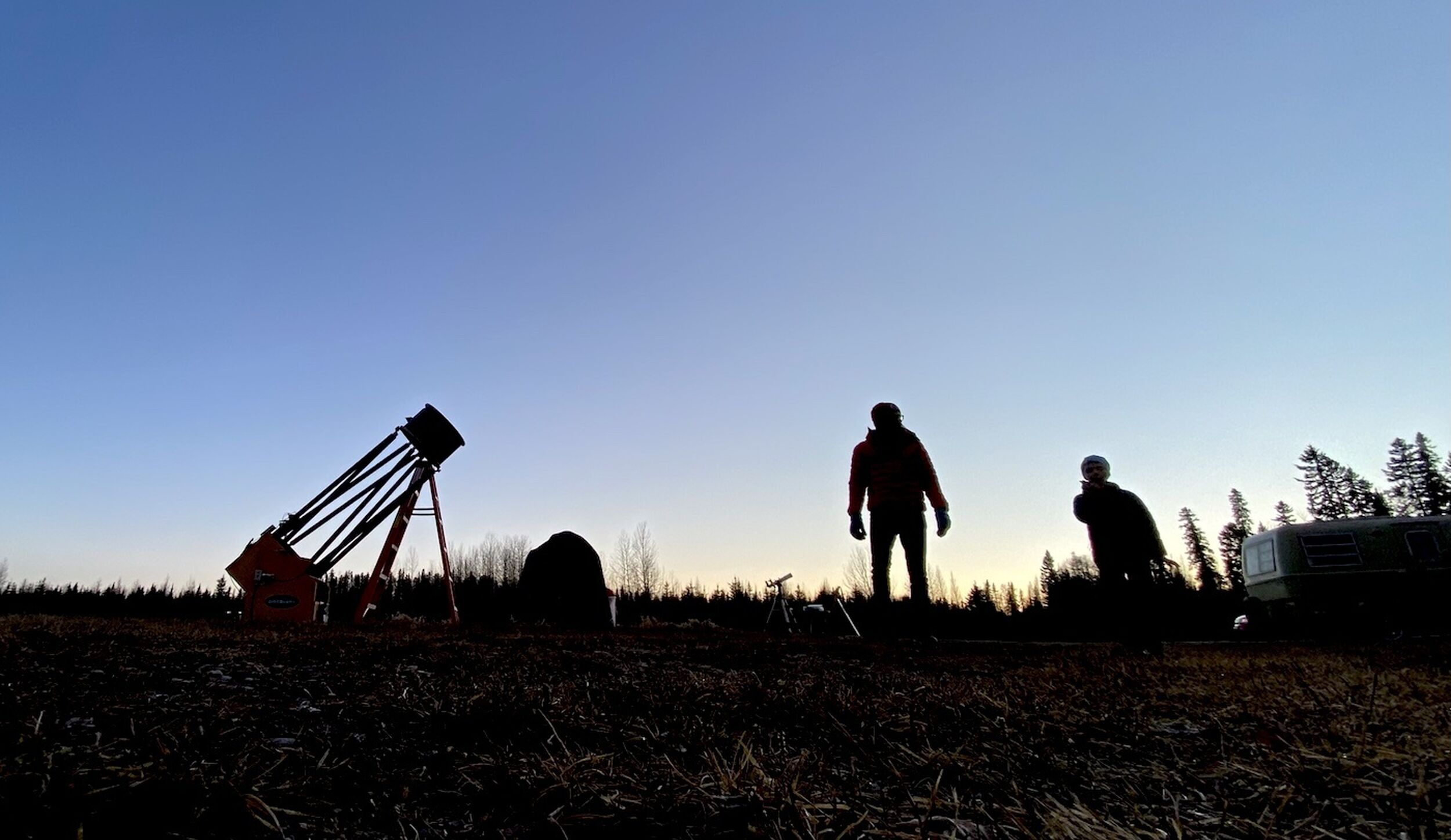 A reflection while stargazing
We are not doomed to climate denial.
On weekends, The Sprawl sends out an email newsletter called Saturday Morning Sprawl. You can subscribe here. Here is this week's dispatch.
---

Last Saturday night, I found myself standing in a field a few kilometres northwest of the Red Deer River—which is the border between Treaty 6 and Treaty 7 territories in Alberta.

A canopy of stars burned brightly overhead.

Away from the city, one can see, in a new way, the infinite texture of the night sky—stars beyond stars. You sense your own smallness, and the fragility of human life, under constellations that have provided guidance and orientation for societies since time immemorial.

My brother, an astronomy nut who'd convinced me that camping on the first weekend of April was worth it for this darkness (and he was right!), swung his telescope from one galaxy to another. "What are you finding?" I asked.

"More faint fuzzies!" he said enthusiastically.

But one didn't need a telescope to stand in quiet wonder. To me, the whole sky, viewed with the eyes alone, was the highlight of the night. "What kind of a society blocks all of this out?" I wondered aloud.

Our cities, our lives, hum with constant electric light. It struck me how strange that is. People on this land have not done this—generating so much heat and light that we are changing the climate of the planet itself—until relatively recently.

Indigenous Peoples never lived this way; it's a contrivance of settler society. And it can't go on like it has without increasingly dire consequences, as the latest Intergovernmental Panel on Climate Change (IPCC) report, which came out this week, makes clear: Emissions must peak by 2025 to keep warming to 1.5°C and ensure a livable future for humanity.

Even so, our leaders often pretend to not be capable of imagining or doing anything else.

This plagues us in other realms, too. Last weekend, The Sprawl published Jeremy Appel's report on profit and long-term care in Alberta. Jeremy's story raised a number of troubling questions. Among them, in my mind: What kind of a society treats its elders this way?

This also is a relatively new phenomenon in this place. It's an aberration here, not the historical norm.
It is the responsibility of grandparents to teach legends and stories and the ways of our people… Our people do not believe in old-age homes.
This week I started reading the book The True Spirit and Original Intent of Treaty 7. In it, Kainai elder Wilton Goodstriker writes about the place that elders hold in First Nations societies.

"It is the responsibility of grandparents to teach legends and stories and the ways of our people," writes Goodstriker. "In this way a closeness develops between the very young and the old. Our people do not believe in old-age homes."

This vision of wholeness contrasts sharply with the brokenness and fragmentation of settler society. Climate change, seniors' care, colonialism, white supremacy—these are not isolated problems. They are deeply intertwined.

The latest IPCC report indicates the extent of this brokenness.

One response is that of the Alberta government: denial and doubling down on fossil fuels, no matter the cost to life, now and in the future.

But we are not doomed to this path.

In the words of IPCC chair Hoesung Lee: "We have the tools and know-how required to limit warming."

Today, The Sprawl is re-upping Taylor Lambert's story on what a Green New Deal for Alberta could look like. Originally published in 2020, it's newly resonant in light of the IPCC report. "Massive disruption is coming regardless of what we choose to do," writes Taylor.

"What would it look like for Alberta to treat the climate crisis as a real emergency, to throw the considerable power and resources of this wealthiest of provinces into the fight while reinventing itself for a low-carbon future?"

At a time of upheaval and uncertainty, it's normal to be fearful—but we can still be curious. We can still look to the skies with awe and wonder.

If we do, maybe we can truly open up to better ways of being.
Jeremy Klaszus is editor-in-chief of The Sprawl.
Support in-depth Calgary journalism.
Sign Me Up!
We connect Calgarians with their city through in-depth, curiosity-driven journalism—but we can't do it alone. We rely on our readers and listeners to fund our work by pitching in a few dollars a month. Join us by becoming a Sprawl member today!