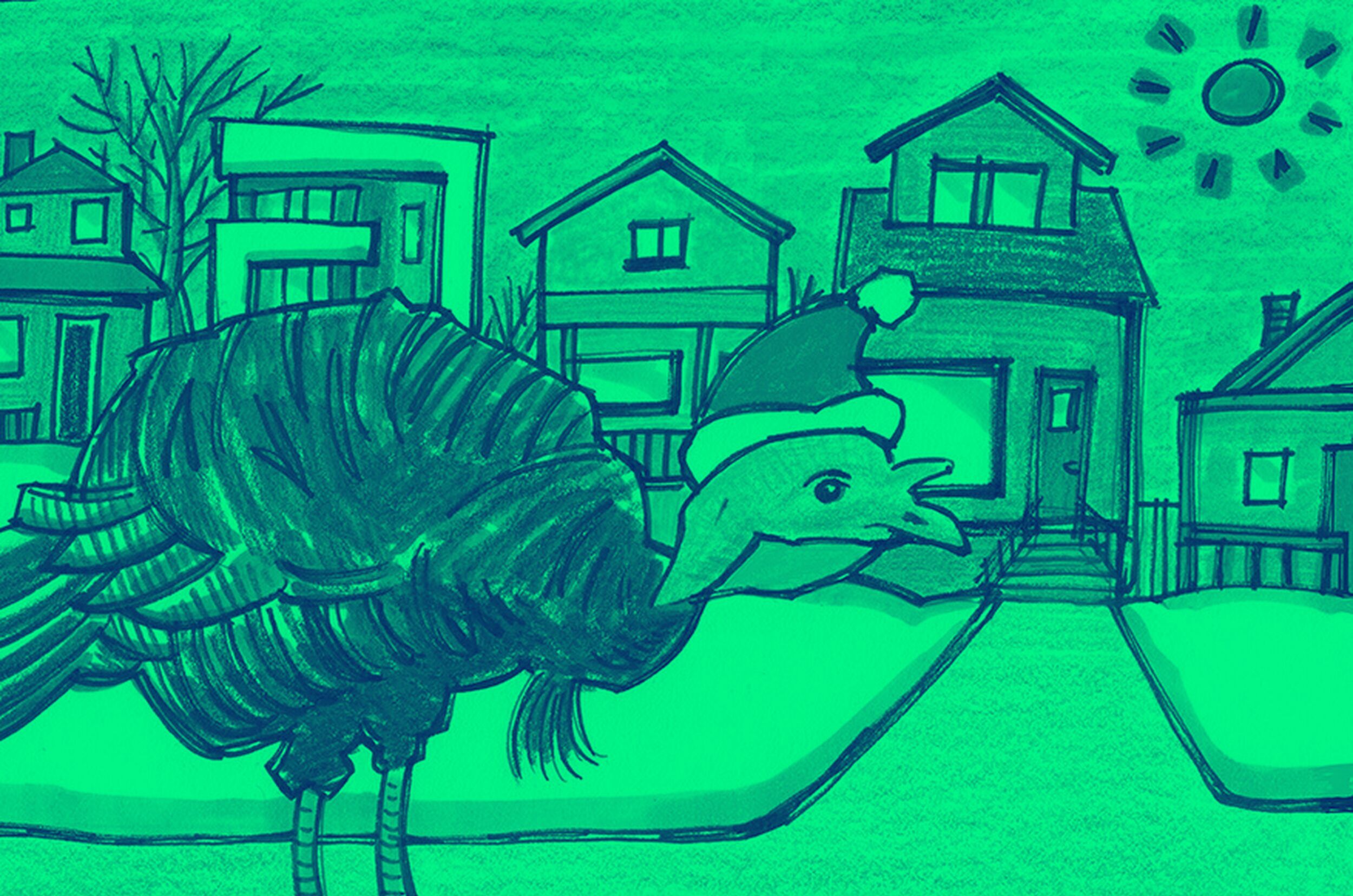 The turkey that brought us together
Today, Calgarians mourn the loss of Turk.
On Friday, July 24 Turk—the beloved Ramsay turkey—passed away.
It's been over a year since Turk strutted through Ramsay and into the hearts of Calgarians. The free-willed turkey became a local social media celebrity, posing earnestly for photos and evading capture.
Turk leaves behind almost 6,500 members of the "Loyal Followers of the Ramsay Turkey" Facebook group and countless other admirers.
His official origin story is ambiguous. But the group's description states the most confirmed version is that in Spring 2019, a rancher received Turk as a gift at the Stampede grounds. He spent the night in a trailer, and in the morning, he flew out.
Turk was considered a "free bird" by Alberta Fish and Wildlife. He lived that way until the end.
The unofficial Ramsay mascot brought Calgarians together in unexpected ways. 
"Turk helped me through the isolation. So sad to hear this," one Facebook user wrote.

"I'm so sad to hear this news. Turk's adventures have been some of the most positive posts that I've seen on Facebook since March, and although I wasn't lucky enough to cross paths with him, I will miss him," another added.
The unofficial Ramsay mascot brought Calgarians together in unexpected ways.
In June, Avery Maxwell (the admin of Turk's Facebook group) posted a campaign to raise money for local charities.
"Turk Merch," designed by Greg Mroczek and Vincent St. Pierre, sold across the city. An illustrated Turk stood tall against Calgary's backdrop on stickers, shirts and coasters. The proceeds from the sales went to the Calgary Food Bank and Alberta Children's Hospital Foundation. Turk's followers have raised almost $4,000.
"Did you know that a $1 donation to the Food Bank can be turned into $5 worth of food that can be distributed to those in need? That means Turk's Loyal Followers are supplying over $9,000 worth of food!" Maxwell said in a post.

Turk unknowingly fostered a joyful, loving and curious community. He was a beacon of hope and a welcome distraction.
He [Turk] was a beacon of hope and a welcome distraction. 
I didn't get a chance to see Turk out in his urban habitat. But through every photo, video or update shared, I felt the energy he brought to those who loved him.
Turk was something Calgarians could relate and connect to. He wasn't just a turkey; he was a unifier.
To some, perhaps he seemed out of place. But he chose to make Calgary his home. I think that's what I respected most about Turk—he didn't care if humans thought a turkey didn't belong in a city. He decided he did. That was part of his charm.
I'm sure if we look hard enough, we could find a hundred metaphors in his story and learn a hundred lessons. But instead of complicating simplicity, today we can try to remember the way Turk made us feel. We can nurture the community he started and remember the uncomplicated life of an enchanting turkey.
"On behalf of all of us with broken hearts, I would like to say thank you to Turk for providing such joy in a time when it sometimes seems so hard to come by, welcome distraction, connection, investigation and education. For blessing us with his presence, and for being the best and most unlikely inner-city ambassador we could ask for," Maxwell wrote.
Rest in peace, Turk. You were one of a kind.

Hadeel Abdel-Nabi is The Sprawl's staff writer intern.

CORRECTION 07/24/2020: This story originally identified only Greg Mroczek as a designer of "Turk Merch." Vincent St. Pierre also designed the first t-shirt and other memorabilia. The Sprawl regrets the error.

---

Now more than ever, we need strong independent journalism in Alberta. That's what The Sprawl is here for! When you become a Sprawl member, it means our writers, cartoonists and photographers can do more of the journalism we need right now. Become a Sprawl member today!
Support in-depth Calgary journalism.
Sign Me Up!
This is a dire time for the news industry in Canada—and we need your support now more than ever. The Sprawl connects Calgarians with their city through in-depth, curiosity-driven journalism, but we can only keep doing this if readers and listeners pitch in. Join us by becoming a Sprawl member today!