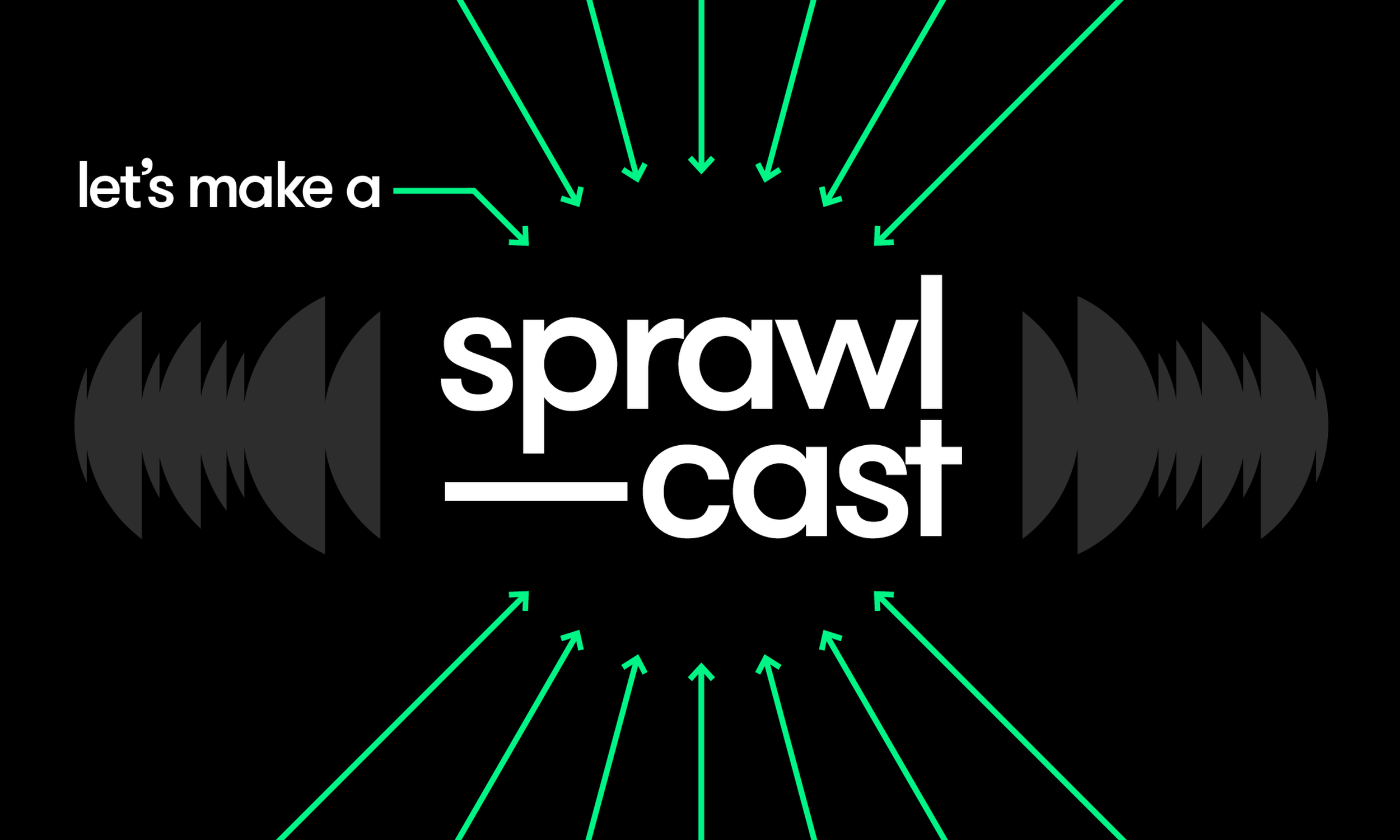 Hey Calgary! It's SPRAWLCAST time
We need your help to make it happen.
UPDATE (Sunday, March 4): THANK YOU CALGARY!! In the past week, 36 of you have signed up as new Sprawlers, a.k.a. monthly patrons.
You've pushed us past 350 total Sprawlers—and $3,000 CDN in monthly support! Thank you!!
---
SPRAWLCAST
noun | \sprôl-ˈkast\
A half-hour radio show/podcast focused on Calgary stories for Calgarians. Experimental. Driven by curiosity, with each episode on a specific theme connected to the life of the city.
Here's what next for the Sprawl: a SPRAWLCAST!
Now, we could go at this on our own. Anyone can make their own podcast these days. We even have our own AM radio transmitter, which broadcasts a signal of 0.1 watts—a mighty reach of about 50 or 60 feet!
If we join forces with CJSW, everything changes. They've got a radio station. They've got recording gear. They've got 18,000 watts of FM broadcasting power—or 180,000 times more than we have.
That makes a lot more sense.
The Sprawlcast, a collaboration with CJSW, will be once a month to start, beginning in March. This will allow us to test it without it being too onerous and detracting from the work we're already doing on regular Sprawl editions.
We're also conscious that many podcasts launch with good intentions and frequent releases, but then taper off.
We'd rather do it the other way around.
But to do a Sprawlcast—and to keep the Sprawl going generally—we need to keep building our revenue. Right now the Sprawl is 100% ad-free but we aren't financially sustainable—yet. We're a shoestring operation that relies entirely on monthly support from people like you.
This is the future of local journalism: not putting our stuff behind a paywall and making you pay. Not lecturing you about why journalism matters and you should buy a subscription. We believe in the old maxim of "show, don't tell." We go out and do the work, fiercely serving our community. And then we invite you to be part of it.
Our goal for this mini-campaign is a modest one. We want to hit $3,000 USD in monthly support by Friday, March 2 (Patreon is all USD).
It's within reach but we need help to get there.
Here's what you can do. Please consider becoming a monthly supporter of the Sprawl if you're not one already. We have tiers for all budgets. Once you've signed up, tell your friends on social media and in real life! Even if you've been supporting the Sprawl for awhile, it would be really helpful if you post a link to this post or our members page so others feel inspired to sign up.
If you don't know what to say, here's something you can start with: "I support the Sprawl because __________."
Thanks, as always, for reading. And stay tuned (literally, this time!) for the first Sprawlcast episode in March.
Jeremy Klaszus is editor-in-chief of The Sprawl.
Support in-depth Calgary journalism.
Sign Me Up!
This is a dire time for the news industry in Canada—and we need your support now more than ever. The Sprawl connects Calgarians with their city through in-depth, curiosity-driven journalism, but we can only keep doing this if readers and listeners pitch in. Join us by becoming a Sprawl member today!