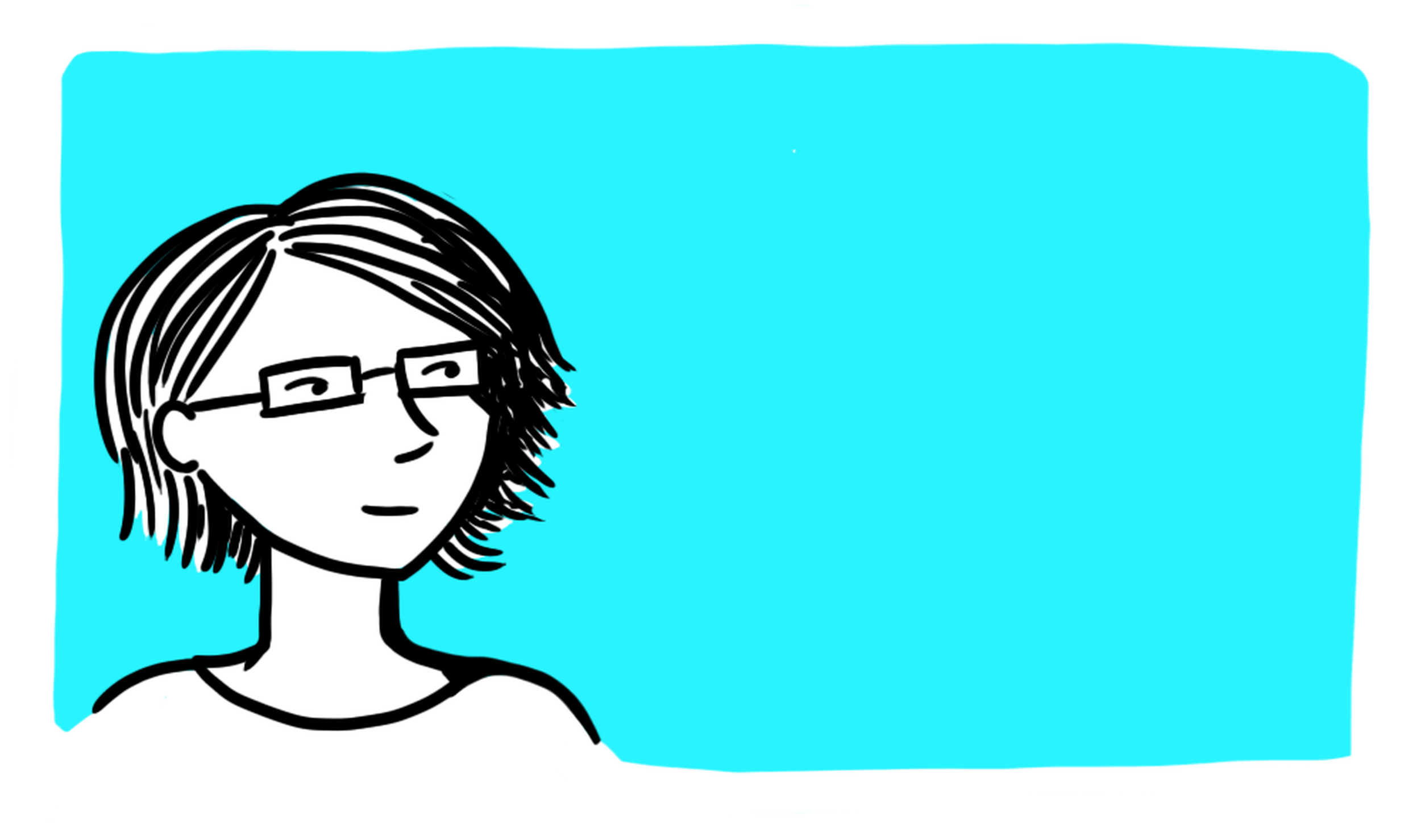 '

Rooted in community': Meet the artist behind our comics
A Q&A with Sam Hester.
Sam Hester has been The Sprawl's comics artist since 2018, but she's been documenting Calgary well before that. For the past two decades, she's been writing stories about life in her home, on her street, in her city—bringing warmth and humanity to the small exchanges we have every day.
In words and pictures, Sam captures what people are often feeling but don't talk about.
After COVID-19 hit in March 2020, Sam wrote a serial Saturday comic for The Sprawl, Alone Together, about life during the pandemic. Her stories of quarantine life connected deeply with readers. A common response: I needed this.
Sam's day job is as a graphic recorder—recording events in a comic-style format—but by night, she writes her comics (it's not uncommon for her to file her Sprawl comics at 5 a.m.!).
She's written for publications big and small, ranging from her local community newsletter in Ramsay to RESIST!, a 2017 book of political comics edited by New Yorker art director Françoise Mouly.

Sprawl assistant editor Ximena González interviewed Sam about her work for The Sprawl and elsewhere.
Why did you become a visual recorder/comic creator?
Even when I was a kid, whenever I drew pictures, I always felt I should include some words. And whenever I did any writing, I always felt it would be better if I added some pictures. Making comics was just the logical way to do both.
And when, as a grown-up, I learned about the emerging field of graphic recording, it felt like a natural progression from comics making. It's all about synthesizing information and trying to make it visually accessible.
I'm happy if my work helps people to engage with ideas that help them get wherever they need to go.

I didn't feel like an outsider anymore, but like an artist whose work was rooted in community.
How did you find your place in Calgary's creative scene?
About twenty years ago, I started trying to do work that documented what was going on in Calgary, but I felt like an observer watching from the outside. I didn't feel connected—I didn't feel as though I belonged there myself.
That changed when I had a baby. I realized how much I needed relationships with people—health care people, babysitters, neighbours, educators, wise friends and family—if I wanted that baby to survive.
I ended up spending all my time thinking about social networks that had nothing to do with making art. Later, when I started making art again, I had a whole new perspective. I didn't feel like an outsider anymore, but like an artist whose work was rooted in community.
What do you like most about working with The Sprawl?
Well, working with The Sprawl has given me an opportunity to tell stories in my own voice, which is my favourite kind of work. But I think the best thing about working with The Sprawl is that I'm on a team.
For 15 years, I worked as a flight attendant, with colleagues who you might work with for just that one shift and never see again. And as a graphic recorder, I'm usually an addition to an existing team, joining in just for the duration of one project. With The Sprawl, there's continuity, so the work and the relationships evolve. That's been both empowering and scary for an introvert like me.
This spring I stepped away a bit unexpectedly for a few weeks to do some family caregiving and the Sprawl team has been so supportive. I'm so grateful to be part of this community and l look forward to jumping back in sometime soon!

I'd make comics even if nobody read them. It's the way I make sense of what's happening in my world!
Who inspired you to become a comic creator?
It was a mix of many people: the comics-makers whose work I read as a kid, the teachers and colleagues who encouraged me to experiment and improve, and the readers who seemed interested in reading more.
I was lucky to have a few stories published, early on—that was a big encouragement to keep going. But honestly, I'd make comics even if nobody read them. It's the way I make sense of what's happening in my world!
What's your secret talent?
I like making well-organized spaces, whether it's in a comics layout or in my real life. I think it's just because I'm claustrophobic and I don't like it when things get too crowded.
Somebody told me a long time ago that I could have had a career organizing the cargo holds of freighter ships. It's nice to think I have something to fall back on!

I want to share personal stories in my comics because I have strong feelings about lots of things.
How do you find the courage to be so open about your life in comics?
I guess there are two answers to this question. First of all, I'm just no good at making things up. I love reading fiction, but I can't write it. So that just leaves real life.
Luckily, real life is full of amazing stories! I like to make myself a character in the story, because it gives me control over how the information is presented. I have the freedom to expose (or conceal) whatever I want, and to go as deep as I want.
The other reason I want to share personal stories in my comics is because I have strong feelings about lots of things, but I'm not always brave enough to express them in real life. So comics have felt like a safe way to share my questions and ideas, after I've had time to reflect about them.
What's Calgary's best kept secret?
I have sometimes wondered whether Calgary's best kept secret is that, in spite of its big successes and that famous "can-do" attitude, Calgary actually has a bit of an inferiority complex. I have wondered whether we believe in ourselves enough. But I'm not sure about that—it's just speculation. So, instead, I asked my children for their takes on this question.
Alec, age 11 (a train fan), "Calgary's best kept secret is that the Inglewood CP Rail intersection was home to a rare 'teardrop' crossing bell, manufactured by the Union Switch and Signal company, until 2017! Only a few of these bells are left in regular service all around the world."
Wow! I have no idea what this means, or how he knows this stuff.
Henry, age 6, "Maybe Calgary's best kept secret is… The Sprawl?"

---

Now more than ever, we need strong independent journalism in Alberta. That's what The Sprawl is here for! When you become a Sprawl member, it means our writers, cartoonists and photographers can do more of the journalism we need right now. Become a Sprawl member today!
Support in-depth Calgary journalism.
Sign Me Up!
This is a dire time for the news industry in Canada—and we need your support now more than ever. The Sprawl connects Calgarians with their city through in-depth, curiosity-driven journalism, but we can only keep doing this if readers and listeners pitch in. Join us by becoming a Sprawl member today!