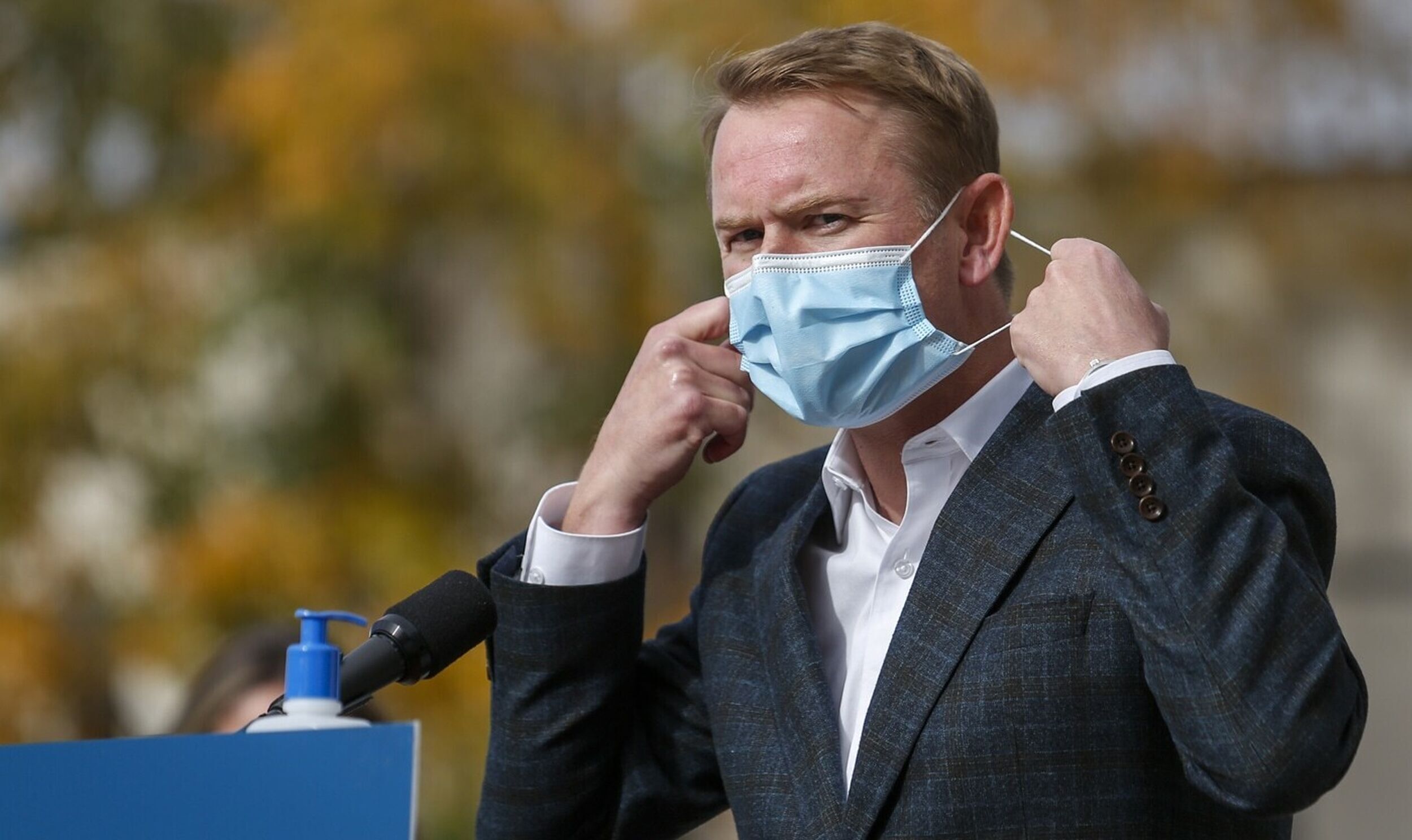 The recent trials of Tyler Shandro
Can the combative health minister rebuild trust with doctors?
Support in-depth Calgary journalism.
Sign Me Up!
We connect Calgarians with their city through in-depth, curiosity-driven journalism—but we can't do it alone. We rely on our readers and listeners to fund our work by pitching in a few dollars a month. Join us by becoming a Sprawl member today!
"To be frank, I did not choose my words carefully."
When Tyler Shandro wrote those words in late March, in a letter to the province's physicians, he was referring to particular remarks he'd made March 9 suggesting that the year-long acrimonious saga between the government and doctors never happened.
It was, as many political watchers pointed out, an attempt by the health minister to strike a conciliatory stance ahead of a vote by Alberta Medical Association members on a negotiated agreement to replace the one Shandro tore up in February of 2020.
The AMA announced on March 31 that 59% of its members rejected the proposal, a significant result given that AMA leaders had tentatively approved the deal.
But Shandro's letter was notable for being a rare display of contrition, bereft of defiant rhetoric by a politician who, less than two years into his first term, has emerged as one of the most combative and controversial ministers in recent Alberta history.
With speculation that a new health minister might be the only way to win over doctors, that contrition may have come far too late.
Politics is a fairly recent detour in Tyler Shandro's career. A lawyer by training, he was appointed to the Criminal Injuries Review Board at age 28, the National Parole Board at 34, and the Calgary Police Commission at 39.
Beginning in university and continuing over the next decade, Shandro dabbled in newspapers, mostly opinion columns and letters, though also freelancing for the Calgary Herald's G-8 summit coverage in 2002. His conservative views were hardly unusual for a young Calgary lawyer, but his tone and positions occasionally offer glimpses of a future political persona.
In a letter to the Calgary Herald published December 29, 1997, Shandro decried calls for more health care funding. "Dozens within the [Calgary Regional Health Authority] make over a [sic] $100,000 a year, but why would any of them cut their own salaries or that of their buddies?" wrote Shandro, who now makes $181,000 as health minister.
Though long involved with Progressive Conservative politics—as a volunteer, as legal counsel, and later an unsuccessful run for party president in 2016—the 2019 provincial election was Shandro's first time on the ballot. He won handily in Calgary-Acadia, and soon found himself appointed to cabinet.


I would say that as the minister of health, he has made some pretty big errors.
Shandro's entry into electoral politics was following a family legacy. His great-uncle Andrew emigrated from Ukraine in 1899, found some prominence as a farmer northeast of Edmonton in Lamont County (the former hamlet of Shandro bears the family name), and used that stature to launch his political career.

Although Shandro might not care to mention that his ancestor was a Liberal MLA, there are other reasons to avoid the subject. Andrew Shandro won his first provincial election in 1913—but the results were voided and he was convicted of bribery.
Andrew Shandro won the ensuing by-election, but was successfully sued by an opponent from the first election, whom he'd had arrested on bogus charges; the judge said Andrew had acted with "express malice." (He served as MLA for Whitford until 1922.)
Of course, Tyler Shandro shouldn't be judged by an ancestor's dirty political tricks a century ago. He has his own record to stand on.
"I would say that as the minister of health, he has made some pretty big errors," said John Church, a political scientist and health policy expert at the University of Alberta.
"He has allowed his own personal thinking—and in a more general sense, the ideology that underpins the current government—to drive a lot of his choices."
Doctors without confidence
In the two years that he has led the ministry of health, Shandro has certainly been busy.
He was accused of a conflict of interest for owning a stake in his wife Andrea's private company that provides supplementary health benefits; the ethics commissioner said no rules were being broken, but many argued the arrangement undermined public trust in the minister.

The UCP is certainly escalating the degree to which private entities have a foothold in the public health care system.
He and his wife infamously berated their neighbour, a medical doctor, in his driveway for posting on social media about that controversy.
He all but declared war on the province's doctors, unilaterally ending the government's agreement with the Alberta Medical Association, implementing a sunshine list for doctors that the AMA argued was misleading, and ordering the regulatory college to change its rules to prevent doctors from leaving the province en masse.
All of this happened in 2020—during a global pandemic that has so far killed more than 2,000 Albertans.
"The UCP is certainly escalating the degree to which private entities have a foothold in the public health care system," Edmonton-based researcher Alison McIntosh said.
McIntosh is the author of a 2020 Parkland Institute report that explores pressures and efforts to increase private-sector participation in Alberta's public health care system. The report focuses in particular on three areas where the UCP's moves have already been criticized by experts: diagnostic laboratory services, home care, and telehealth.
"Privatization poses threats to ensuring equitable, accessible, universal health care," said the report. "Through contracting out, individualized funding, and allowing for-profit providers into diverse areas of health care, governments set the stage for eroded pay and working conditions, infrastructure gaps, and inequitable access to health care."
"The impact [of privatization] is the hollowing out of one of our absolute cornerstone public services," McIntosh said.
A not-so-private confrontation
It's one thing for unpopular policies to make headlines. It's quite another for the personal behaviour of politicians to make front-page news.
Dr. Mukarram Zaidi had known Shandro personally for a few years before the health minister and his wife showed up at his family's Calgary home in March of 2020. Shandro then reportedly told the physician's children, who were playing in the driveway, to go inside.
Zaidi's earlier interactions with Shandro while both were members of Calgary UCP MLA Mike Ellis' constituency association were limited, but the doctor had an impression of him as "cold and rude."
This interaction would be quite different.

I've never heard of a situation where a politician is standing on a driveway yelling at a private citizen.
According to Zaidi, the Shandros, who live nearby, berated him from the sidewalk while he stood on his driveway. The issue was a political meme referencing the conflict of interest controversy: a photo of the minister with a thought bubble caption that read, "So every Albertan I can kick off health care is another client we can sign up for Vital Partners! We're going to be RICH!"
The image was widely shared online, where Zaidi himself reposted it on Facebook. But the Shandros came to the home of one doctor and yelled at him in front of his family.
The minister issued a statement almost a week later that pointedly did not include any sort of apology to Zaidi. Instead, he framed the incident as an attempt to defend his wife, who had received death threats over the controversy. Kenney echoed this frame in defending Shandro.
To Zaidi, the confrontation felt like an attempt at censorship.

"I think he showed up as a neighbour, as an acquaintance, and my boss as well," Zaidi said. "He's a minister and representative of the crown… It's definitely censorship."
Seeking to end the incident, Zaidi said he would delete the post. Though Shandro has still not apologized a year later, the doctor said he has forgiven him. (The Sprawl requested to interview Shandro for this story, but received no reply.)
Predictably, the minister of health going to a doctor's home to hector him about his political views became a massive controversy, with calls for Shandro to resign or for Kenney to fire him.
"I've never heard of a situation where a politician is standing on a driveway yelling at a private citizen," said Church.
But it reflects a pattern of confrontational behaviour, and it is not the only time in his ministerial tenure that Shandro has blurred or crossed lines to make a political disagreement personal.
In emails to private citizens, the health minister threatened to send the province's protective services after one woman, and used words like "bully" and "crazy" to respond to another person.
Shandro used his position to obtain personal contact information from AHS for two doctors who had protested his health care cuts. He then called them about the matter, which both doctors found alarming.
As the largest piece of the budget and an area of government policy that touches every Albertan's life in real and often sensitive ways, the health ministry is always a difficult ship to steer. But the past year has both redefined Albertans' relationship to health care and demonstrated the importance of a robust public system in ways that any conservative government keen on cutting costs and privatization would find challenging.
The stubborn, small-government ideology of the UCP—particularly Jason Kenney and Shandro—was ill-suited to the moment. Through their choices, they created a perfect storm: over the past year, Alberta has consistently had some of the worst COVID-19 metrics in the country, and the premier and health minister had polling numbers to match.
After introducing restrictions in line with other provinces last March, the Alberta government has tended to break with experts and best practices, deploying slogans like "lives and livelihoods" that seem designed to equate the two and justify a reluctance to issue the sort of public health restrictions that saved lives elsewhere.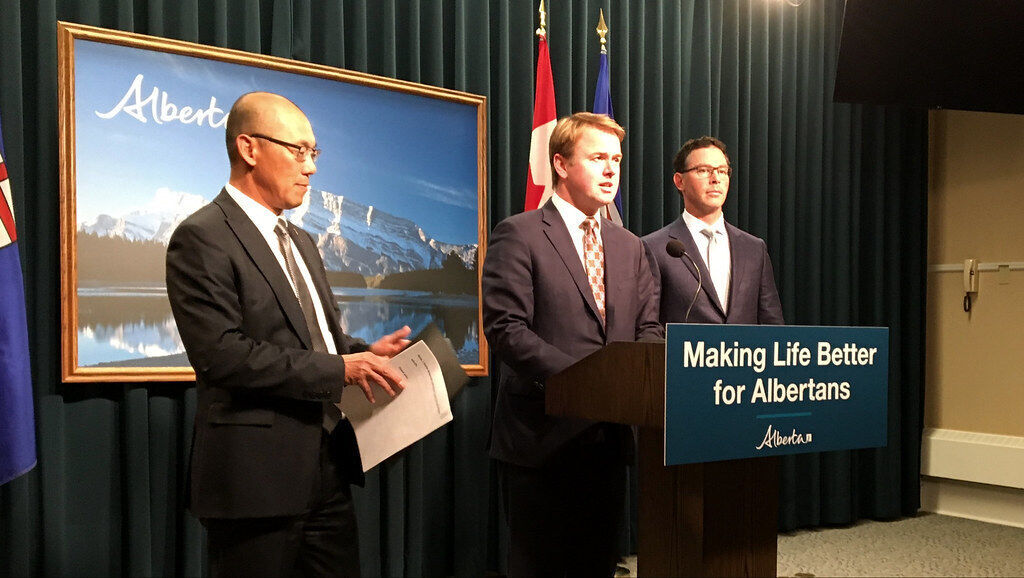 In November, leaked audio recordings raised questions about whether Shandro and other government figures were directing or interfering with the province's pandemic response, elevating political concerns above medical advice.
In the same month, multiple groups of doctors wrote open letters to Shandro and Kenney calling for stricter measures as cases and deaths soared—yet the government didn't introduce significant restrictions until December 8.
Alberta has also steadfastly refused calls to abandon its problem-plagued contact tracing app and adopt the federal government's.
The other public health crisis
The COVID-19 pandemic is only one of two major public health crises Alberta is facing. Opioid overdoses killed 1,128 Albertans in 2020, the worst year on record and an 81% increase from 2019.

Although Jason Luan is the associate minister for mental health and addictions, Shandro is the one holding the health portfolio. Luan may be the one announcing a review of safe consumption sites that does not look at their health benefits, or suggesting that distributing naloxone kits might enable more drug use. But Shandro is ultimately responsible for the health ministry.
That includes moves like pulling funding and forcing the closure of Lethbridge's only supervised consumption site—the busiest such facility in North America, in a city with twice the rate of fentanyl-related overdose deaths as Calgary.
Or pulling funding for injectable opioid agonist treatment, until being forced to restore it in the face of a Charter-violation lawsuit from 11 patients.
In the first year of the COVID-19 pandemic, an average of more than five Albertans died each day from the disease. In 2020, an average of more than three Albertans died each day from opioid overdoses.
In the case of both crises, the Alberta government has been accused of putting politics and ideology above medical advice and best practices, resulting in deaths and suffering that were likely preventable. This is not to pin either of these public health disasters wholly on Shandro. But as health minister, his decisions are of life-and-death importance.
As he has before, Kenney has defended his health minister in the wake of the failed AMA negotiations. On the other hand, the premier has unexpectedly changed his mind before, when defending those loyal to him becomes a political liability.
It's impossible to know what will be foremost in the minds of Shandro's constituents in two years. Perhaps he will be punished by voters. Perhaps they will re-elect him despite the controversies, or perhaps his combative persona will be a campaign asset.
Church said that one of the longer-lasting aspects of Shandro's legacy as health minister may be the damage to the government's relationship with doctors, which took years to rebuild after the Klein era.
"That whole relationship that had developed got shot down when Shandro ripped up the contract with the AMA," he said. "That is all going to have to be rebuilt from the ground up."
Given that Kenney continues to stand by him, the person in charge of beginning that rebuilding will be Tyler Shandro.
Taylor Lambert is the Alberta politics reporter for The Sprawl.
Support in-depth Calgary journalism.
Sign Me Up!
We connect Calgarians with their city through in-depth, curiosity-driven journalism—but we can't do it alone. We rely on our readers and listeners to fund our work by pitching in a few dollars a month. Join us by becoming a Sprawl member today!