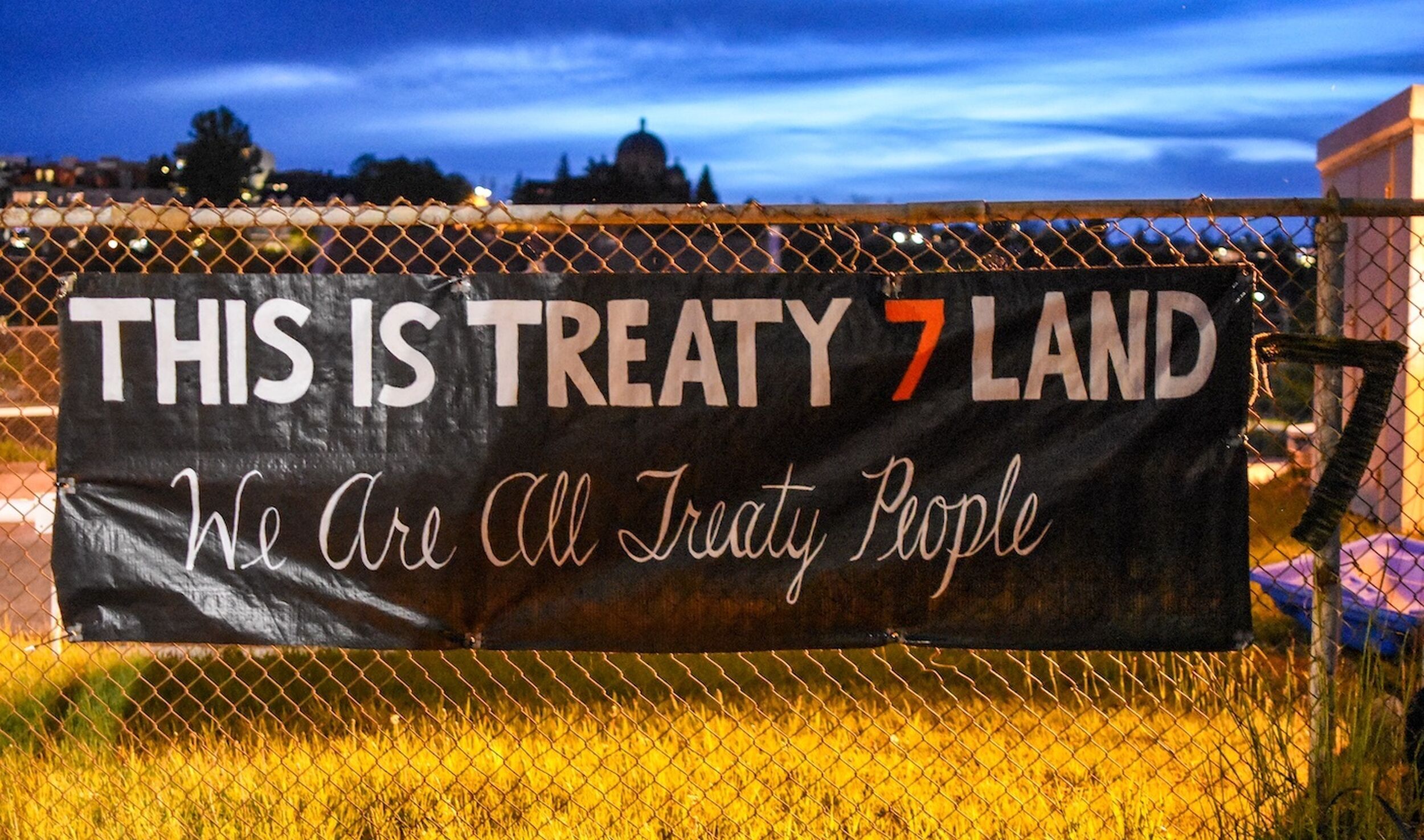 It's been 6 years since White Goose Flying. What's changed?
City hall's Indigenous Relations Office is tracking progress.
In 1899, Jack White Goose Flying, a 17-year-old man from the Pikaani Nation, died of tuberculosis at St. Dunstan's Anglican School—the sole residential school within Calgary's city limits.
While other St. Dunstan's students who got ill or died were permitted to return home to their families, White Goose Flying's tuberculosis had progressed so rapidly that he died and was buried on the school grounds.
He was buried on top of a hill, above the school grounds overlooking the Bow River, his grave covered by stones and surrounded by a white picket fence.
White Goose Flying is the namesake of a 2016 report from the Calgary Aboriginal Urban Affairs Committee, which looked at the national Truth and Reconciliation Commission's (TRC) 94 calls to action from the previous year and determined which can be implemented at a municipal level.
The committee identified 18 TRC calls to action that the city could act on independently, in areas including public awareness and training, along with spiritual healing and culture. It also identified 25 more that the city could do in partnership with other institutions and levels of government.
The report received renewed interest after the killing of George Floyd in 2020 and the uncovering in 2021 of thousands of unmarked graves of Indigenous children who didn't return from residential schools across the country.
Marilyn North Peigan, a Piikani woman, Canadian Forces veteran and Calgary police commissioner who helped write the report, expressed frustration in October 2021 on how little progress had been made on the report's recommendations in the five years since it was released.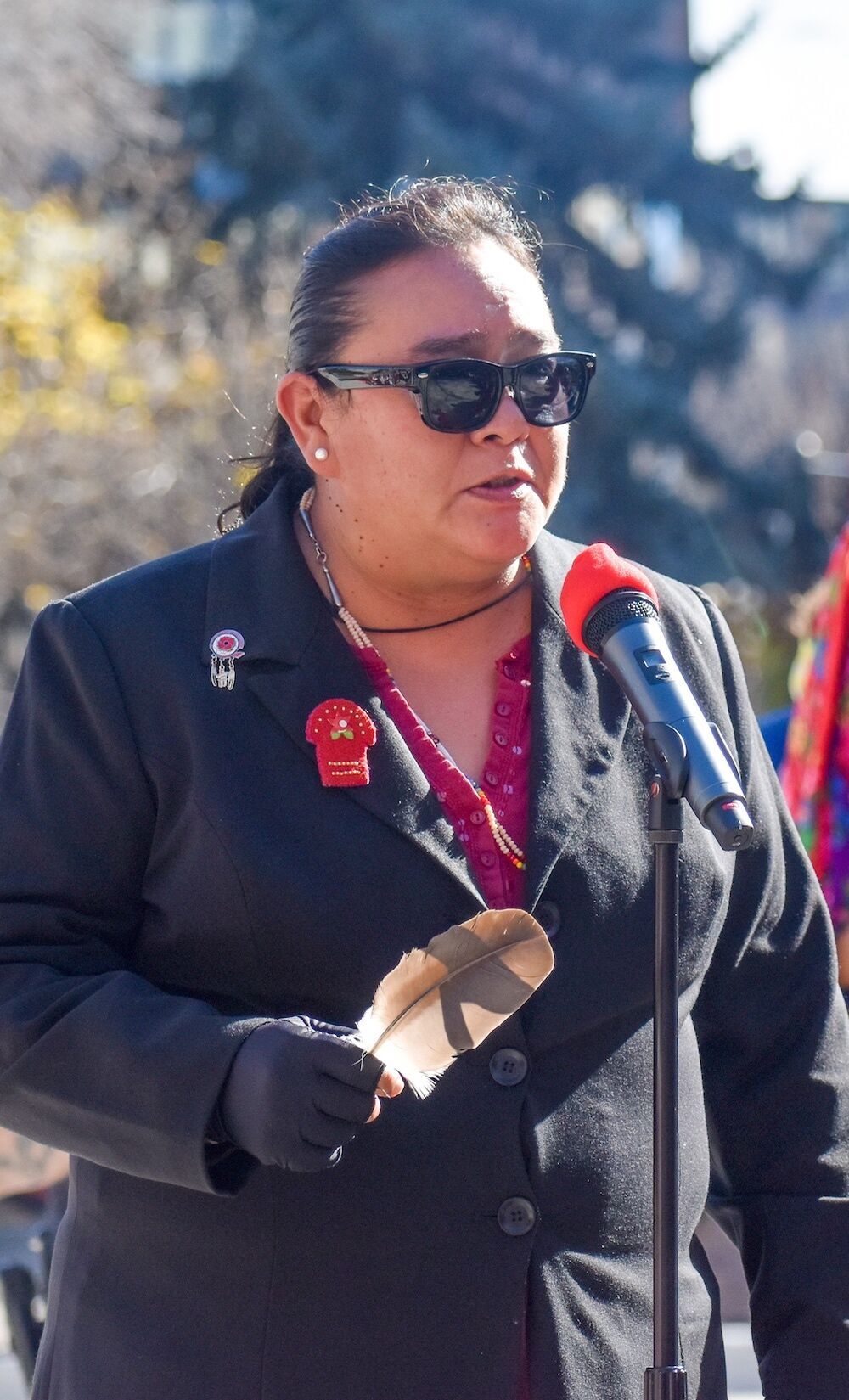 North Peigan is running for the Alberta NDP in Calgary-Klein in the next provincial election against UCP incumbent Jeremy Nixon, where she hopes to become the province's first Blackfoot woman MLA. The NDP didn't make her available for comment for this piece, but North Peigan gave a frank assessment to Global News last fall.
"One of the largest issues that I had to agree with when the Black Lives Matters came to the forefront last summer was the fact that Canada was offering, as a solution, symbolism and not action," North Peigan said at the time.
"And that's exactly the situation we are in when it comes to the White Goose Flying report."
The role of the Indigenous Relations Office
Terry Poucette, who is from the Stoney Nakoda Nation, is in charge of the city's Indigenous Relations Office. Her job is, in part, tracking the city's progress on implementing the White Goose Flying recommendations.
"I report on these things, but I'm not the public manager of these projects," she told The Sprawl.
The city approved $1.1 million in funding for the Indigenous Relations Office in 2018. That was cut by $482,000 as part of city-wide budget cuts to keep taxes low but has since been restored to its full amount. The office employs seven full-time staff, and is working on projects such as the creation of a residential school permanent memorial.
Poucette acknowledges "the city has done some things to advance truth and reconciliation, but it could do a lot more."
The Indigenous Relations Office is currently holding "internal stakeholder" sessions at city hall on the successes and challenges in implementing the White Goose Flying report's recommendations. Poucette must report to council in the fourth quarter of every year to update elected officials on the city's progress.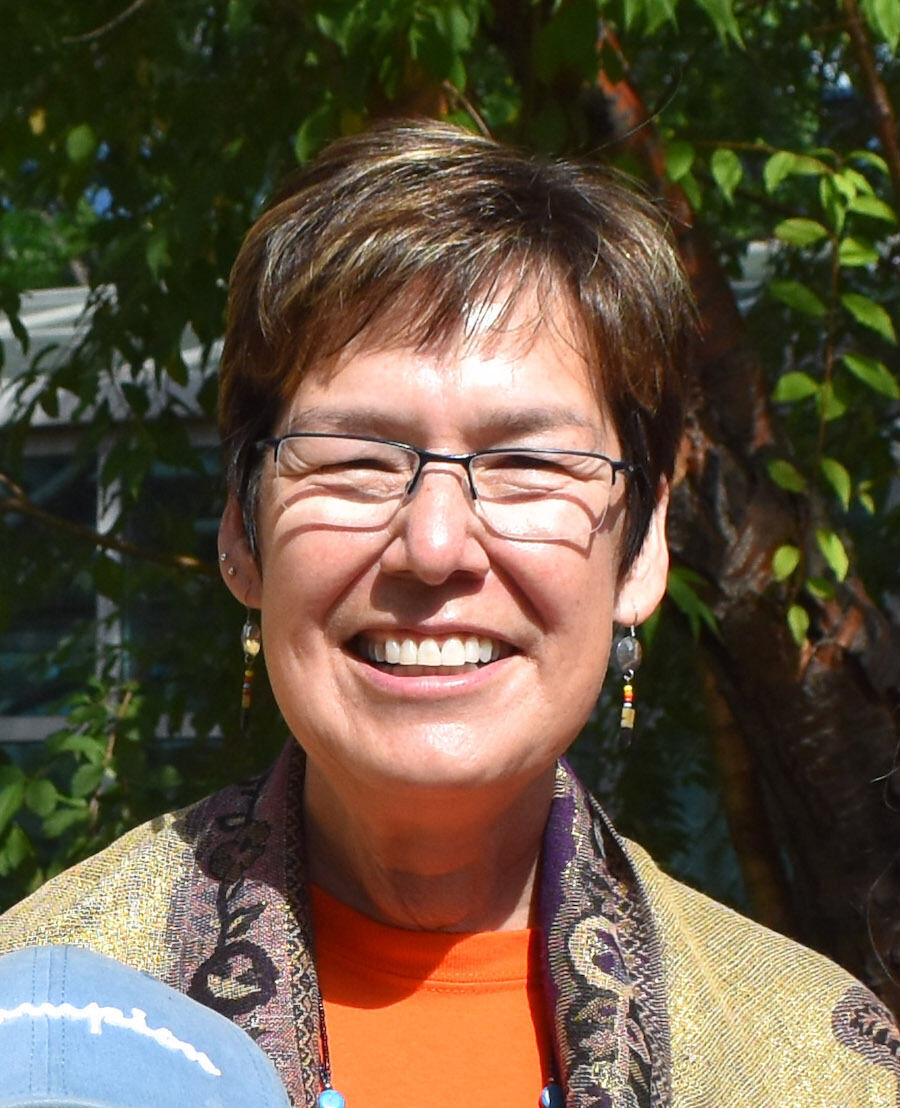 The report lists each recommendation, who is responsible and how they should implement it. Poucette calls her plans for overseeing the process "ReconciliACTION."
One of the TRC's calls to action is for government staff to receive public awareness training on Indigenous issues. According to White Goose Flying, this means city hall must "review current HR practices, policies and training programs, and find resources for developing awareness and training programmes for all City staff on Truth and Reconciliation."
In a June 2021 presentation to council's priorities and finance committee, Poucette recognized this call to action as a challenge, since city staff's TRC education isn't yet mandatory.
"We've done training in 'Indigenous 101,' just to give the basic facts, amongst city staff," she told committee. "We've done training with Indigenous engagement. We've arranged meetings between different business units to spend an afternoon with elders and learn about Indigenous cultures and worldviews and protocols."

Reconciliation is an ongoing thing. It has no end date.
Can the city decolonize within existing structures?
Michelle Robinson, a Sahtu Dene woman who hosts the Native Calgarian podcast and founded Calgary's Reconciliation Action Group, criticized the Missing and Murdered Indigenous Women and Girls inquiry for being done under a colonial framework after it was beset by seven resignations in 2017.
"The inquiry is designated to a legislation that doesn't fit an Indigenous perspective," Robinson, who ran for city council in Ward 10 that year, told the Calgary Journal. "[H]ow do you expect commissioners to be able to work with an Indigenous lens in a colonial setting? That's the problem."

She shares a similar criticism of White Goose Flying, which she places in the context of decades of reports making recommendations on Indigenous issues that have yet to be action upon, dating back to the hundreds of recommendations in the Royal Commission on Aboriginal Peoples of 1996.
"The folks in government don't have any incentive to actually implement those recommendations, so they never do," Robinson told The Sprawl.

The small gestures the city and its partners have made towards reconciliation, such as renaming Langevin Bridge and Langevin School, whose namesake was an architect of Canada's genocide against Indigenous peoples, couldn't have occurred without a fight, Robinson said.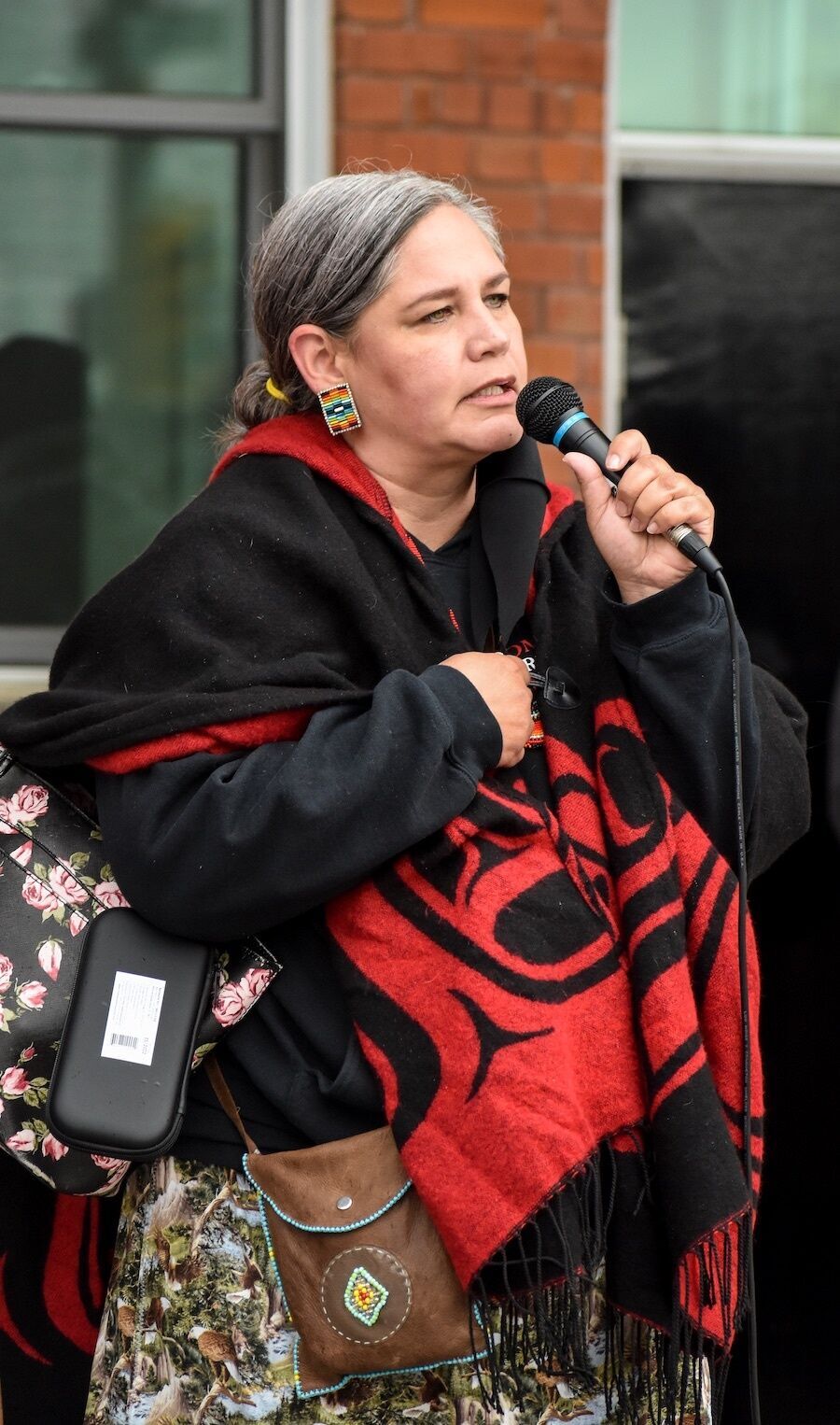 "Honestly, [the Calgary Board of Education] didn't want to change Langevin's name. And it wasn't until the 215 graves [in Kamloops] were brought up to the news media that they finally did. So they were literally shamed into doing it," she said. "It's not because they wanted to."

She said the city's implementation of voluntary public servant education on reconciliation and anti-racism is a structureless fig leaf.
Because of a "huge oppression dynamic," Indigenous people whom the city consults have no choice but to accept the colonial terms of discussion, Robinson added.

"I can put up a reconciliation sign in my window that says 'we're reconciling.' But what does that mean? Like, what action have I personally done? It's really fluff," Robinson said.
A colonial governance model
The TRC calls on governments to "reaffirm and renew Treaty relationships, and maintain them for the future." This call to action has multiple components, and the more symbolic aspect—flying a Treaty 7 flag outside city hall—was implemented in March 2017, almost a year after White Goose Flying was released.
Poucette said a more challenging aspect is developing an Indigenous governance model, because it requires a total rethink of how Indigenous peoples interact with the city.
"Right now, the governance model for the City of Calgary that oversees the Calgary Aboriginal Urban Affairs Committee is a colonial Robert's Rules kind of model. And it doesn't necessarily work for Indigenous people," Poucette said. "It's a foreign system to Indigenous people."
The folks in government don't have any incentive to actually implement those recommendations, so they never do.
In December 2020, city council directed admin to consult with Indigenous leaders on creating an Indigenous governance model rooted in nation-to-nation relations in a manner that works for Treaty 7 Nations, Metis Nation of Alberta Region 3 and the urban Indigenous population of Calgary.
City admin is slated to report back to council in late 2024 with recommendations.
"I don't think that truth and reconciliation is something that you can rush," Poucette said. "Truth and reconciliation is not easy, and it takes time. It needs to be done right."
"And I think that the City of Calgary did the right thing in terms of building its capacity and establishing an Indigenous Relations Office to support it in its advancement of White Goose Flying."
Jeremy Appel is an independent Calgary-based journalist who writes The Orchard newsletter. He also co-hosts the Forgotten Corner and Big Shiny Takes podcasts.
CORRECTION: This story originally misattributed a line to Terry Poucette about the city cutting funding to the Indigenous Relations Office in order to keep taxes low. Poucette did not refer to keeping taxes low in her interview with The Sprawl. We regret the error.

Support in-depth Calgary journalism.
Sign Me Up!
This is a dire time for the news industry in Canada—and we need your support now more than ever. The Sprawl connects Calgarians with their city through in-depth, curiosity-driven journalism, but we can only keep doing this if readers and listeners pitch in. Join us by becoming a Sprawl member today!