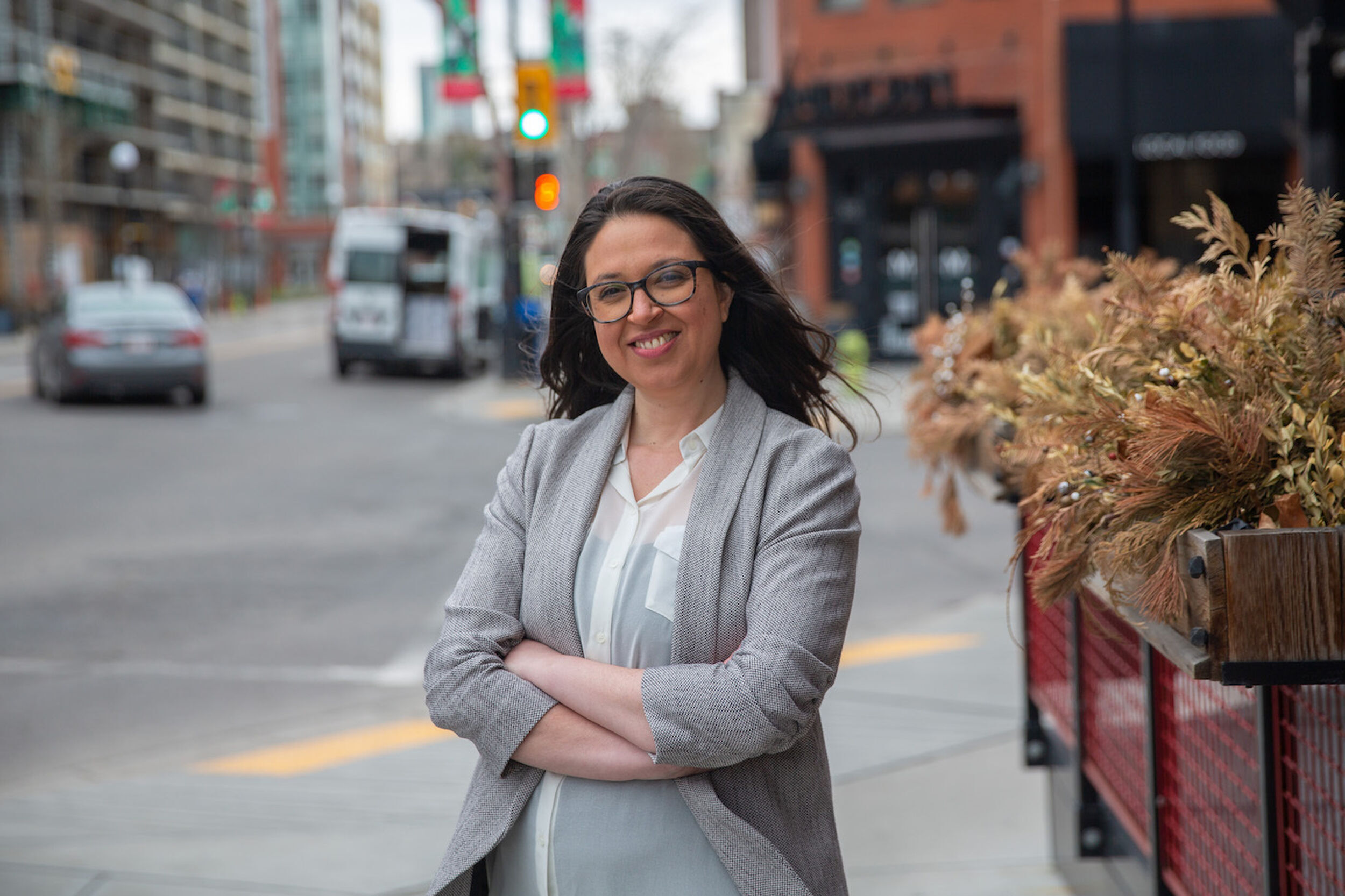 '

I've always looked for ways to improve things'
A Q&A with Ximena González, The Sprawl's assistant editor.
Ximena González loves supporting good local causes, whether she's volunteering for CJSW or helping organize d.talks events.
Just don't get her started on swag.
Whenever the idea of Sprawl swag comes up at a team meeting—which is damn near weekly—Ximena reminds us that our mission is local journalism, not merchandise. This, she says, is why people sign up as monthly Sprawl members. They want stories, not stuff.
Ximena's background is in architecture, urban planning and communications. After becoming a Sprawl member herself, Ximena joined the Sprawl team in summer 2018 to oversee our fledgling membership program.
As that membership has grown (now 1,100 and counting!), Ximena's role has expanded. Today she's our assistant editor, setting editorial direction and working closely with our writers and cartoonists.
On top of that, she's our resident analytics and spreadsheet expert. And somehow she still manages to take care of the people who make all of this possible—our members.
In short, Ximena basically holds The Sprawl together, keeping us organized and focused.

What made you want to become an editor?
In all of my career choices (which are plenty!), I've always looked for ways to improve things, to try and make the world a little bit better. Be it buildings, cities, or words—in a way, I've always been an editor. As The Sprawl's assistant editor, I help writers produce the best story they can. I get the opportunity to ensure the words we publish are powerful and insightful, words that inform and inspire our readers. And that's pretty fun.
What do you enjoy most about your work with The Sprawl?

So many things! First and foremost I'd say it's a great team to work with. I also get the opportunity to wear many hats, which I find rather fun. And lastly, I feel like I'm getting to play a part in the future of journalism. Journalism has always played an important role in my life. It has informed my opinions, shed a light in my blind spots and even helped me get through difficult times. The Sprawl does exactly this, and I'm honoured to be part of it.
I feel like I'm getting to play a part in the future of journalism.
What are three things most people don't know about you?
I once attempted to sell cars for a living. (It was a dark period in my life. Didn't make a living.)
If you've ever heard a "meow" stinger on CJSW, it's me.
What's one of your favourite stories you've worked on so far—and why?
That's a tough one, can I pick an edition instead?
My favourite edition is the Sprawl on Sprawl Edition because it looks into some of the different aspects that shape our city. The stories in this edition show how Calgary reflects the values of (some) of its people—present, past, and even what we think will be valued in the future.
How are you coping with life in quarantine?
I guess after a couple of injury-ridden summers I've become pretty good at coping with whatever life throws my way. I take it one day at a time and focus on the things I can do rather than on what I can't. I'm also a bit of a homebody, which definitely helps.

Once coffeeshops and other local businesses start reopening, where are the first spots you're going to go?
Ship & Anchor patio, if it's still summer.
I miss all the people-watching and eavesdropping!
If you could change one thing about Calgary, what would it be?
Can you stop being so car-centric, Calgary? Thanks.
---

Become a Sprawl member today! Now more than ever, we need strong independent journalism in Alberta. That's what The Sprawl is here for. When you become a Sprawl member, it means our writers, cartoonists and photographers can do more of the journalism we need right now.
Support in-depth Calgary journalism.
Sign Me Up!
This is a dire time for the news industry in Canada—and we need your support now more than ever. The Sprawl connects Calgarians with their city through in-depth, curiosity-driven journalism, but we can only keep doing this if readers and listeners pitch in. Join us by becoming a Sprawl member today!