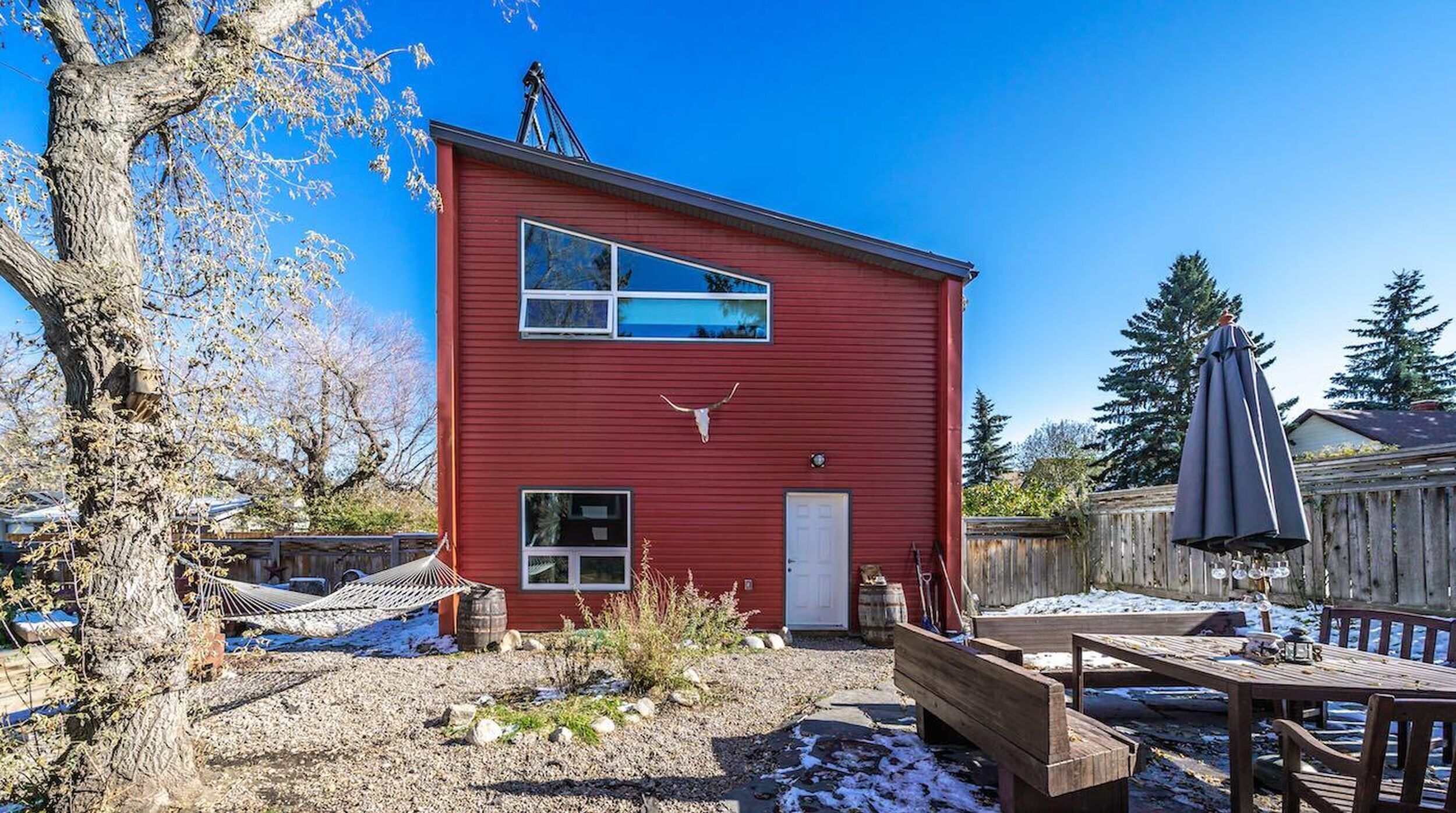 Backyard suites get fresh boost in Calgary
Enlivening drab alleys with gentle density.
Think for a second about Calgary's alleys—home to blue, green and black bins, but not much else.

I used to live in an apartment building that shared an alley with a backyard suite. This one small structure, and the coming and going of its tenant, shifted a space typically designated for cars and garbage.
Sometimes called laneway houses, carriage houses, garden suites or garage suites, backyard suites are secondary residences located behind or beside the primary residence.
They enliven the city's dull spaces, and also do much more. Backyard suites are a form of infill housing that allows us to build in, rather than sprawl out.
For Calgary, a city trying to shift half of new growth into existing neighbourhoods by 2069, backyard suites are an important tool. The density they bring is gentle, as unlike other forms of infill, existing houses remain in place.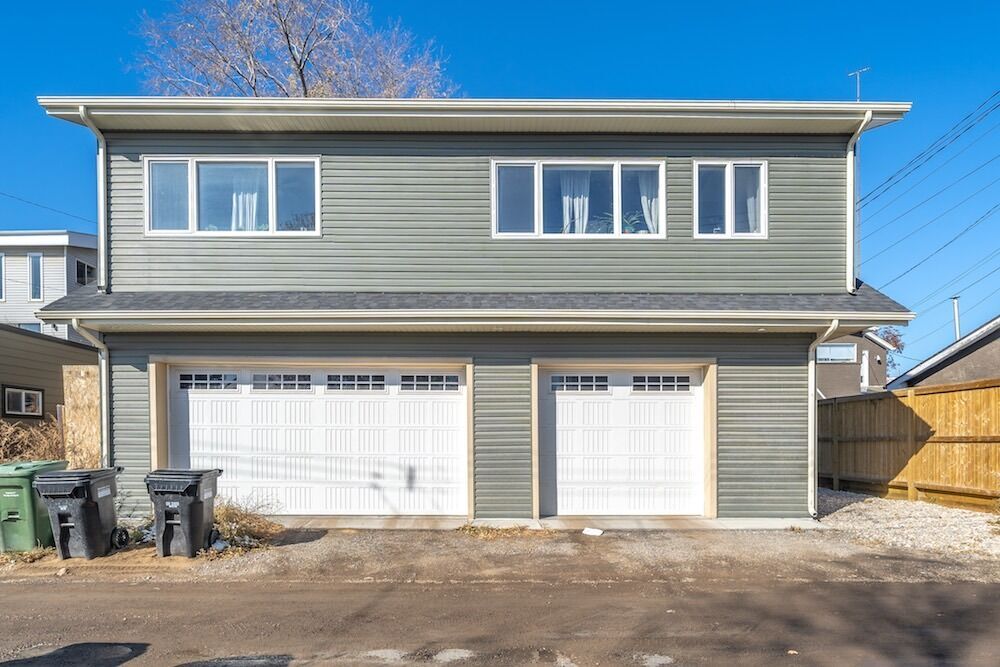 Backyard suites also provide flexibility for homeowners. Possible uses include people downsizing and aging in place, family members living (very) close by, or using a suite as a mortgage helper and adding to our city's rental market.
A few hundred backyard suites are already sprinkled throughout Calgary, from one of my favourite suites, Studio North's Bowling Lane House tucked behind a heritage home in Crescent Heights, to multiple garage suites throughout the southwest communities of Garrison Woods, Garrison Green and Currie Barracks, thanks to an allowance in the area's rezoning.
Now there's new momentum for these dwellings.
Homeowner power, used for good
Calgary Backyard Suites, a non-profit education and advocacy organization run by Ashley Salvador, recently arrived in town. Salvador aims to start a movement, encouraging and empowering citizens, industry and the city to add infill development in our long-overlooked back alleys.
Remember how, up until last year, Calgary's bizarre secondary suite approval process involved neighbours showing up to monthly city council hearings, speaking out against potential new suites? In Salvador's vision, that individual power plays out in a much different way.
"We see homeowners as this huge untapped resource for being agents of change in our cities," Salvador said.
"There are vast swaths of land we have devoted to just garages or backyards or cars. There's huge potential to start creating more sustainable, urban, healthy and walkable cities, if we're able to tap into those."
Calgary Backyard Suites follows the same model as YEGarden Suites, an Edmonton organization Salvador co-founded with Travis Fong three years ago. (While they're known as garden suites in Edmonton, the City of Calgary uses the all-encompassing term "backyard suites".) About 3,500 people have attended YEGarden Suites' tours and workshops, covering everything from rules and regulations to design considerations, costs and financing options.

We see homeowners as this huge untapped resource for being agents of change in our cities.
So far, Calgarians seem just as enthused. Calgary Backyard Suites launched two months ago and its first workshop sold out. Next, a confluence of suite owners, tenants, builders and curious Calgarians participated in the organization's first self-guided suite tour.
The doors to six backyard suites across the city opened for one day, so that 150 people, including myself, could see firsthand what laneway living is all about.
In a city well-known for its opposition to secondary suites, I found it refreshing to witness a collective buzz for these backyard dwellings.
'You have that degree of separation'
One of the suites we wandered through belonged to Rick Cloutier. Built in 2011 above a two-car garage, metres from Cloutier's daughter's bungalow in the city's northwest, this backyard suite was one of Calgary's first in a mature neighbourhood. With vaulted ceilings and an open floor plan, the 550-square-foot suite felt spacious.
Cloutier proudly showed off his space, saying it's "just the right distance" away from his three teenage grandchildren.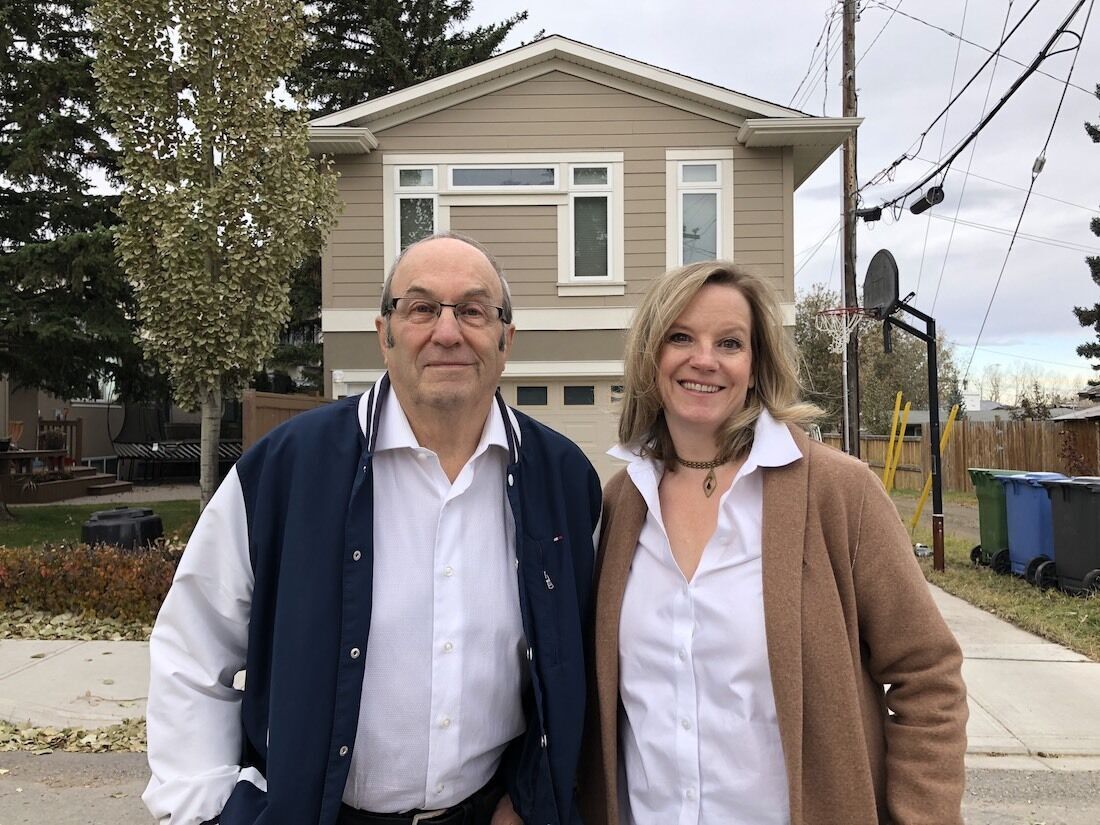 "You have that degree of separation, and never feel like you're on top of each other," said Deanna Hoffart, Cloutier's daughter. "To have your family so close and to be part of your life—it's wonderful."
From a funky, net-positive energy backyard house in Ramsay to a shiny new two-bedroom suite above a triple car garage in Winston Heights, the tour showcased a range of designs.
In the city's southwest, Katherine Lazaruk welcomed us into her rental suite built from three shipping containers.

Lazaruk moved into the 480-square-foot space with her boyfriend eight months ago. The couple had rented an apartment, but noisy neighbours above led to a search for a new place.
Their separate suite is bright, quiet and has its own private balcony. Another "huge bonus", said Lazaruk, has been becoming friends with her nearby landlords. "I really love living here," she said.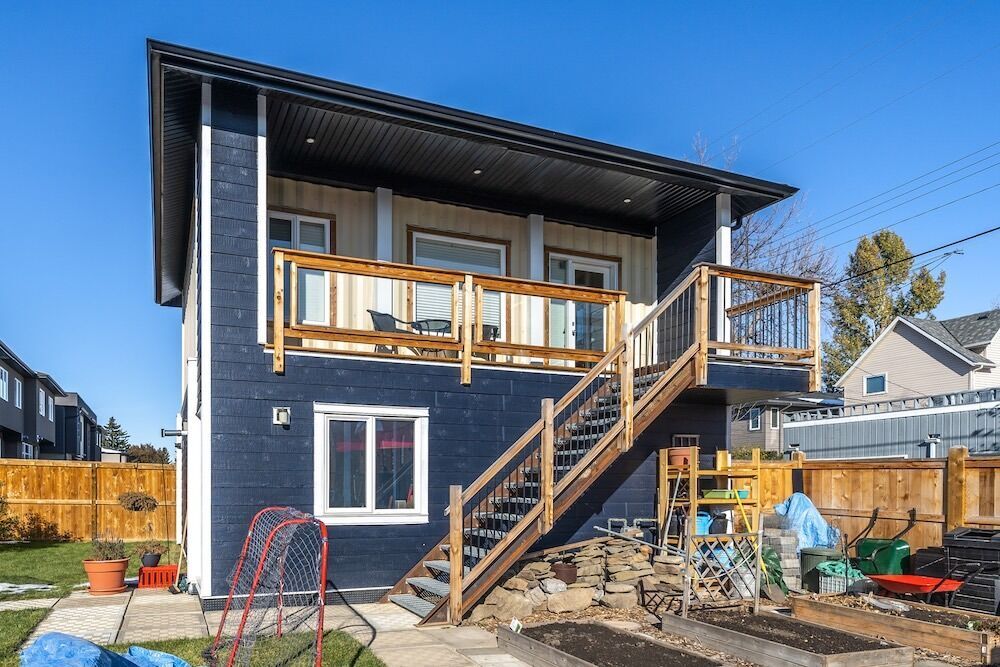 Homeowners still face obstacles
Despite the many benefits, barriers still exist for homeowners who want to build a backyard suite. In most Calgary communities, a backyard suite is a discretionary use. That means a homeowner's application must go through a full review and is open to appeal by neighbours.
"That's a huge barrier for a lot of people," Salvador said. "You're not going to spend the money to get plans drawn up and start this process if it's uncertain whether or not you're actually going to be able to go through with it."
Plus, in some areas, decades-old restrictive covenants still prohibit secondary suites of any kind.
In Edmonton, YEGarden Suite's advocacy has led to policy changes. Backyard suites have moved from discretionary use to permitted use, meaning approval is guaranteed as long as all applicable rules are met. There are now about 350 garden suites in Edmonton.
With more awareness of this building form and its benefits, we can embrace the big potential of these small dwellings.
The number of suites in Calgary is harder to pin down, as the City of Calgary groups backyard suites with other secondary suites, such as basement suites. After combing through permit data, Salvador and Fong estimate there are about 250 backyard suites here.
Of course, not everyone is supportive of this type of housing. Common concerns from neighbours include the height of these dwellings, the shadows they cast and parking—this is Calgary, after all.
Affordability is another issue, with a new backyard suite typically costing anywhere from $150,000 to $230,000, says Salvador. She has researched who Edmonton's garage suite owners are and found it's mostly people in upper income brackets who can afford to build suites.

However, there are also plenty of social, environmental and economic benefits for renters and the city as a whole.
With more awareness of this building form and its benefits, combined with city regulations that make it easier for homeowners to build a backyard suite, we can embrace the big potential of these small dwellings in Calgary.
Cailynn Klingbeil is a freelance journalist based in Calgary. Her writing has appeared in numerous publications including The New York Times, The Guardian, The Globe and Mail and CBC.
---
Support in-depth Calgary journalism.
Sign Me Up!
We connect Calgarians with their city through in-depth, curiosity-driven journalism—but we can't do it alone. We rely on our readers and listeners for support. Join us by becoming a Sprawl member today!