Bringing the press to the people
Experiments in civic engagement.
On Thursday we opened our doors for The Sprawl's first-ever "printer's hours" for Sprawl members.

Now that Sprawl HQ is in Whisky Jack Press, a letterpress print shop in Hillhurst, it doesn't seem fair for me to have all the fun, playing with wood type and presses on my own. Others in the community should get to partake of these joys too.

It's not just playing around, either. There's a point to this. I'll get to that in a moment.

But first, a few photos from Thursday. Prints were printed, friends were made, zines were folded—and corn fritters were enjoyed but not thrown, as per the clearly-stated rules!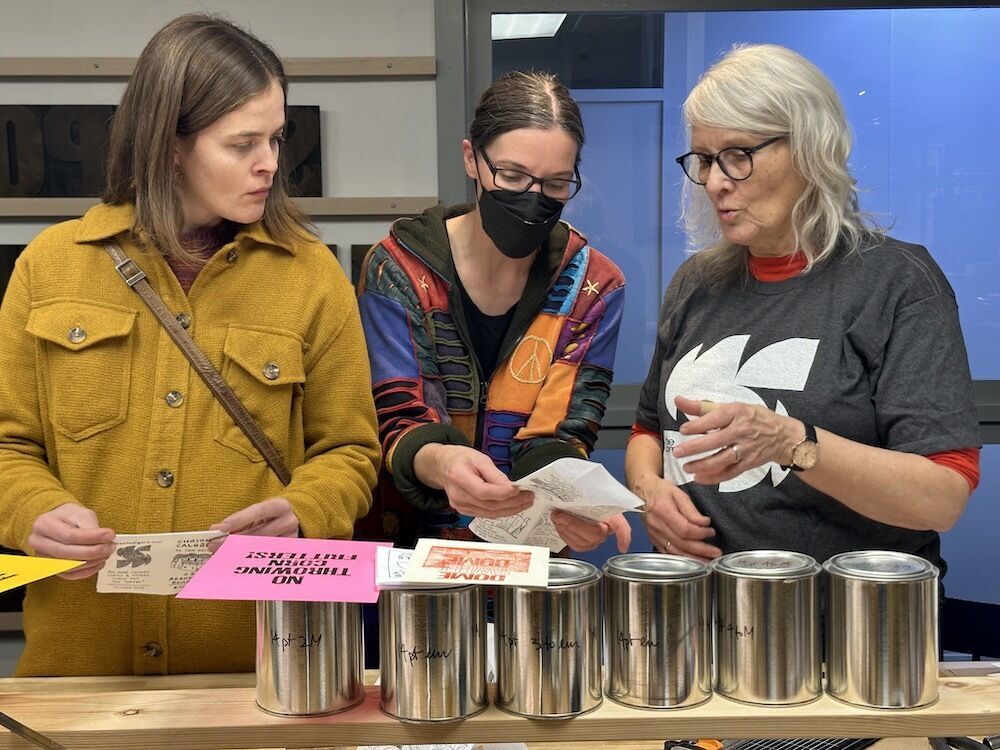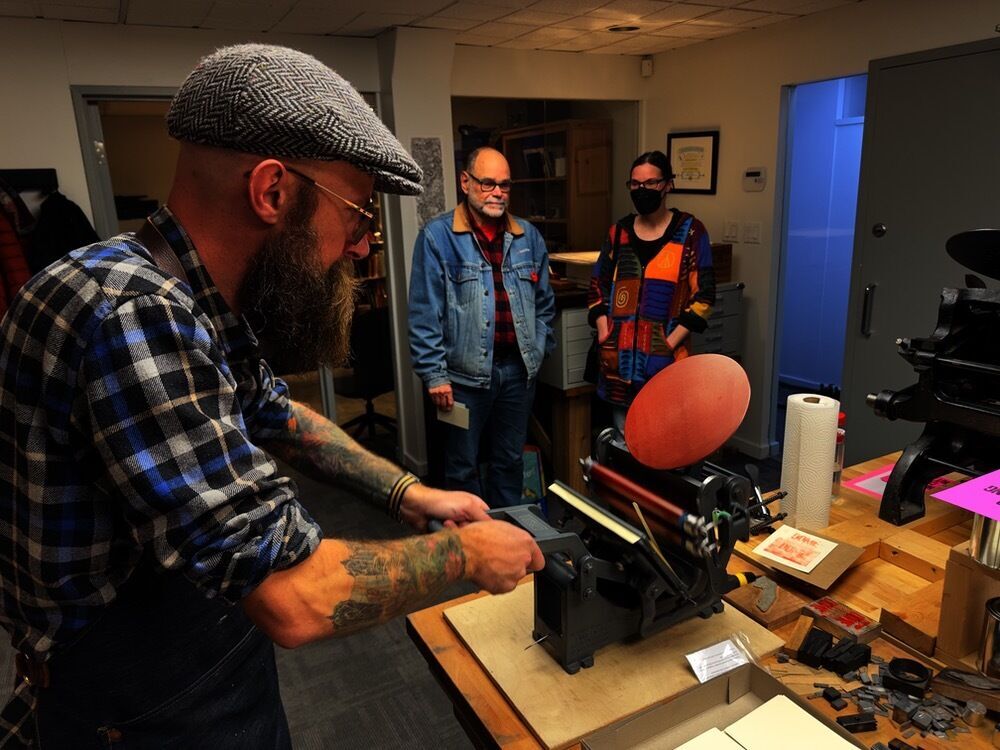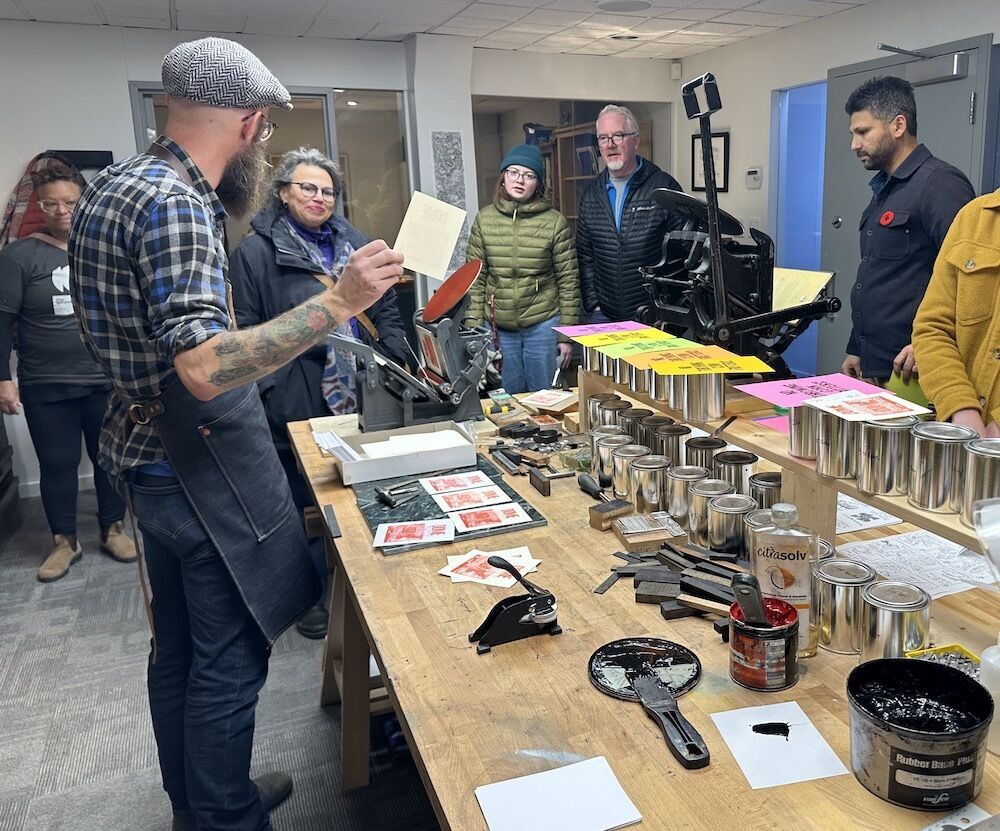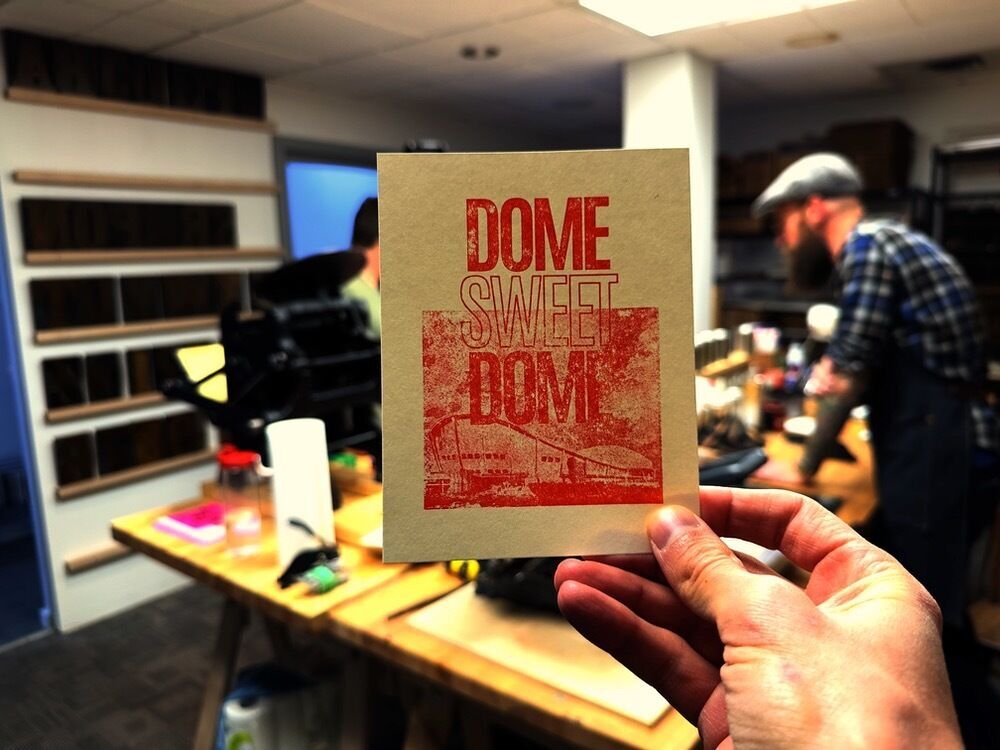 It was all good fun. But perhaps the most illuminating comment came from Sprawler and former MLA David Swann who, at the end of the night, said to me, "What is this all about? I feel like I missed a memo."

Ah, good question. What is this all about?

Let me explain. Or, more accurately, explore.

Many years ago, when the world was young—as in, 2019—The Sprawl published online journalism, as it does now. Which was all well and good. But there was another element of our work that was about civic engagement.

At the time, I was curious about taking the concept of a newsroom—something that still existed in those long-ago days—and breaking it open. Playing with it. Inviting people into it. And exploring important questions together. What is the future of our city? What issues and stories need attention? What might we learn from each other if we look each other in the eye?

There was a lightness to this work. It was enoyable. It was, dare I say it, fun. And it felt fresh.

That year, The Sprawl had a pop-up newsroom at the Central Library, which had just opened. We didn't know fully what that meant going into it, but it sounded interesting, and we could work it out as we went.
There was a lightness to this work. It was enoyable. It was, dare I say it, fun. And it felt fresh.
Our focus was on the future of Calgary: What do you want the city to look like in 25 years?

Pretty soon we had school groups coming through as part of programs like City Hall School and Library School. And we figured out, pretty quickly, how to engage these kids and get them thinking a bit about "the news."

I could stand there and lecture about journalism—not very interesting!—or invite the kids into it.

So Sam Hester and I designed a program of sorts for these classes and started sending kids on assignments in the library. Sam documented how it worked: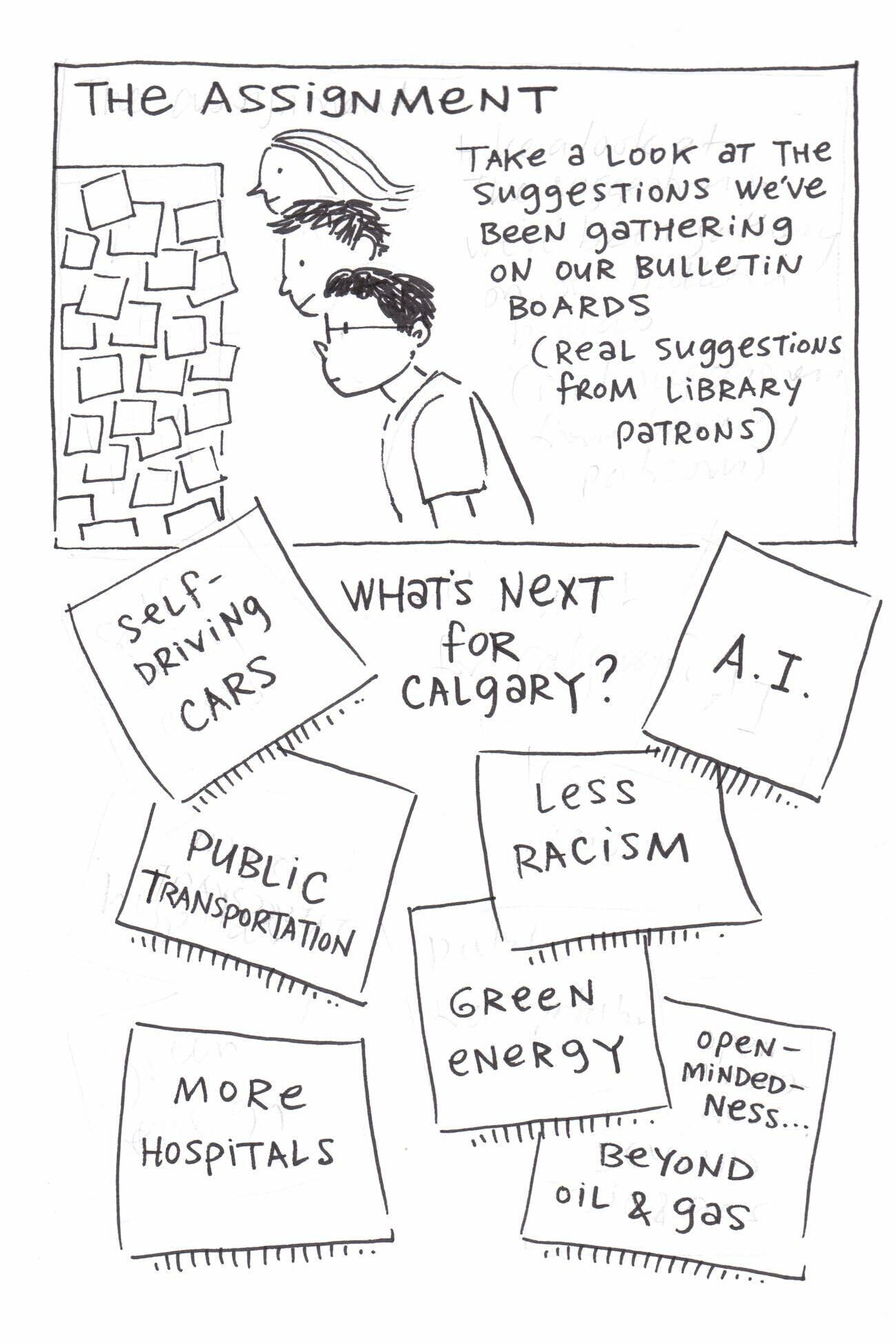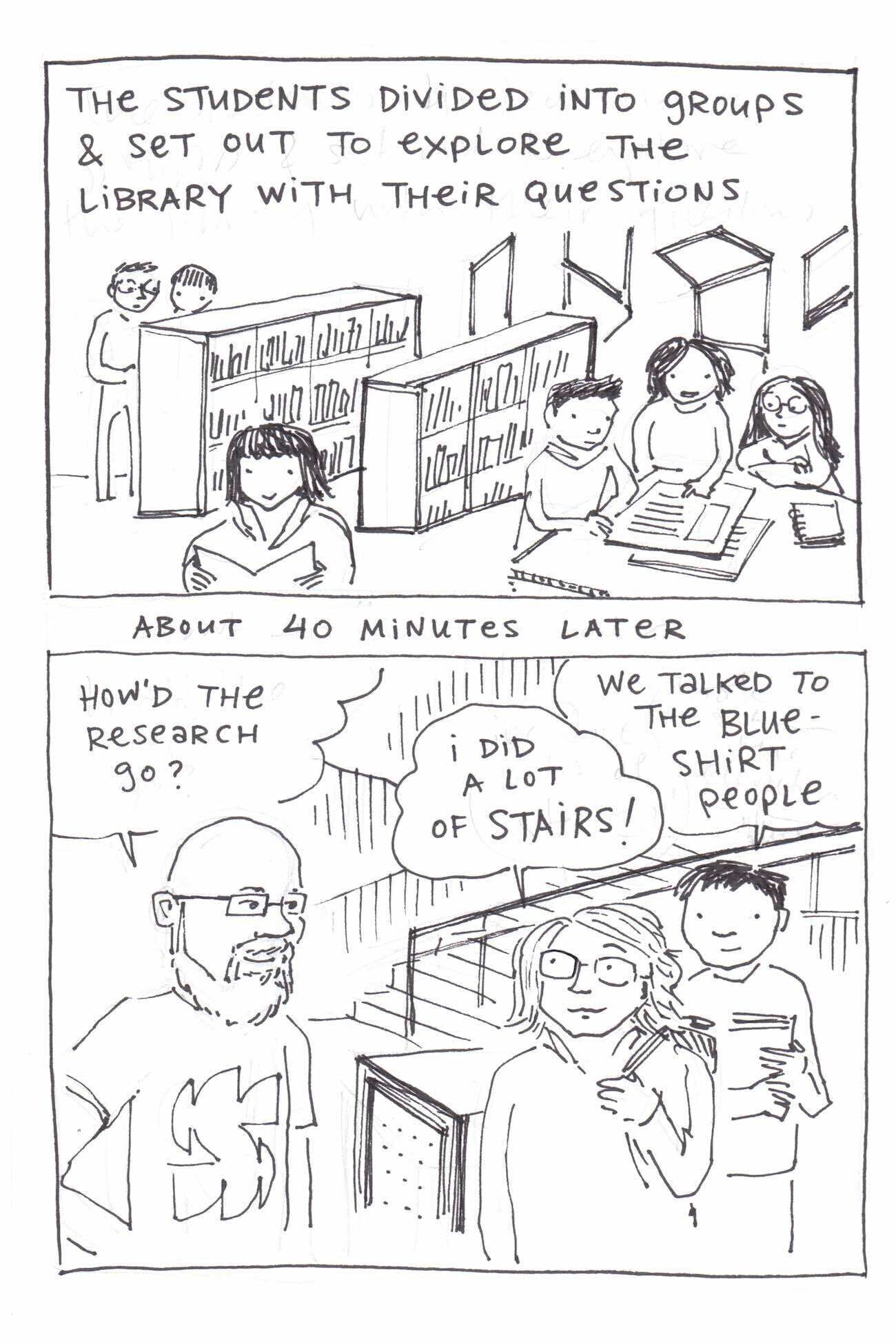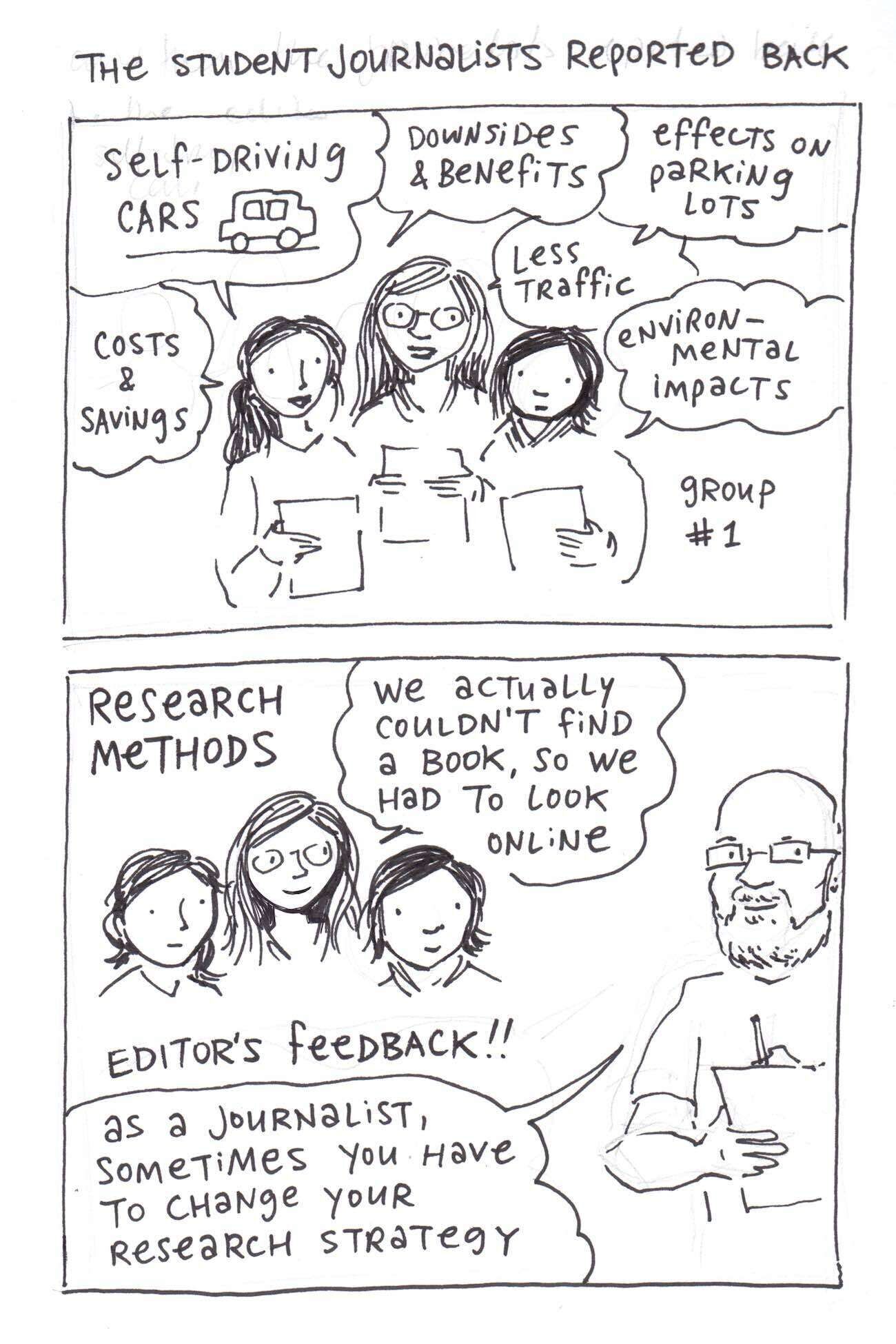 Students would report back and put together an article or a comic or a podcast with their findings. And at the end of the pop-up newsroom experiment, we made a newspaper.

Much has changed between then and now. The pandemic, obviously. But there's another reality: The future of online news looks increasingly grim.

Like other Canadian news publishers, The Sprawl can't share on Facebook or Instagram because Meta has blocked Canadian news in response to Bill C-18 (on a side note: you can follow my personal Instagram account for the time being). And Google is also threatening to de-list news in Canada—which would be a nightmare for publishers, as our stories would no longer show up in search results.

Which brings us back to our print shop adventures.

As the Bill C-18 debacle was unfolding this past summer, I joked with my wife that The Sprawl should get a printing press, because the Liberals were going to have us publishing out of a tent by the Bow River, setting type by hand like ye olde Calgary Herald did when it launched in 1883.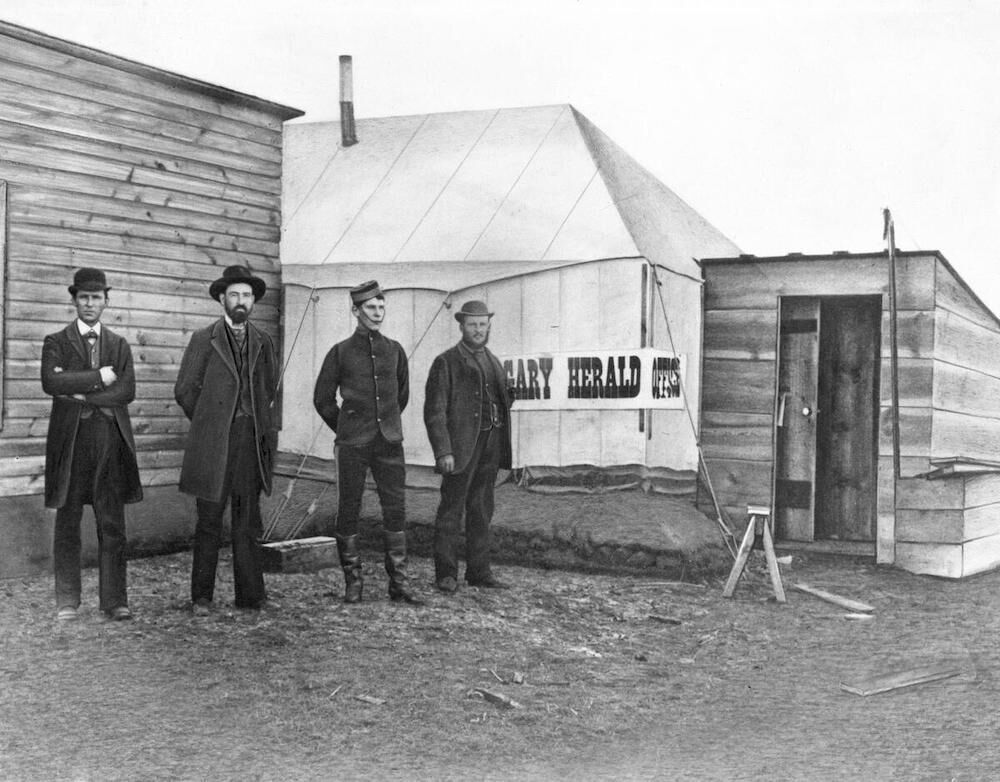 But as soon as I said it—"The Sprawl should get a printing press"—I realized I wasn't entirely joking.

Pretty soon, I was scouring online listings for a (very small) press. I found one on Vancouver Island and became obsessed with the idea of mounting it on a bicycle somehow. (You can laugh, but it's been done—check out Nick Hand's printing bike in the U.K.)

My press-on-a-bicycle vision has yet to be realized. It may never be realized! But now that I've given the press a "test drive" with Sprawl members on Thursday, I'm ready to take it on the road. Think of it as a pop-up printing press. In the past, The Sprawl has experimented with taking the newsroom to the people. Now we're taking the pressroom out into the city, too.

"Newsroom," "pressroom"—I get that these are increasingly archaic concepts that hold little meaning to anyone under the age of 30. But the ideas behind them remain resonant: Connect people with each other. Help them understand their community a little more. And maybe, together, we can discover insights that we would otherwise miss by ourselves.

And we can have a little fun in the process, too. Enter the pop-up printing press and Sam's mini-comics zines! These are for you, yes—but I can also see using them with school groups, similar to what we did in 2019. I think this kind of creative civic engagement has a lot of potential.

We're fortunate to be able to experiment like this. Because we rely on crowdfunding rather than ad revenue, we aren't as reliant on web traffic as many other publishers. This frees us up to be creative. And all of this ties in with point No. 4 of the Sprawl Manifesto:

We aim to surprise and delight. Since we have no beast to feed—no next day's newspaper, no nightly newscast—we're free to use different platforms and formats for Sprawl storytelling. Instead of just cranking out one article after another, we ask: How might we tell this story in a new way?

Make sure to sign up for our newsletter to follow along! And if you value the work we do, please do support our journalism. We can't do this without community support. And I'd love to invite you to future gatherings for Sprawl members, too!
Stay tuned on where we'll set up next.
Jeremy Klaszus is editor-in-chief of The Sprawl.
Support in-depth Calgary journalism.
Sign Me Up!
This is a dire time for the news industry in Canada—and we need your support now more than ever. The Sprawl connects Calgarians with their city through in-depth, curiosity-driven journalism, but we can only keep doing this if readers and listeners pitch in. Join us by becoming a Sprawl member today!