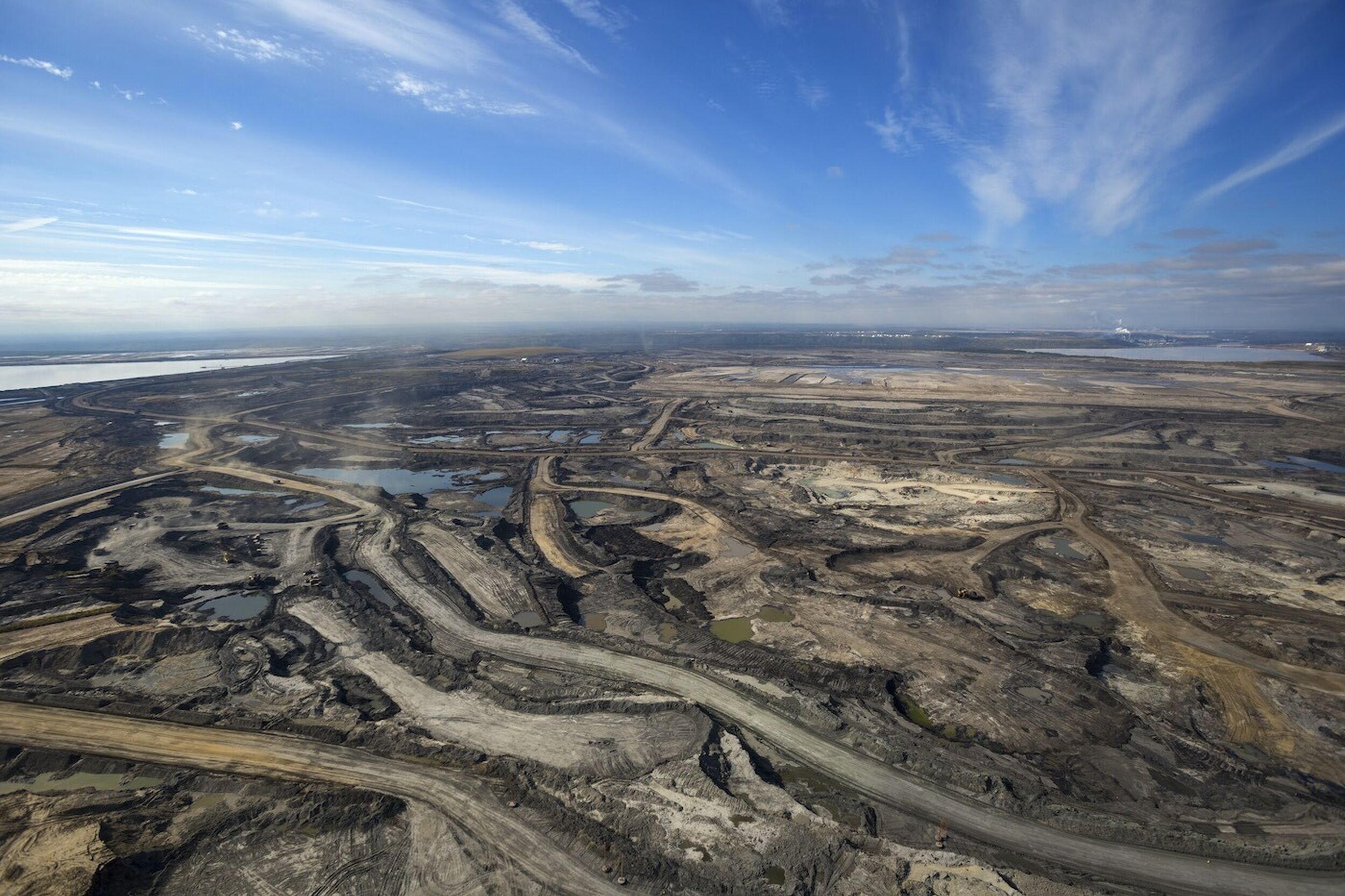 In Alberta classrooms, oil is a tricky lesson
For teachers, it can be a minefield.
Alison Palmer's classroom is filled with the bright colours and cute caricatures typical of an elementary school environment. There's a cozy couch and a plush reading carpet where Linda the Llama, a giant stuffie, hangs out every day.
But turn to the whiteboard, and it's clear the Edmonton students in this Grade 4 class are engaged with heady topics many adults wouldn't want to touch.
"Resolution: Alberta should continue to develop the oilsands," the whiteboard reads.
That's the debate topic Palmer's students were set to tackle just before heading off for spring break.
"One of the first things I say to them is, 'This is a controversial topic. There are many people who feel really strongly on both sides of this. And one of the first things you should do is go home and ask your families what they think,'" she said in an interview in mid-March.
"The whole point is for them to develop their own opinion. It's not about me telling them what my opinion is. But, if they ask, I'll tell them. In this case, my answer is, 'I don't know.'"
"I think that's also good for them to hear that it's not black and white. It's not an easy topic. It's really difficult. That's why it's such a controversial topic."

The whole point is for them to develop their own opinion.
'Get politics out of the classroom'
The news headlines match Palmer's assessment. In December, a school in Blackfalds, Alberta, cancelled its school dance after a parent—angry about a Grade 4 social studies lesson focused on the oilsands—allegedly issued a threat over social media.
A few weeks prior, Education Minister Adriana LaGrange proclaimed on Twitter that her government would "get politics out of the classroom" and posted what she called "concerning" questions from a Grade 10 social studies test.
It is concerning that anybody would think that these were appropriate questions for a Gr. 10 Social Studies test. Alberta has a great story to tell about our responsible energy sector, and educators should not be attacking it. We'll get politics out of the classroom. #abed #ableg pic.twitter.com/GXFMNBxnXO

— Adriana LaGrange (@AdrianaLaGrange) November 28, 2019
Earlier this year, Edmonton Journal columnist David Staples singled out Chris Gusen—an organizer with Climate Justice Edmonton who participated in a climate protest on a downtown bridge—as someone who shouldn't have "regular access to Alberta school students." (Gusen had been a guest speaker at Edmonton's City Hall School program where students learn about civic affairs.)
Concerns about "politics in the classroom" are nothing new.
"Any topic can be controversial," said Carla Peck, a professor of elementary social studies education at the University of Alberta.
But the UCP government, in particular, has trumpeted concerns that its NDP predecessor was pushing a "socialist ideology" in classrooms as it moved forward with a curriculum review.

What Albertans don't want is failed pedagogical fads or political agendas in the classroom.
In an early speech at the Legislature, Premier Jason Kenney proclaimed that "what Albertans don't want is failed pedagogical fads or political agendas in the classroom."
In Alberta these days, there are virtually no political discussions that don't touch on the past, present or future of the province's energy resources.
Add to that the observations of some psychologists who say climate change discussions fall into a life-or-death framework for many participants—and the topic becomes a minefield for teachers trying to keep their students informed and engaged on one of the most pressing issues of their time.
So what's in the curriculum?
Scroll through the Alberta social studies curriculum and the words "natural resources" appear eight times in the Grade 4 program. That's the year students zoom in on Alberta—including how its geography and economy have come to define our lives here.
The province's natural resources, and their development, are an obvious part of the discussion.
According to the curriculum, students are asked to "analyze how Albertans interact with their environment," and are specifically asked, "How do Albertans deal with competing demands on land use (e.g. conservation, solar and wind power, recreation, agriculture, oil exploration, forestry)?"

The document was rolled out in 2006—when Ralph Klein was premier and the average price for West Texas Intermediate was around US $66 per barrel—and has been in use ever since.
I find that the longer I teach and the more I try to be better at it, the more I try to get into those higher-level thinking skills.
While the NDP tried to push forward on a curriculum review that had been initiated by the previous PC government, the UCP repeatedly accused that review of being ideologically driven. (Kenney at one point threatened to toss the curriculum "through the shredder.")
Kenney's government has since appointed an advisory panel on modernizing school curriculums, and Albertans were asked for their insights in an online survey that closed in February.
Teaching students to think critically
Palmer, the Edmonton teacher, started her career 17 years ago. At that time, she says, she would get students to learn about Alberta's different geographical regions, ask them to memorize where natural resources are located and quiz them on the map facts.
"When I started teaching we barely had Google. In this day and age, why would I spend days getting them to memorize something they could just look up on the internet? We have to move beyond those basic knowledge outcomes because the world has changed and knowledge is so different now. We're getting into real critical thinking skills."
"I find that the longer I teach and the more I try to be better at it, the more I try to get into those higher level thinking skills," Palmer said.
Last year, her students debated the Trans Mountain pipeline expansion. So far, she's had no negative feedback from parents.

Palmer is careful to follow the curriculum guidelines and its stated learning outcomes, many of which are posted directly on her whiteboard. Students are supposed to develop skills that allow them to "evaluate critically" ideas "from multiple perspectives."

They're supposed to "re-evaluate their opinions to broaden [their] understanding of a topic or issue."
The word ​'critically' doesn't mean find everything negative about something.
"The word 'critically' doesn't mean find everything negative about something. It means using critical thought to understand all the different dimensions. It means doing a thorough investigation and developing criteria for judgment," said Peck.

Of course, Alberta's resource sector isn't only discussed in Grade 4.
Teachers may use the topic, and news articles about it, to teach lessons on distinguishing between fact and opinion, understanding rhetoric, recognizing ideologies, or applying skills of persuasion in an argument or debate.

When she's working with pre-service teachers, Peck tells them communication about difficult topics is key. They need to be able to explain why a topic is being discussed in class and they need to tie it back to the approved curriculum.
What happens when our worldview is threatened?
Cathryn van Kessel, an assistant professor in the department of secondary education at the University of Alberta, says educators could also benefit from understanding exactly why discussions about Alberta's energy sector, and climate change, can elicit such strong reactions.
She points to an area of social psychology called terror management theory that posits that direct reminders of death "make us act in weird and quirky ways, whether it's directly related to us or not," she said.

For many, climate change is more than just change—it's a climate crisis. Species are dying, hurricanes are battering entire nations and lands are burning so fast and furious that lives and property are under direct threat.
For others, the possibility of a lost livelihood seems equally life-threatening.
The climate crisis is extra problematic, because it's both a direct reminder of death and it's also a worldview threat.
People develop worldviews to help protect them from their fears of death. In Alberta, environmental activism or protecting the energy sector can clash in ways that van Kessel described as a "worldview threat."

"When you encounter someone with a different perspective, it removes your ability to cope with just ordinary, average existential terror," said van Kessel.
"So, if you have someone who's really pro-oil and gas reading something about the climate crisis, or you're an activist reading something that's talking about the potential plight of families whose economics are tied to it, literally their reading comprehension will go down."
"That's why the climate crisis is extra problematic, because it's both a direct reminder of death and it's also a worldview threat. So it's like a two-for-one existential threat special," van Kessel continued.

Making the conversation less fraught
There's limited research, van Kessel says, on what can make these conversations less fraught in the classroom—smart, sensitive humour can diffuse anxiety; teachers can ensure conversations don't automatically fall into an "us versus them" argument and can ensure students recognize there is nuance of opinion within many groups; and they can give students "permission to recognize" these are often emotionally-fraught topics.
And perhaps, most importantly, they can go back to the teaching basics.
"You try to create a safe and caring classroom where people are respectful of each other," said van Kessel. "You set up rules of engagement for discussion. All of that stuff is a no-brainer for a teacher."
Unfortunately, the politically divisive tone prevailing outside the classroom can make the reasonable, critical discussions that happen within our schools seem far more sinister than they actually are.
Alexandra Zabjek is a journalist based in Edmonton. Her work has appeared in various magazines, newspapers and radio programs across the country. This is her debut piece for The Sprawl.
---

Now more than ever, we need strong independent journalism in Alberta. That's what The Sprawl is here for. When you become a Sprawl member, it means our writers, cartoonists and photographers can do more of the journalism we need right now. Become a Sprawl member today!

Support in-depth Calgary journalism.
Sign Me Up!
This is a dire time for the news industry in Canada—and we need your support now more than ever. The Sprawl connects Calgarians with their city through in-depth, curiosity-driven journalism, but we can only keep doing this if readers and listeners pitch in. Join us by becoming a Sprawl member today!