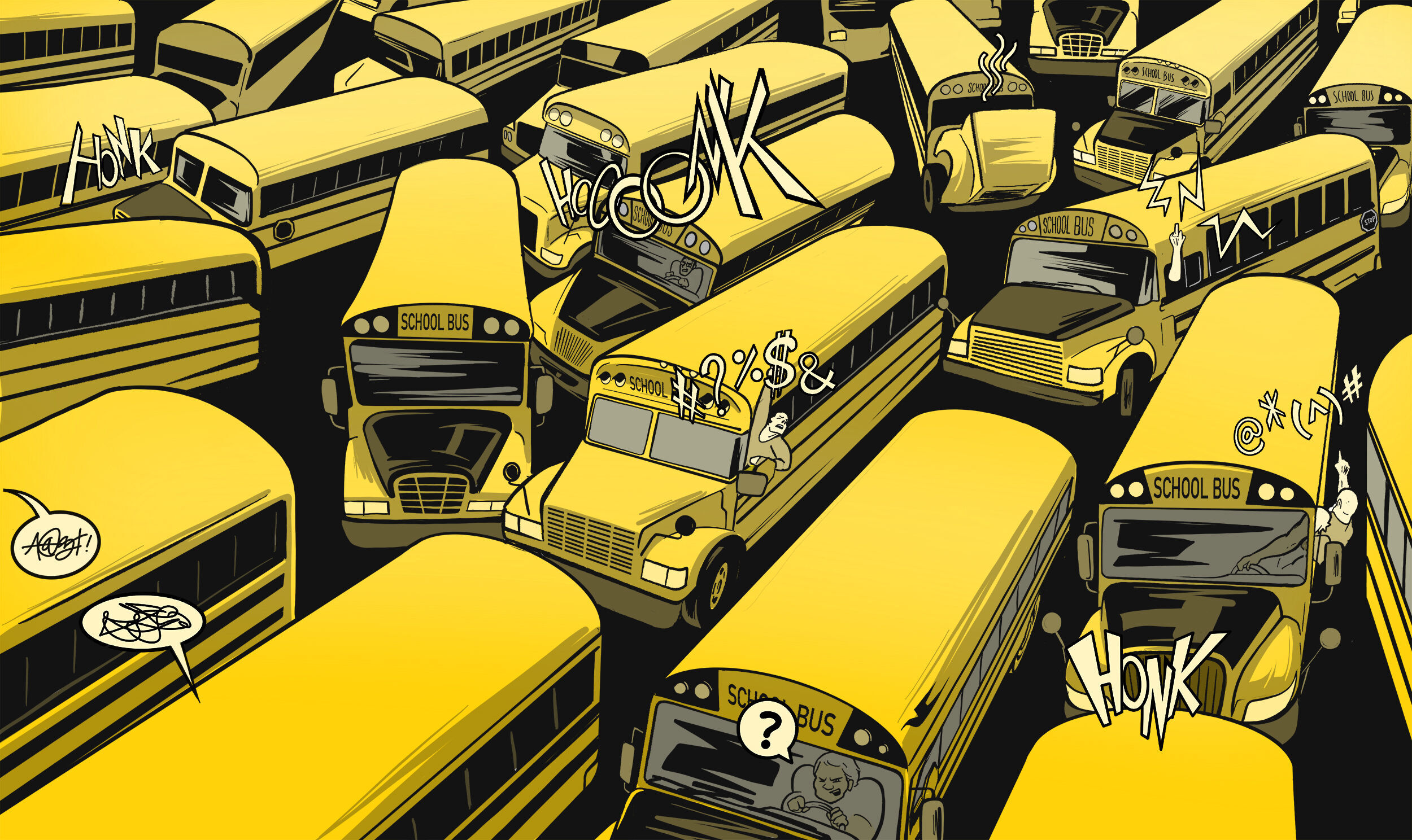 The hidden costs of school choice
Instead of staying in their neighbourhoods, kids get bused away.
Each morning, the bright orange cheese wagons arrive in Rutland Park, bringing children—more precisely, boys—to my aging southwest community. They attend the All Boys Program at what was once Sir James Lougheed School. Built in 1957, it was a neighbourhood elementary school until 2011 when the Calgary Board of Education (CBE) repurposed it due to low enrollment.
At the same time kids are being bused into our neighbourhood, my neighbour's daughter, Sylvie, gets ready to leave it.
She goes to Bishop Pinkham School in Lakeview, and on the days she doesn't ride her bike, she catches a school bus for the twenty-minute ride to school. She and her parents chose Bishop Pinkham because it offers late French immersion, and she likes the feeling of community at the school.

This is part of a complex choreography as school buses crisscross Calgary each morning and afternoon.
Nearly 126,000 students are enrolled in a CBE school and every day, the CBE deploys 750 vehicles to help 23,500 of its pupils get to and from school. This doesn't include the 6,000 students the Calgary Catholic School District also transports.
School transportation is a system largely driven by choice.
School transportation is a system largely driven by choice: where parents choose to live, and what school they send their children to.
But some don't have a choice. About 3,500 students with complex learning needs require transportation to attend special programs. And about 43% of students use CBE transportation because they live outside the walk zone for their designated school.
The same percentage need student transportation because they are enrolled in CBE's alternative programs—so-called programs of choice—such as French Immersion.
Carrie Edwards, CBE's director of property, planning and transportation, points to our city's growth patterns. "People are still choosing to live in the suburbs," she said. "If I live in Auburn Bay or Seton, my next closest school is full. So I can't go there, the next one is [also] full—so I have to bus past two full schools before I can find a school that has space."

Edwards explains the CBE started offering alternative programs to compete with specialized curriculum at charter schools after their introduction in the early 1990s. "All of those programs emerged out of a desire to compete for market share," Edwards said.
But choice doesn't come cheap.

The transportation costs of choice
In the 2019-20 school year, the CBE allocated about $50.5 million to school transportation—that's about 4% of the CBE's total budget of $1.38 billion. About $27 million goes to transporting those with complex learning needs, and the remaining $23.5 million to support students who live outside a walk zone or require transportation to a program of choice.
In 2020, yellow school bus services will cost the CBE about $975 per rider.
People are still choosing to live in the suburbs.
Debate about who should pay is ongoing. Last fall, the province eliminated the NDP government's Fee Replacement Grant and the CBE received only 80% of an expected $43.6 million.
When this and other unanticipated costs left a $14.8 million shortfall, the CBE used $5 million slated for building maintenance to cover part of the gap.
In December, parents were told they would pick up the balance.
Today, students on school buses pay $365 a year, and those riding Calgary Transit no longer receive rebates for student passes. The fees were applied retroactively to September 2019.
The CBE isn't alone. Calgary Catholic School District, Edmonton Catholic Schools and Edmonton Public School District have all announced similar increases. But at the CBE, the worst is yet to come. In January, trustees passed a motion to end the CBE's ongoing struggle with transportation shortfalls.
In the 2020-21 budget, the provincial transportation grant and parent fees will be the only funds used for busing, which means eliminating a $7.4 million funding gap. In early March, before the COVID-19 pandemic hit the province, CBE completed a consultation with parents about ways to balance the 2020-21 transportation budget.

We want all students to have equitable access to education.
Trustees are concerned that parents will have to pay more to get less.
At a board meeting on January 14, CBE trustee Trina Hurdman said, "[CBE is] not required to provide transportation services to alternative programs… [or] to students who live less than 2.4 kilometers from their regular designated program."
But she also called out a bigger dilemma.
"We want all students to have equitable access to education," she said. "And so we don't want to make alternative programs that are only for students who have the ability to transport themselves there."
What about neighbourhood schools?
Some parents aren't satisfied with the service levels offered today.
Aman Sood's daughter attends the Traditional Learning Center (TLC) program at Sir Wilfred Laurier. It delivers a more traditional classroom experience.
"I would like my kid to go to a school with a little more discipline, and uniforms, so they don't have a concern in the morning with what they wear," Sood explained.
In 2016, CBE ended school bus service from Sood's northeast community and asked that TLC students ride public transit. Sood thought that transit wasn't safe for his then-11-year-old daughter, so he helped start a private school bus service.

Public education advocate Bárbara Silva has a dire warning for those who think private busing is a good idea.
Silva is communications director for Support Our Students Alberta, a public education advocacy group concerned with equity and accessibility in Alberta's public school system.
It's difficult to find parents who disagree with the importance of funding excellent community schools.
"The ideal goal is to desensitize the public to this type of exclusivity," Silva said. "And this is what happens, these people start to say, 'I'll just pay for my own bus.'"
Silva believes parents are missing an important local option.
She argues that parent fees and private transportation are symptoms of privatization.
"Where is the choice to attend a rich, quality, well-funded, well-resourced community school that offers second language programming, that offers physical education, that offers arts?" she asked.
She notes education systems in Finland, and private schools here in Alberta, prove any school can deliver a well-rounded, high-quality curriculum. "It's difficult to find parents who disagree with the importance of funding excellent community schools," Silva said.
More kids in cars due to costs

The other part of the equation is where parents choose to live.

Peter Schryvers is a Calgary-based urban planner and author of Bad Data: Why We Measure the Wrong Things and Often Miss the Metrics That Matter. He's studied how people choose where to live and how to get around.

"They'll move to a place where housing costs are more within... their range of affordability," Schryvers said. Places like Calgary's suburbs.
"But often what happens is because they do that the transportation costs go up and… they go up more than they save on the house."
They'll move to a place where housing costs are more within… their range of affordability.
Schryvers predicts that, as transportation fees increase, more parents may start to consider other choices and, he believes, more parents will choose to drive their kids to school.
This situation will cause additional traffic on Calgary streets, parking congestion and safety issues around schools. It will also be challenging for parents struggling to mesh their family's work and school schedules.
The CBE's Carrie Edwards has witnessed how changes in busing affect programs of choice. "If there's a school in my community, but I've chosen to bus out, if that fee gets too high, I'm not so sure I'm committed to the program anymore," she said.
"So every change that we make, we do see some attrition," she added.

This can appear unfair to some parents. "[The CBE] can be seen as targeting those programs because enrollment may decrease as a result of decisions that we have to make," said Edwards.
Meanwhile, in Rutland Park, parents of students in the All Boys Program were notified by letter that the school is suffering from "excess capacity due to low or declining enrolment."
No immediate action is planned at this time, but the CBE will monitor the situation in the coming school year.
Dave Robertson is a writer from Calgary. He likes writing about complicated things in simple language.

CORRECTION 05/08/2020: This story originally misidentified a public education advocacy group as being called "Save our Students." In fact, the group's name is Support our Students Alberta. The Sprawl regrets the error.
Support independent Calgary journalism.
Sign Me Up!
This is a dire time for the news industry in Canada—and we need your support now more than ever. The Sprawl connects Calgarians with their city through in-depth, curiosity-driven journalism, but we can only keep doing this if readers and listeners pitch in. Join us by becoming a Sprawl member today!