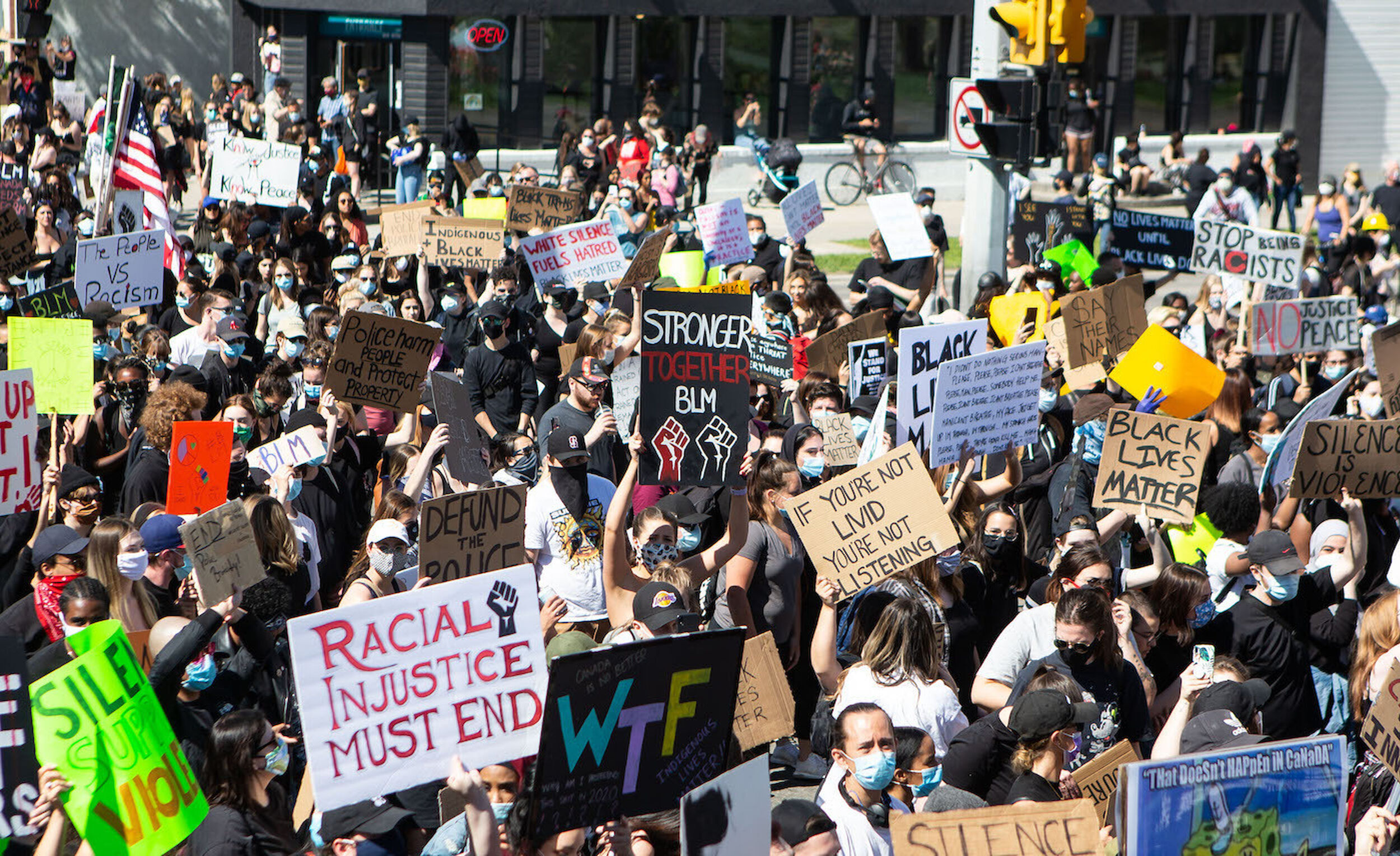 Addressing institutional racism in Canada
The time to talk has passed. We need anti-racism action — now.
"Canada, let's talk about racism" is a statement that, a month ago, would have been met with indifference, disinterest and comments like "racism isn't a problem in Canada." But most racialized Canadians—having faced explicit and often implicit racism—would have responded differently.
Now that we are witnessing the outcomes of unchecked racism, Canada, can we talk about racism?
The response of the federal government to the COVID-19 crisis has demonstrated its ability to act quickly. Well, in the last week we have demonstrated the need to address racism in the streets of Canada.
The federal government's promise to take action is appreciated. Prime Minister Trudeau kneeling with Black Lives Matter (BLM) protesters is appreciated. But much like the scars of Black people must be seen before it is acknowledged that we have been hurt, federal policy and political action must be taken before we can be satisfied.

Federal policy and political action must be taken before we can be satisfied.
If the killing of George Floyd has taught us anything, it is that the cries of injustice from Black and other racialized people aren't enough to produce change. A Canadian response must simultaneously recognize the continued harm caused to Indigenous people in Canada, while acknowledging the need to better respond to racism against Black and racialized communities.
The Alberta government must also respond to the protests and the calls for change that have recently permeated the streets of Calgary and Edmonton.
The different manifestations of racism
To fully respond to the problem of racism in Canada, we need a complete understanding of how it is manifested.
While there are many types of racism that must be discussed (e.g. personal, everyday), Canada and the world now recognize that systemic and institutional racism require immediate attention.

But let's define the problem first. My go-to definition of racism has been adapted from Canadian sociologist Augie Fleras. In his book, Unequal Relations: A Critical Introduction to Race, Ethnic, and Aboriginal Dynamics in Canada, Fleras defines racism as the ideologies, individual attitudes, cultural values, institutional practices and structural arrangements that give one racial group dominance over others.
He also notes that this dominance requires the institutional power to apply the negative perceptions of racialized groups to negatively impact members of those groups further.
To fully respond to the problem of racism in Canada, we need a complete understanding of how it is manifested.
In short, Augie's definition of racism requires that we examine social norms, ideologies, practices, policies and laws to determine if they support or combat racism.
The onus has always been on those who have experienced racism to prove its existence and its harmful outcome. But it is incumbent on all institutions, from the federal government to a child's soccer team, to review their policies and practices, and to assess their complicity in racism.
Recognizing the problem of colour-blindness
The comprehensive collection of race-based data is the first step to substantiate the claims of harm caused by racism against Black, Indigenous and people of colour (BIPOC) in Canada. So far, this data is collected for Indigenous people only.
Within the context of official Canadian multiculturalism, the principle of colour-blindness is considered to be the ideal. However, critical race theorists hold that the discourse of being colour-blind or race-neutral attempts to remove racial categories, while leaving structural inequalities and race-based physical and symbolic violence intact.

Recognizing the beauty that is found in diversity is not the problem. Racism is the problem.
Recognizing racial categories is not racist. Recognizing the beauty that is found in diversity is not the problem. Racism is the problem. Racism dominance is the problem. The racialized hierarchy is the problem.
Colour-blind and race-neutral policies hurt racialized groups, so they are in fact neither colour-blind nor race-neutral.
Governments need action, not just gestures
To its credit, the Alberta provincial government has acknowledged that racism is a reality in Alberta. Couched in a language that negates the widespread impact of racism, these messages expressed the need to "do better"—but recent government actions show differently.
Furthermore, in response to the Wet'suwet'en protests last February, the provincial government introduced Bill 1, the Critical Infrastructure Defence Act to restrict protests on "essential infrastructure." (In May 2020, the bill was passed and currently awaits royal assent before becoming law.)

Protests are a means by which marginalized and racialized voices are heard.
The essential infrastructure where protests would be prohibited includes highways, defined by the Traffic Safety Act as "any street, road, sidewalk or bridge that the public is ordinarily entitled or permitted to use."
Protests are a means by which marginalized and racialized voices are heard. The move to restrict the ability of BIPOC groups to engage in effective protest serves to maintain the status quo of racial dominance, and further contributes to the silencing of their voices for change.
Acknowledging anti-racist action
In the future, laws, policies and institutional practices must be evaluated with a comprehensive definition of racism. Any policies or practices that do not challenge the status quo of racial dominance only serve to maintain a structure of racism.
Policies and laws that speak about equality of all without being clear about the historical and present racism that has created the current inequality must be challenged.

Most importantly, it is necessary to listen to the voices of the thousands of Canadians who have said, and who continue to say in droves as they flock to the streets of Calgary, Edmonton and other Canadian cities: "We are hurting from racism and racial injustices."
Canada, the time to talk has passed. we need anti-racism action.
Monetta Bailey, PhD. is a Barbadian-Canadian who has called Alberta home for the last 30 years. She is currently an associate professor at Ambrose University where she teaches sociology with a focus on criminology and critical race theory.
---

Now more than ever, we need strong independent journalism in Alberta. That's what The Sprawl is here for! When you become a Sprawl member, it means our writers, cartoonists and photographers can do more of the journalism we need right now. Become a Sprawl member today!
Support in-depth Calgary journalism.
Sign Me Up!
This is a dire time for the news industry in Canada—and we need your support now more than ever. The Sprawl connects Calgarians with their city through in-depth, curiosity-driven journalism, but we can only keep doing this if readers and listeners pitch in. Join us by becoming a Sprawl member today!