Should Calgary have free-fare transit?
Unlike many cities, we already do — to a point.
It's no secret that there are better transit systems in the world than Calgary's. But as we strive towards a greener—and better—city, how far-fetched is the idea of free-fare transit?

It only takes a few seconds on Deerfoot during rush hour to notice, sometimes begrudgingly, that Calgary is a deeply car-focused city. And while there has been some creeping progress towards better bus routes, safer stops and the Green Line project, we still have a long way to go in terms of our public transport.
But with a newly-implemented $60-million budget cut making transit service even poorer, things aren't looking great. Low ridership in suburban areas, safety concerns about certain transit routes and lacklustre infrastructure have all contributed to making personal vehicle-based transportation more convenient for those who have access to it.
It looks like our dependence on cars isn't going anywhere anytime soon.
At the same time, Calgary has already taken the free-fare idea further than many cities have by offering a free-fare zone downtown.
Calgary wouldn't be the first
Myke Atkinson, founder of Free Transit YYC, believes that the current state of accessing the city is working against moving people around in a more climate-friendly and efficient way.
"We're constantly spending money on infrastructure improvements in this city to get over the problems of rush hour and congestion—we're adding more lanes," he said. "The next lane that you add to Crowchild just convinces more people that, 'Yeah, I'll take Crowchild. I'll hop in my vehicle.'"
So how can we encourage people to move around with less environmental impact, reduce congestion on our roads and the time it takes to get around? The answer seems pretty simple: make transit free, and the people will come.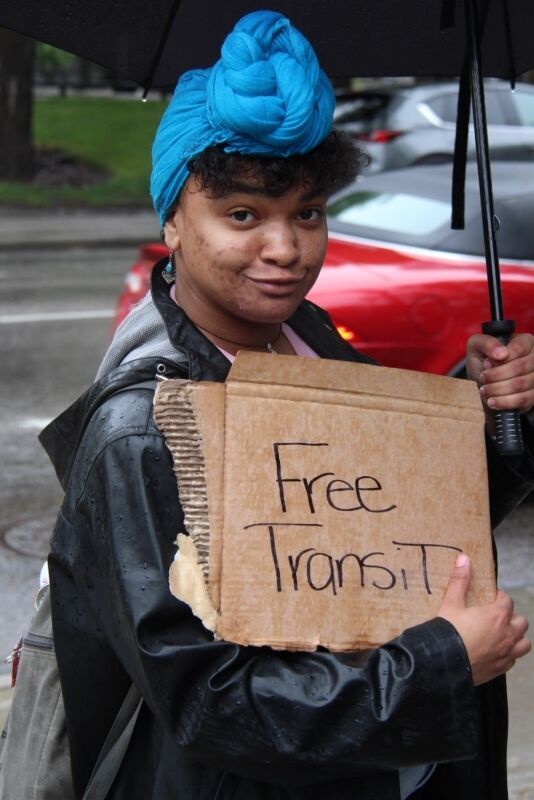 As ambitious as the idea may seem, Calgary wouldn't be the first city in the world to give it a go. Tallinn, Estonia's capital city, introduced a free-fare model back in 2013 and has seen some great success.
The move put Tallinn on the map as the first capital city in the EU to provide free public transport.
Tallinn's model is structured in a way that the costs associated with operating their public transportation system have been built into their taxes. Residents pay two euros (around three Canadian dollars) for a green card which opens the city up for its citizens to come and go as they please.
But Tallinn's population of just under 450,000 is small in comparison to Calgary's 1.3 million. Tallinn is also smaller geographically, and so implementing free-fare transit in a place like Calgary would present a different set of challenges.
Calgary already has a head start
In terms of North American cities, we're ahead of the curve. Getting around downtown, for example, is attractive to Calgarians and tourists alike—where the C-Train line, which runs along 7 Avenue S.W., is free. The free-fare zone has been in place since the C-Train launched in the early 1980s.
In 2013, these free-fare trips accounted for 7% of all Calgary Transit trips. (The city wasn't able to provide more recent stats by press time.)
Edmonton currently has no free-fare zones and Vancouver operates on a three-fare zone map which offers a set rate for bus travel, but varies for other modes.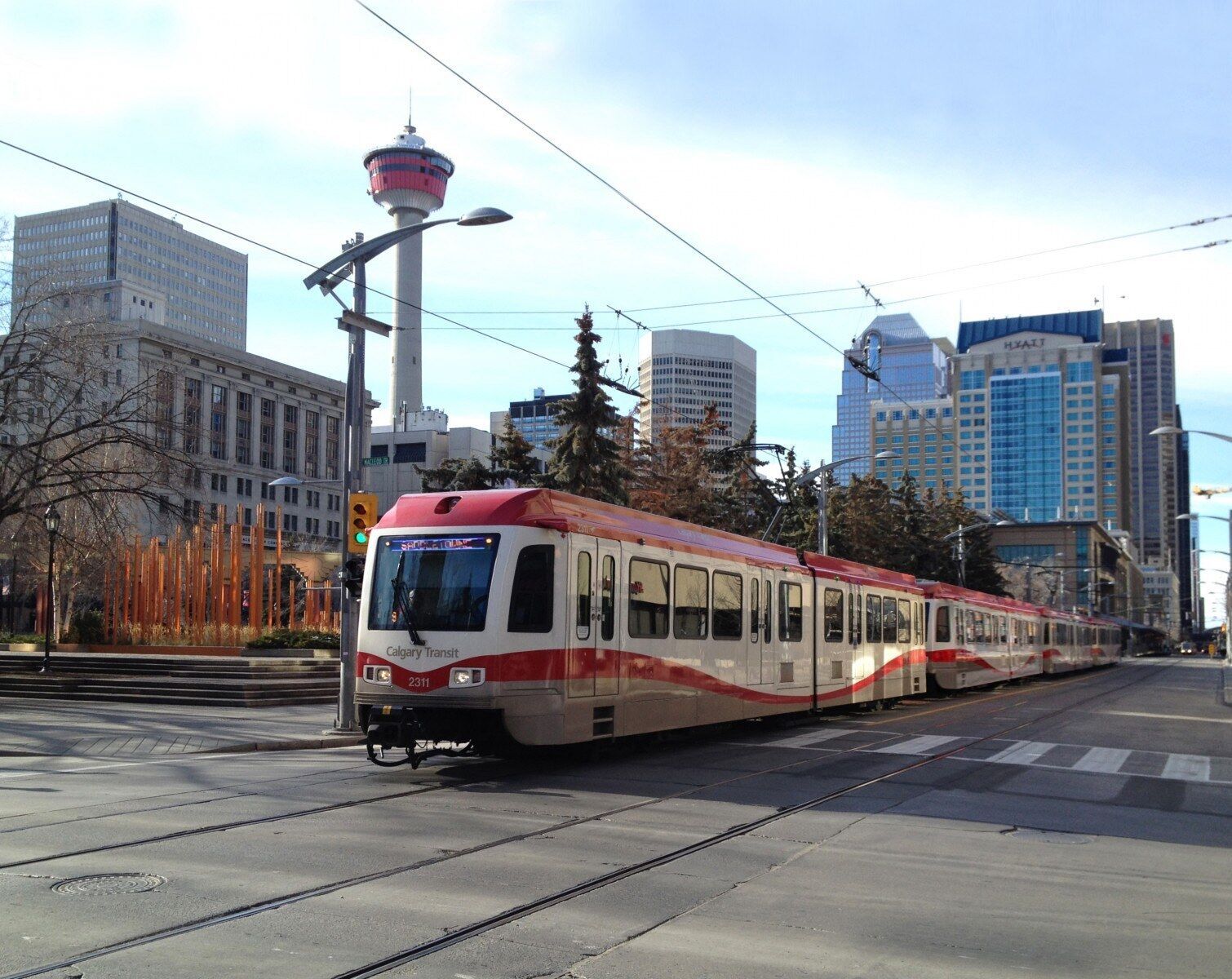 In Calgary, subsidies and programs already exist for students, seniors and people on low incomes. The City of Calgary teamed up with post-secondary schools, for example, to provide a Upass to full time students for four months at a time. The discounted pass operates on a cost-sharing system, and was introduced on the estimate that 30% of students would use transit to get to campus.
"If we decide as a city that this is a valuable thing, then it's easy to have that be a part of the tax burden," Atkinson said. "Taxes pay for services that we've decided are necessary."
"We've decided that clearing the roads of snow is a necessary part of living together as a city and having that accessibility is important—and so we're willing to fund it."
About 8% of Calgarians' property tax goes to public transit.
Calgary has a history of throwing support behind "big ideas," like our most recent pursuit of the Olympics or romantically courting Amazon. We've always tried to claim the title of game-changer, so why should this be any different?
Transit and the federal election
In a conservative province like Alberta, introducing more taxes seems almost impossible. But the idea isn't so far out of reach.
Earlier this year the NDP rolled out their climate plan, which includes a heavy focus on public transport and includes a proposal to support cities interested in transitioning to a free-fare model.
"There are so many reasons why free-fare transit is a great idea," said Patrick King, the NDP candidate for Calgary Nose Hill.
"It cuts down on a layer of bureaucracy. It especially helps out working people who need to get to work and who rely on a public transit system that is accessible to them. It increases ridership, just because that barrier is gone."

With the federal election looming, transit has become a hot topic.
The Green Party announced its transportation strategy in Calgary last week. It focuses on intercity bus service, high speed rail and urban light-rail projects such as the Green Line.
"[Free-fare transit] gets into levels of municipal and provincial jurisdiction, so it's a question of trying to support the work towards that," party leader Elizabeth May told The Sprawl. "Our funding is all, at this point, towards infrastructure."
All told, fares currently cover about 43% of Calgary Transit's operating costs, with property tax covering the bulk of the rest.
Ward 9 councillor Gian-Carlo Carra says there needs to be a proven need for free-fare transit before it can be looked at logistically.
"It's a compelling argument, but I'm not sure what the elasticity of demand on that [free transit] actually is," he said.
"Then there's the other issue that there are parts of our transit system that perform extremely well and there are other parts of our transit system that don't perform as well."
It's a compelling argument, but I'm not sure what the elasticity of demand on that [free transit] actually is.
Another issue is that city bylaws have been built against transit commuters and in favour of car drivers. If you ride without a transit ticket, you'll pay dearly if caught.
"It's a $250 fine," said Atkinson. "If you come and you take your car downtown, you park it in a parking stall run by the city and you don't pay for parking, it's a $40 fine."
In a sprawling city, fares aren't the only barrier
It's clear that there needs to be some sort of change in the way we travel about our city. But there's no guarantee that eliminating fares would get people out from behind their steering wheels.
Failed projects like this which have been introduced in the past have shown that it's not the cost of transit that is holding back certain demographics. And those demographics who have access to the ease of hopping in a car might not be easily persuaded.
It's a catch-22. If the frequency isn't high enough, then people can't rely on it to be there when they need it to be.
The now discontinued "Fareless Square" in downtown Portland speaks to those concerns. What used to operate as a system similar to Calgary's free-fare downtown zone was eliminated after three decades, as it attracted the "wrong crowd."
So that leaves the question: beyond the economic costs, is Calgary able to implement a project like this with our already-underperforming setup?
"It's a catch-22," said Atkinson. "If the frequency isn't high enough, then people can't rely on it to be there when they need it to be. It is a larger problem than just 'make it free because it's working perfectly right now,' because it's not working perfectly."

Hadeel Abdel-Nabi is a freelance journalist and writer based in Calgary. Her work has been published in VICE, Avenue Calgary, HuffPost and elsewhere.
With files from Jeremy Klaszus
Support in-depth Calgary journalism.
Sign Me Up!
We connect Calgarians with their city through in-depth, curiosity-driven journalism—but we can't do it alone. We rely on our readers and listeners for support. Join us by becoming a Sprawl member today!