Support in-depth Calgary journalism.
Sign Me Up!
We connect Calgarians with their city through in-depth, curiosity-driven journalism—but we can't do it alone. We rely on our readers and listeners for support. Join us by becoming a Sprawl member today!
---

JEREMY: For the last couple weeks, The Sprawl has been covering the Black Lives Matter protests as part of our Racism Edition. I was at Olympic Plaza on June 6 to cover a vigil there, and as I was leaving that night, I thought to myself: okay, next week I need to change gears and do another Green Line story.
But as I thought more about it, I realized: isn't that kind of thinking exactly part of the problem? Looking at the Black Lives Matter vigil at Olympic Plaza as a so-called "race" story, and the story across the street as a so-called "city hall" story, treating them as two separate spheres.
Let's pause there and unpack that a bit.
City council is predominantly white, as are the leaders in city administration. Most of the journalists who cover city hall are white, including myself. In Calgary our civic sphere is largely designed by—and for—white people, and that manifests itself in the way our city is built, who shows up at city hall for public hearings and who is part of quote unquote "the conversation."
Right now in our country, racial inequity and white supremacy are being challenged everywhere: in workplaces, in social structures, and yes, in local politics and urbanism too.
The Black Canadian writer and urbanist Jay Pitter recently put out a call for Canadian urbanists to address anti-Black racism head on. She wrote an open letter, "A Call to Courage," she calls it, that asks urbanists to consider how "urban design is not neutral: It either perpetuates—or reduces—social inequities."
She writes: "The public realm and built environment are not simply a backdrop to the current civil unrest. Urbanism has contributed to the racial inequities inciting it."
And one of the missing pieces right now is race-based data that helps us see where social and racial inequities are occurring in our cities.

Urbanism has contributed to the racial inequities inciting [the current civil unrest].
This was brought up at that Black Lives Matter vigil at Olympic Plaza on June 6. The point was made that if we as a society truly want to deal with systemic and institutional racism, we need the information to fight that racism. Information is power.
SEMHAR ABRAHA: Having race-based data will give us information to prove what we already know. Can all of us please say "race-based data"?
JEREMY: That was Semhar Abraha. She's the vice-president academic at the University of Calgary's students union. In Canada we lack race-based data in most areas, including urban transportation. The city doesn't collect or have race-based data on who uses public transit, and I asked Abraha about this.

ABRAHA: Racialized groups—working class, middle class—are the ones who are taking transit all the time. They… don't have an option of having a car, for example. They can't afford to have a car. Or they might be new Canadians and they don't have a licence to drive as well. And those racialized groups, they live in the community. I will come again to race-based data, because everything is in there. If you know who we're serving, we will know how we're serving them better. So with race-based data you can always see which neighborhood is underserved by infrastructure.
JEREMY: The city does however have a language map, which shows the language spoken at home by ward.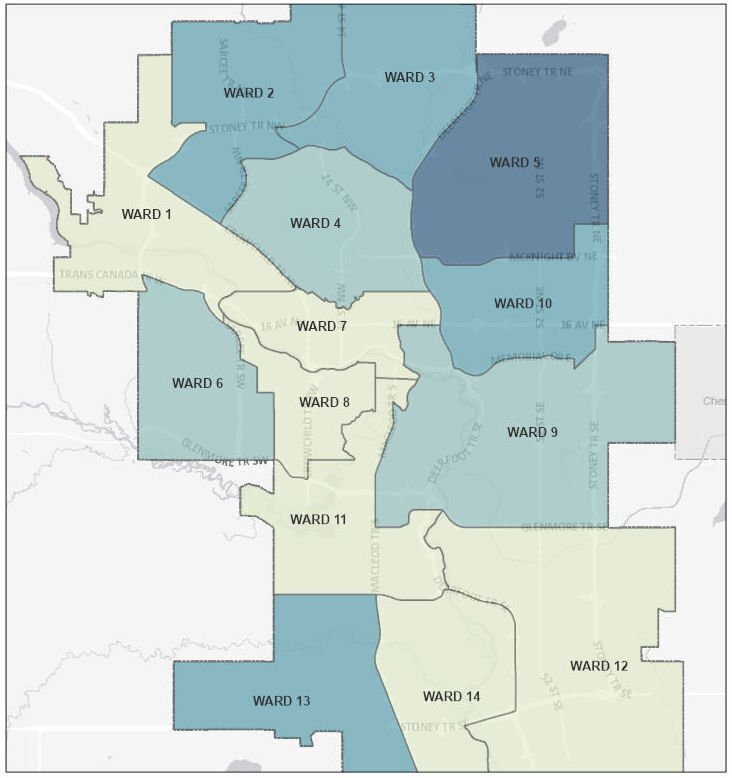 I've brought up before how climate action has almost been tacked on as an afterthought when it comes to the Green Line and other transit projects. It's really downplayed.
But another important factor is often sidelined on big projects like this: equity. In other words, getting transit to the people who need it most, economically and socially.
Now, city council is kind of going every which way on the Green Line, as you've probably heard, and we'll get to that in a bit. But first we're going to hear from one of the city councillors who hasn't really been scrapping it out in the media but supports the Green Line for some of the reasons that we've been talking about here.
Councillor George Chahal has given more thought to equity than many on city council. His background is in real estate and urban planning, and 15 years ago he did his master's thesis on planning for ethnic diversity. In 2017 he was elected to represent Ward 5, in the city's northeast.
I asked Councillor Chahal about the Green Line in light of the protests we've been seeing on city streets.
Public transit can really help break down many barriers for many folks who have challenges with affordability.
COUNCILLOR GEORGE CHAHAL: I think there are important connections when we think about some of the systemic issues we have in our society and opportunity for everyone in our cities to participate. And I think public transit can really help break down many barriers for many folks who have challenges with affordability to commute across the city, to go to work.
We've seen, during this pandemic, a lot of folks who are using public transit as their only means of transportation, to get to a hospital, to work in a grocery store.
And I think it's extremely important that we ensure that as we build our city, that we think the value of public infrastructure and investment of public dollars that benefit as many Calgarians as possible. And I think this project helps do that. It brings more equity to underserved communities of transit riders in the south, but also in central north Calgary, who's been waiting for years for improvements to public transit.
I can tell you the investment in public transit up into my ward is very well appreciated amongst the residents that live there. We have a tremendous amount of public transit usage, from feeder buses to LRT, and their livelihoods depend on it.
As you see, for instance, the Blue Line, the trains are full in the morning, but they're also full in the evening coming into the downtown, because a lot of those folks who work in those service industries in the downtown core rely on public transit. They're the ones who clean those office buildings. The folks who work in those coffee shops and restaurants and bars rely on public transit.
Davison conflates criticism of oilman with Black oppression
JEREMY: On June 1 city council's Green Line committee held a public hearing. They heard from a lot of people, and we'll hear more of those voices. But one of the groups they heard from was the group led by retired oilman Jim Gray.
They're pushing for the Green Line to be cut so that it doesn't go north of downtown, and the north would be served solely by bus rapid transit—or BRT—instead of LRT.
Let's listen in to what his group had to say on June 1. We're going to hear from retired structural engineer Barry Lester, followed by former Canadian senator and Alberta MLA Ron Ghitter, and then Jim Gray.
BARRY LESTER: Council might ask why tunnels are so expensive and why am I so opposed. The answer is one word: risk. Downtown Calgary sits on a heterogeneous mix of bedrock, gravel, silt, and sand, and most of it is well below the water table—the level of the Bow River. It is one of the worst environments in which to dig a large excavation of any kind.
RON GHITTER: May I suggest that what is realistic is to provide enhanced bus service north up Centre Street now. What is realistic is to build the southern portion of the line and go beyond Shepard to the hospital in Seton where the people are. What is realistic is to scrap the folly of crossing the Bow, shattering Centre Street, and dividing the community.
JIM GRAY: The important thing is the need to stop the current city plan. It would be the height of irresponsibility to build to stub lines—one to the north, one to the south—for $4.9 billion and leave it to future councils with a crushing burden to secure the funds to complete this project.
We must not gut this city-shaping project due to opposition from a small special-interest group.
JEREMY: There's been a lot of public scrutiny of Gray and his group, raising the question of who holds power at city hall, and who does city council truly serve. Some city councillors have also criticized Gray's group. For example, on May 29, Councillor Evan Woolley wrote the following on Twitter: "We must not gut this city-shaping project due to opposition from a small special-interest group."
At public hearings, city councillors had the chance to ask questions of members of the public who make a presentation, and on the night of June 1, after Gray made his presentation, the Black Lives Matter movement was brought into council chambers in a way that no one expected. Keep in mind that earlier that day there was a massive Black Lives Matter rally in the civic plaza at city hall.
Here's what Councillor Jeff Davison said to Jim Gray that night.
COUNCILLOR JEFF DAVISON: I did want to say, Mr. Gray, thank you, and wanted to apologize to you for all the nasty things people have been saying about you in media and on social media.
I want to let you know that at a time when we are currently in this city standing up for freedom of speech for all, the human rights violations that are happening, I find it completely hypocritical that some of my colleagues would say things in social media and in the media that reflect your character while they stand to say, "But I stand for human rights."
So I'm appalled by some of the actions and the comments by some of my council colleagues, and I wanted to just let you know I do not feel that way. We may agree on some things, we may disagree on some things, but I want to know we respect you, and thank you for your time spent on this file.
GRAY: Well, I appreciate that. Somebody gave me a very good analogy today. They said, "If you're carrying the football, you gotta be prepared to be tackled."
We should be able to disagree without Trump-like personal attacks.
JEREMY: Immediately, Davison got flack on social media for conflating criticism of Gray and the oppression of Black people. Shortly after, Davison rose on a point of privilege and denied that this is what he'd done.
DAVISON: Yes, thank you, chair. I did want to just clarify, if I might, on a point of privilege, some comments that I think might be misinterpreted regarding my comments around Jim Gray. My point is that we should be able to disagree without Trump-like personal attacks, and I did not compare those cheap shots to the plight of members of our Black community, who face unconscionable discrimination every day. So I hope that is not being misinterpreted, but wanted to make that clarification statement. Thank you, chair.
Davison apologizes—'it was certainly a mistake'
JEREMY: The next morning, Councillor Davison walked that back and apologized.
COUNCILLOR SHANE KEATING: But before we go anywhere, Councillor Davison would like to rise on a point of privilege.
DAVISON: Yeah, thank you very much, chair. Council, I want to apologize for the commentary that took place last night. Looking back at the conversation last night, it was certainly a mistake to conflate the important discussion we're having as a community about human rights with the comments made about certain community members. These are entirely separate issues, and the question of discrimination is of far greater importance.
I want to let you know that I share the revulsion and horror that all of us feel at the treatment and death of George Floyd at the hands of a police officer. And I know this unconscionable discrimination is not isolated: It is widespread, and it needs to be addressed. And Calgary is not immune to racism. I hear what you're saying, and I am with you, and I feel extremely badly about what I said last night, and I am sorry.
I hope that you will all give me the chance to show that I'm serious about working with all members of our community to make this place one of opportunity and fairness for all. I'm not perfect, but I can assure you I'm listening, and I will be a better ally. Thank you, chair.
Calgary is the third most diverse city in Canada and not having enough representation is a really big issue.
JEREMY: I asked Semhar Abraha about this and played her Davison's comments. She was one of the Black Calgarians who rallied outside of city hall that day. She said Davison's comments show how city council needs more diverse representation, which would help hold other councillors accountable for their words and actions.
ABRAHA: With this person, he literally thought he's not—no one is going to hold him accountable. That's why he said what he said.
And with the movement itself, at first he denied it, and then afterwards he apologized for it, because he felt that he would be accountable. That's why he's apologizing.
I feel like the movement itself—I don't want it to be something people be aware of it for a while and then forget about it and go back to the old way of doing things. It all comes just to the idea of having awareness of who is living in the city and who you're representing.
JEREMY: And this ties in with who feels welcome and who doesn't at city hall. A city hall public hearing is ostensibly open to every member of the public, but for many racialized Calgarians there are a lot of barriers, including the question of whether or not their voices are truly heard and valued.
ABRAHA: We rarely receive any credit for the work we do. Our opinions are just not valid, so that's why we keep getting barriers in participating in being part of the council, for example. And for the ones that are new Canadians and they have limited English, there's always an issue with language. And the way they structure the council and all the politics around it, the way it's formulated, the structure itself, is very hard for them to understand and access too.
And it's just so strange to me when I think about it, because Calgary is the third most diverse city in Canada and not having enough representation is a really big issue.
JEREMY: I reached out to Councillor Davison for this story but was told by his assistant that he was unavailable for an interview.
What Calgarians said at the hearing
We're going to listen in now to more of the public hearing on June 1. Much of the contention is around the north part of the project: the part running from downtown to 16th Avenue.
The plan is to run the train down Centre Street and then have it jog west and cross over Prince's Island on a new bridge. City transportation GM, Michael Thompson, explained why city admin went with that choice instead of running the train all the way down Centre Street into downtown.
MICHAEL THOMPSON: We had previously looked at running the LRT across Centre Street Bridge, and we found there were a number of challenges with it. We've looked at it again in the fall and winter, just at a high level. What we believe we would need to do would to be build a new pedestrian bridge beside the Centre Street Bridge, widen out the lanes on the Centre Street Bridge because the LRVs [light rail vehicles] take a wider footprint than the vehicle lanes do, and so to carry two lanes of traffic and two lanes of LRT across that bridge would require significant reconstruction on the bridge.
North-central Calgarians have been promised an LRT connection for years, and it is time to deliver on it.
JEREMY: Here's Barbara Mendaglio and Josie Ho with a group called the Waterfront Green Line Owners group. They object specifically to the bridge that's going to cross over Prince's Island Park if this is approved.
BARBARA MENDAGLIO: We have collected a total of 790 signatures, both in writing and online. The majority of the respondents' concerns pertain to the impact on the park. Based on our limited face-to-face interaction with park users, it seems that many were incredulous, if not outraged, by the idea of the train running through the park. Other concerns included quality of life, safety, and noise, but these were not as emphatic as preserving the park.
JOSIE HO: Let's reassess segment 2 and consider stopping with a station at the Eau Claire marketplace and not cut through Prince's Island Park, thus saving the cost allocated to this part of the alignment. The north will be well served by the BRT.
JEREMY: Now we'll hear from Jane Ebbern, Ann Levey and Celia Lee. Lee is the executive director of Sustainable Calgary
JANE EBBERN: A small, special-interest group of wealthy Calgarians—dare I say armchair quarterbacks—is trying to delay the proposed Green Line project at the last minute. They think they can pull together better alternatives in one month than our city experts and consultants can do in the past few years. I strongly question this.
For example, their proposal to just do bus rapid transit across the Centre Street Bridge for the northern connection totally neglects this portion of the city. North-central Calgarians have been promised an LRT connection for years, and it is time to deliver on it.
ANN LEVEY: I've lived in Calgary over 30 years, and I've been using transit in Calgary for over 30 years. So when I first moved to Calgary, it was described to me as a collection of suburbs in search of a city, and that was true. But over the last 30 years, I have seen Calgary become increasingly cosmopolitan, and a lot of that has had to do with public transit.
Through public transit, I've been able to access various parts of the city, but I still live in a very small city, because the public transit simply hasn't kept up with the growth of the city. Still, I have appreciated very much what I've experienced, and I want to urge the necessity for that kind of privilege to be something that everyone in this city has. It shouldn't just be the prerogative of people like me who happen to have had good fortune to live in the areas of the city that are already connected.
So I want to urge that we do not take the risk of delaying on the construction of the Green Line; that we do not risk continuing to delay social justice and equity; that we do not risk continuing to delay the creation of a bigger, bigger, and more connected Calgary community.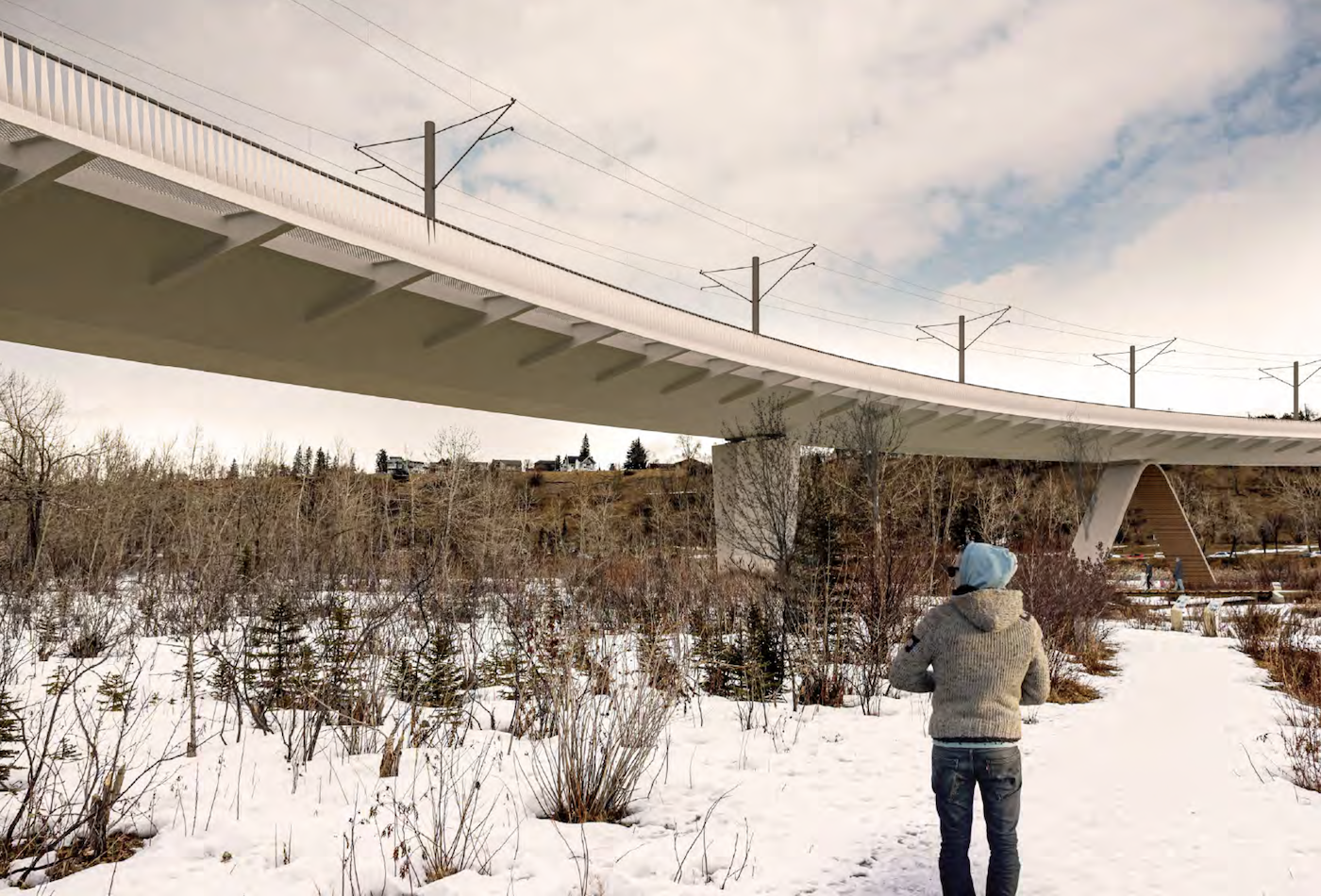 CELIA LEE: I just wanted to support this investment in transit for the city of Calgary just from the perspective of equity, health, and climate, and I think those are three challenges—even crises—that we're facing right now all at the same time. And investing in a great transit system is something that offers a solution to all of those issues all at the same time.
So for example, we know that people who live near LRT stations walk and bike more for their daily trips and have measurable health benefits, and we know people who take transit have measurable health benefits from walking to and from transit.
We know we're facing more economic hardship now than we were before, and so we know that now is the time we need to support our people, and developing affordable transit options that work is one of the best ways we can do that as a city.
And then finally, the city's own report on climate shows that, without further action, by 2050 our greenhouse gas emissions will be 300 percent higher than our target of 80 percent reduction. And so investing in a sound transit system—and for my perspective, that includes LRT—investing, and it sort of—for me, it's a low-hanging fruit when it comes to climate action.
Calgarians have the second number of kilometers driven per capita in Canadian cities after Edmonton, so it's definitely something that we can work on. It's also something we can work on without sort of dealing with the complexities of how to diversify your economy.
Councillors spar over project on June 2
JEREMY: Now let's listen in to some of the council debate that happened on June 2. Council has been going every which way on this file. Some support the LRT plan, others want the north part cut out, and still others want it to go to a plebiscite.
Here's Councillor Gian-Carlo Carra.
COUNCILLOR GIAN-CARLO CARRA: There is no big move in the history of any city anywhere that hasn't been contested and hasn't involved some kind of stretch or risk or uncertainty about the future, but that's our job, and you know what? The Green Line is part of a package of big moves that we're making, and I'm saddened to see that the collaborative approach to establishing that large strategy is fracturing at this late and critical juncture in the game.
I believe that the Green Line at this time poses an unacceptable risk to our city's future and credit rating.
JEREMY: Councillors Ward Sutherland, Jeff Davison, and Diane Colley-Urquhart are echoing the calls of Jim Gray's group to scale down the project. They put out a news release earlier this month raising what they called red flags about costs, including financing costs of $640 million that they said they just learned about. They framed this as a surprise number that was sprung on them at the last minute by city admin, but in fact, those costs have been on the books for years, publicly. And some of these councillors even voted to approve them.
Here's Councillor Sutherland, followed by Councillor Jeromy Farkas.
COUNCILLOR WARD SUTHERLAND: Now, I've heard that our job is to get every mile, but my question would be: at what cost? I suggest having less kilometers and getting it right is a better direction for everybody.
COUNCILLOR JEROMY FARKAS: In terms of debate, I won't be supporting this recommendation. I believe that the Green Line at this time poses an unacceptable risk to our city's future and credit rating. I'm still very concerned that so much about this project, particularly the finances, remain a secret from Calgarians.
I don't feel that it's responsible to proceed with a plan that is this risky, will cost a fortune, and potentially not improve transit service, at least at the level that Calgarians are expecting. Down the road, another council will have to come up with much more money— many more billions—in order to make this work. We should not be rushing into this and forcing it into a constrained budget.
This is a project not for me, but for that next generation.
JEREMY: Now we'll hear Councillor Druh Farrell, followed by Councillor Evan Woolley.
COUNCILLOR DRUH FARRELL: I will be supporting it. We've been working on this for almost a decade, fighting for—first we started out by fighting each other on north or south.
Frankly, we wouldn't be talking about the Green Line if it hadn't been for Councillor Keating lobbying other orders of government for that funding. And so we came to a compromise, and we talked about how we need to start the train. We start at the hardest part first. It's a generational decision. And once that's done, the rest will be so much easier.
If this council kills this generational decision, we'll have to live with this, probably for the rest of our lives. I don't think it would be constructed in my lifetime. And that's really what this is about: This is a project not for me, but for that next generation.
COUNCILLOR EVAN WOOLLEY: I really think about where all of the rest of our trains go in the city, whether it's the Blue Line or the Red Line, and that past councils built the tough parts of those that made it really, really easy for the following councils to build upon. And I know many people on council—and I haven't had the benefit—but many people on council today have been able to cut ribbons on the hard work that previous councils have supported, and that is getting the trains through the downtown of Calgary.
And so this is the really, really tough work. The tough piece of it is getting it through downtown, and that is complex, and it's riddled with risks and challenges, but that's why we've hired this team and experts from around the world to bring forth, Councillor Sutherland, the business case that you demanded. And so to change that work on the fly in the 11th hour of this decision isn't doing our due diligence.
JEREMY: Here's Councillor Shane Keating, who has been council's biggest champion of the Green Line. He's been trying to get everyone on council to work together on this, which has proven to be pretty much an impossible job.
COUNCILLOR SHANE KEATING: What I envision of this Green Line, I don't see this as a one-shot deal, we're going to build this and then we're done for 20 or 30 years. What I see is actually the beginning of construction, and we're going to see construction on transit for 20 to 30 years on all the lines—Red, Blue, and Green. It will continue, because as we go forward, I would assume that many people—not myself—many other people in council at the time will be out there doing the same thing we did to try and make sure that we have more funding to start the next section or the next station before this construction is finished.
The equity piece is a huge part of this conversation, to tackle those issues that we have.
JEREMY: We'll hear now from Councillor Jyoti Gondek, who represents Ward 3 in north-central Calgary. This is from an interview she did with News Talk 770 on June 9.
COUNCILLOR JYOTI GONDEK: If you look at where the MAX BRT routes went, I am shocked that there was no MAX in north-central Calgary as a mode of progression given that we knew Green Line stage 1 wasn't going to serve that population.
So there's been all kinds of misses. I'm not sure why. I don't know how you just forget about an entire part of the city. So what I'm looking for on Monday is an absolute commitment from this council saying: The north is next. We will start the planning, and here's some seed money.
JEREMY: I'm going to give the last word to Councillor George Chahal. I asked him what he thinks is missing from the conversation on this project.
CHAHAL: Well, I think we don't talk enough about the people—the people who rely on it and use it. We are so grateful to all our essential service workers, many of those who rely on public transit. I think that people are extremely important. The equity piece, I think, is a huge part of this conversation, to tackle those issues that we have. And the accessibility for Calgarians today and for the future is a massive city-building project, but I'll come back to it and say as we grow as a city and we invest, public dollars need to be for public benefit.
And this is—yes, it is a massive project, but it does bring benefit and equity to Calgarians, and I think that's a big part of the project that I think we need to have more conversation about. That's the important part of why we build public transit: to connect people to places and opportunity.
Jeremy Klaszus is editor-in-chief of The Sprawl. Hadeel Abdel-Nabi, the Sprawl's staff writer intern, assisted with research for this episode.
Support in-depth Calgary journalism.
Sign Me Up!
We connect Calgarians with their city through in-depth, curiosity-driven journalism—but we can't do it alone. We rely on our readers and listeners for support. Join us by becoming a Sprawl member today!