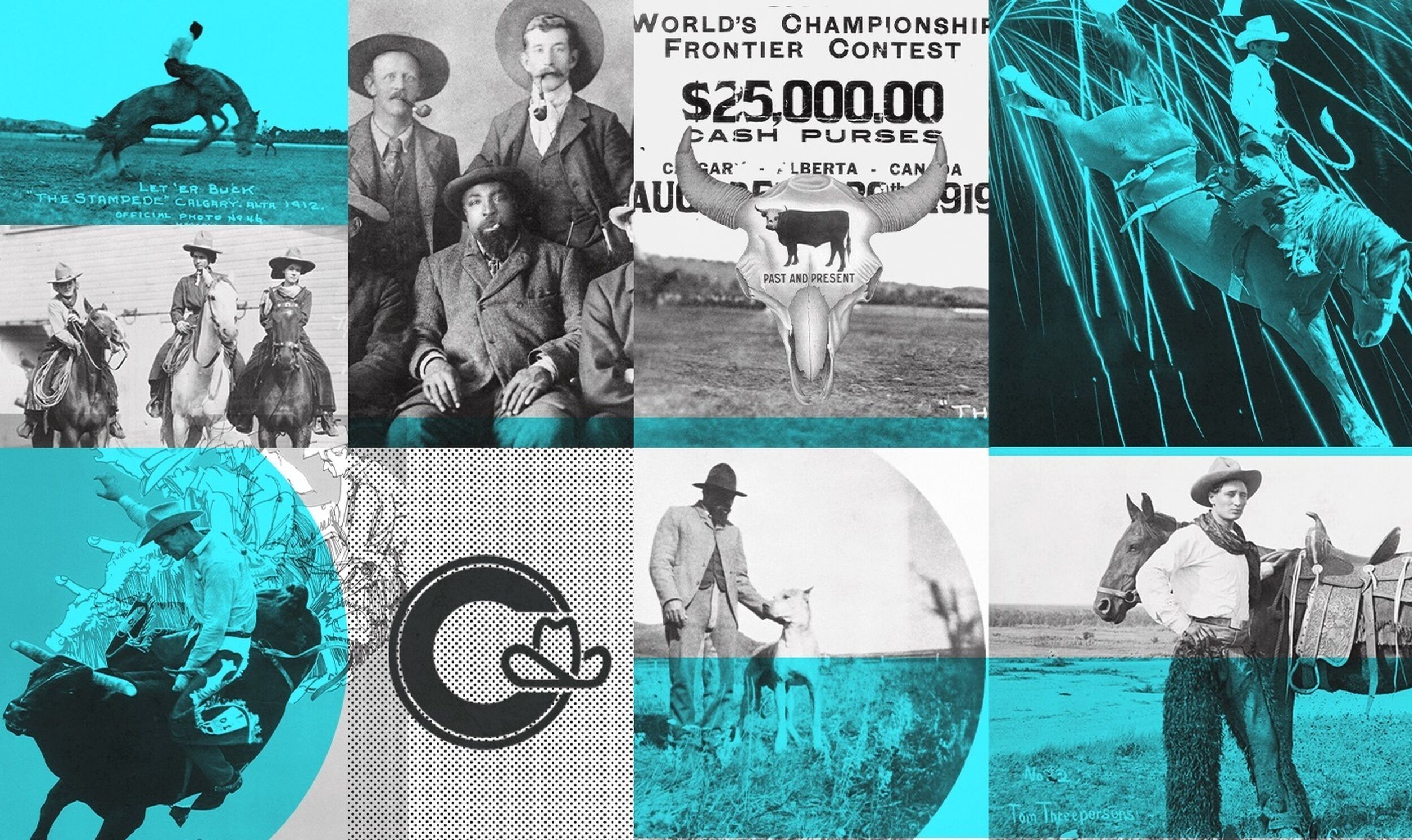 Should Calgary ditch the cowboy motif — or embrace it?
It's not as clear-cut as it sounds.
This story is part of The Sprawl's edition on Calgary's shifting civic identity. We're asking: What is authentic about this place? What is contrived? Where is the line between the two? Sign up for our weekend newsletter to follow along.
---

Nearly 140 years after Calgary's incorporation as a town, its civic identity remains contested.
Torn between how our city is perceived by outsiders and our ever-changing aspirations, many believe it's time to rebrand.
Since the turn of the century, the economic strategy of cities around the globe has consisted of attracting talent. As a result, competitive cities seek to align with the values of educated professionals under 40—and Calgary is no exception.
In a push akin to one observed prior to the 1988 Olympics, boosters are calling for Calgary to "drop the hat" and adopt an identity that's better aligned with our city's reality.
"Calgary would be in a very difficult place if we hadn't seen the last 20 years of change in this city," said David Finch, a professor at Mount Royal University's Institute for Community Prosperity, pointing at both economic and social diversification in our city.
"The problem is our brand. And reputation is lagging it distinctly."
Unsurprisingly, our city's Western heritage is often deemed to be one of the main obstacles to closing the gap between reputation and reality.
"One of the drags we see on the Calgary brand is that there's a significant portion of people that doesn't believe Calgary provides a sense of belonging," Finch said. "That is devastating to our ability to attract talented, innovative, creative people—or retain [them]—if they don't feel like they are welcome."
This tension raises a perennial question that academics and Calgarians have been trying to make sense of for decades: should Calgary ditch its cowboy mythology, or embrace it?
There's a significant portion of people that doesn't believe Calgary provides a sense of belonging.
Calgary's reputational challenge
In 2022, a report co-authored by Finch found that millennials and zoomers in Canada's largest cities aspire to live in a place that not only offers an exciting variety of career opportunities, but a city that's also affordable, vibrant and culturally diverse.
"For most people, where they live is not just a place but an extension of their identity," the report states.
Even though Calgary is well-equipped to fulfill these aspirations, our city's reputation precedes us.
Before Alan Martino and Tony Wang permanently moved to Calgary from Ottawa in the summer of 2022, they saw Calgary as a culturally homogenous, backward-thinking place, reflecting the view many young people outside Alberta hold.
When Martino and Wang announced their intentions to relocate to Calgary in 2021, their friends worried about the challenges a queer, multi-racial couple would experience in Alberta.
"As soon as I mentioned to them that I'd got a job here, and I was going to move here, a lot of them were in disbelief that I would consider moving to Alberta," Martino recounted. "They shared concerns about people [here] would be closed-minded, or conservative, or not diverse enough."
The fears of the millennial couple's friends, however, have proven to be unfounded.
"I've seen a very welcoming attitude," Martino says about his experience living in Calgary so far. "I think that challenges the very limited idea that people have of Alberta. It has a lot more to offer than just the kind of 'cowboy culture' event."
Finch says that while it's important to "recognize and value the legacy of our Western heritage," this has created reputational challenges for our city, because it's not perceived as an inclusive brand.
But just like Calgary is not the conservative mecca some believe it to be, there's more to Western culture than the cliché.
I've seen a very welcoming attitude. I think that challenges the very limited idea that people have of Alberta.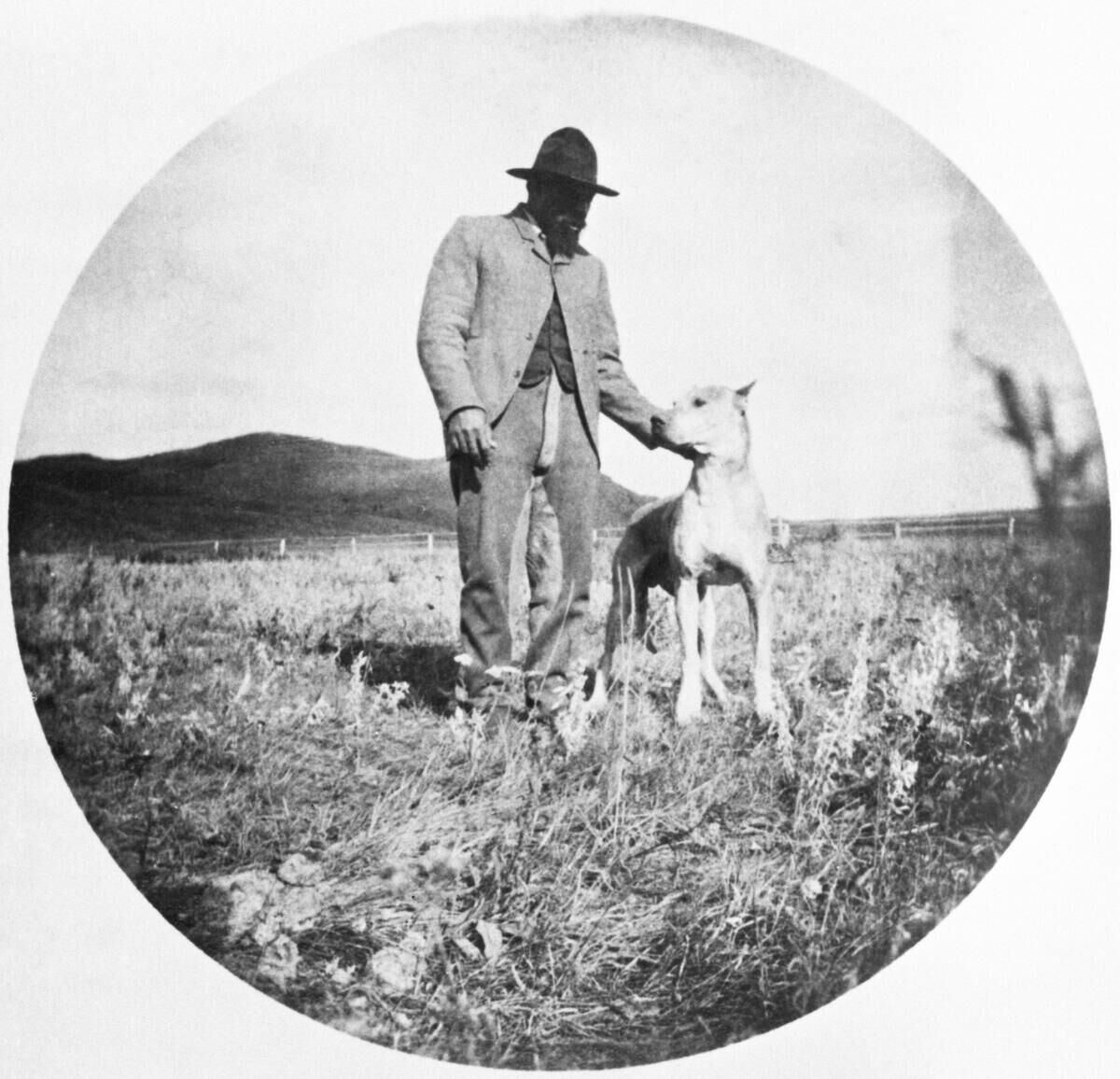 The mythical cowboy and the Calgary Stampede
Reflecting the values of the times, by the 1960s the image of the cowboy had been solidified as a white, male, risk-taking character who pulled himself up by his bootstraps with his relentless hard work. Unsurprisingly, the women, Black and Indigenous peoples who were essential to the development of cowboy culture were left out of the myth in both the U.S. and Canada.
Robert Kossuth, an associate professor of kinesiology at the University of Lethbridge, has explored how Black and Indigenous cowboys were left out of the Canadian Western mythology by the dominance of a white-centric narrative.
"In western Canada, accounts of the lives of two cowboys—John Ware, a [B]lack pioneer rancher, and Tom Three Persons, a Niitsitapi (Blackfoot Confederacy) member of the Kainai Nation (Blood Tribe) who ranched in Southern Alberta in the early 1900s—provide evidence and insight into these 'other' men's imprint on the Canadian range," Kossuth writes in a 2018 paper.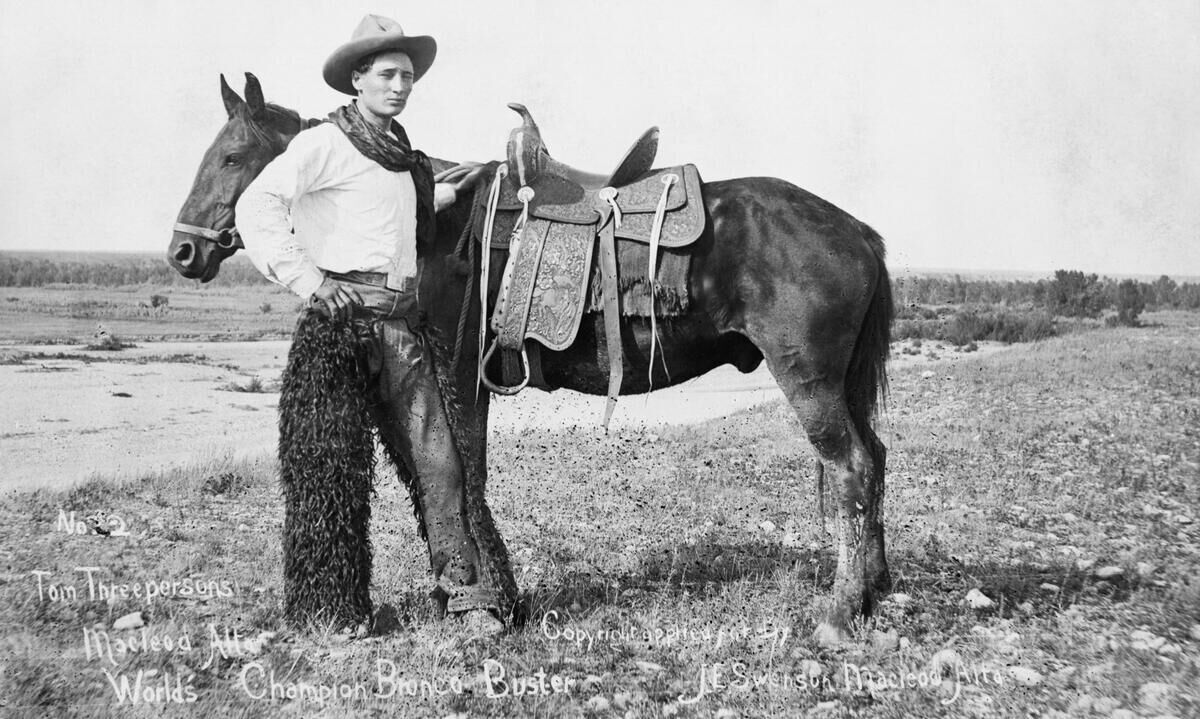 Kassouth notes that the ability of these figures "to display uncommon skill as cowboys and ranchers… afforded access to social and economic prospects unavailable to most men not of Euro-Canadian descent."
Despite the relatively short life of open-range ranching in Southern Alberta, the cowboy myth took hold in our city thanks to the creation of the Calgary Stampede by Guy Weadick, an American performer and promoter.
"Stampede has been the primary vehicle by which economic priorities were promoted and consolidated, a fact duly recognized and abetted by civic government," writes Max Foran in his 2008 book, Icon, Brand, Myth: The Calgary Stampede.
While the event has been criticized for relegating First Nations to spectacle, some argue that the Calgary Stampede also proved effective in giving Indigenous peoples a space to practice their cultural traditions at a time when they were suppressed.
Indeed, last year the CBC reported on the importance of rodeo culture for Indigenous Peoples in our province, highlighting the complexity of Western culture.
We are part of the urban landscape, and the only time we see ourselves, at least in the past, has been during Stampede.
"Rodeo culture is very prominent in our communities," Sikapinakii Low Horn, a Siksika Nation traditional women's dancer and visual artist, told the CBC. "But there's all different types of knowledge, and I've met a lot of people and I've already heard a lot of stories about more Blackfoot people in the Stampede. I would like to bring this knowledge into my own artistic practice one day."
But the artworks produced by Western culture have often been viewed condescendingly due to a perceived lack "of technical or formal sophistication," as Brian Rusted, an associate professor emeritus of communication, media and film at the University of Calgary, writes in Foran's book.
This is further highlighted in an analysis by Frits Pannekoek, a Western Canadian historian.
"The Stampede is just not fashionable, and the rejection of the Stampede myth ensures that any public expressions of cowboys, horses, and steers will continue to be confined to the Stampede grounds for the foreseeable future," he writes in Foran's book. "The values they might evidence are simply not those the elite want to inculcate in Calgarians. The Stampede is for amusement; it is not to be associated with reality."
The rise of an authentic brand
Some have characterized the Calgary Stampede as an "invented tradition" that was accepted by Calgarians because it aligned with their values and identity at a time when a sense of belonging was weak.
According to historian Mary-Ellen Kelm, Weadick "encouraged all Calgarians to see themselves as cowboys," transforming the definition of the Calgary cowboy into "one that included those who had recently travelled west, donned cowboy clothes, and assumed the role."
Despite the importance of authenticity for a brand to succeed, Weadick's vision allowed the cowboy myth to ingrain in Calgary's civic identity, and to become a "powerful marketing tool," as Tamara Seiler, a professor emerita of Canadian studies at the University of Calgary, has characterized it in her work.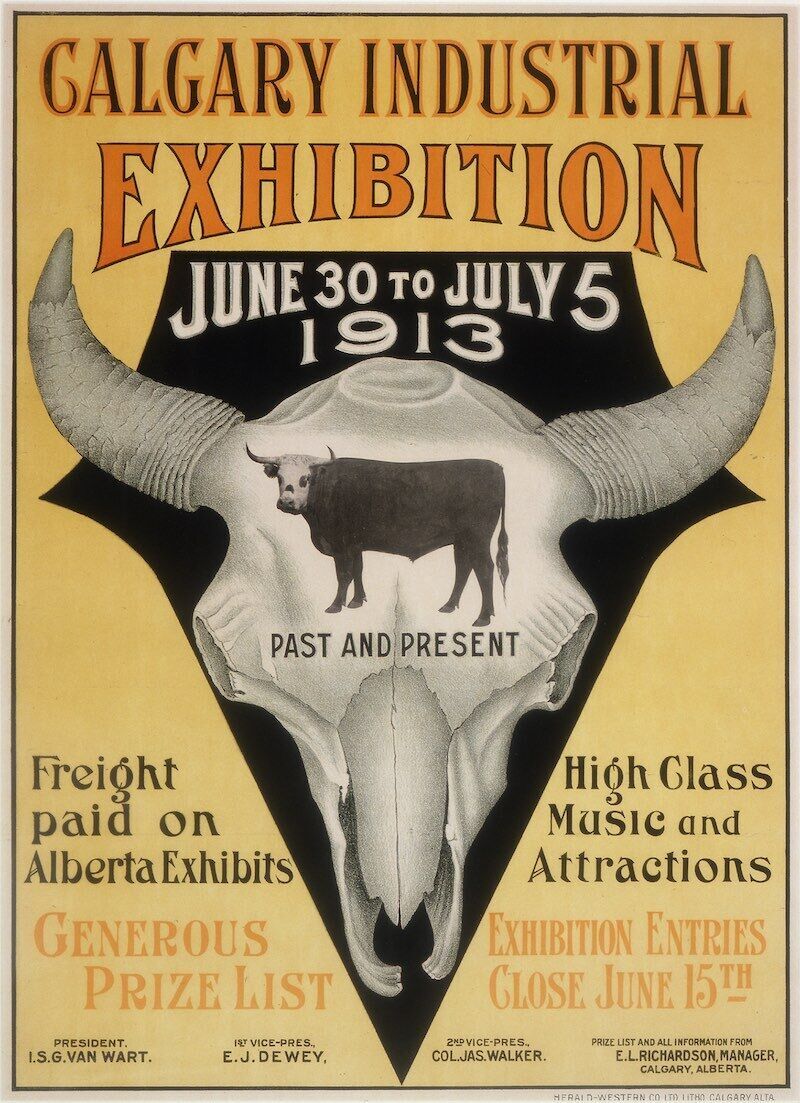 Consequently, the stereotype of Calgary as a city stuck in the past has become prevalent, a situation that's been deemed a liability for talent attraction.
For Wang, who's lived in Calgary since June 2022, our city's association with cowboy culture can cause young people to perceive Calgary as "small-minded" or "backwards."
"Sometimes [people] are not even interested in learning about Alberta," he said. "They have a very narrow vision of what Alberta can offer."
The values of the mythical West, however, are not too distant from the values of today's young talent.
As Calgary becomes more culturally diverse and tolerant, so does the idea of who gets to be a cowboy — and who belongs.
In a paper co-authored by Seiler, the cowboy mythology in Calgary is described as one that "celebrate[s] a highly localized, romantic past on the open range, democratic values, 'ordinary folks' and 'a level playing field,' while at the same time championing technological progress, globalization, unfettered entrepreneurship and socio-economic hierarchy."
This seems to align with the findings of Finch's 2022 report.
In pursuit of economic goals that will enable their quality of life, young Canadians are attracted to cities that offer diverse career opportunities, vibrant urban environments, as well as a welcoming attitude towards difference.
Aligning the myth with today's values
To this day, the Calgary Stampede functions as a de-facto Indigenous gathering place, as described by John Fischer, co-chair of the Indigenous Gathering Place Society in a 2021 Sprawlcast episode. "We are part of the urban landscape, and the only time we see ourselves, at least in the past, has been during Stampede."

In the summer of 2022, the Calgary Stampede held its first drag brunch, an event that had traditionally remained on the sidelines, proving that not only those who conform to traditional gender norms belong in our city.
"As a lifelong Albertan, being part of this celebration of our culture and heritage is important, but it is also important that this reflects Alberta today," Calgary drag performer Karla Marx told the Globe and Mail at the time. "We need to keep striving towards a diverse, inclusive, vibrant community."
The Stampede is for amusement; it is not to be associated with reality.
In Finch's view, however, dismantling the stereotypes that have sustained the myth of the West for decades is not enough to signal the world that Calgary is a diverse, tolerant city.
"The easier opportunity is to just detach," Finch says of our city's Western heritage. "What we need to focus on is in the future of the brand—respecting the past, but we don't need to spend time [amplifying it]."
But rebranding takes time.
"We've got to make sure we are consistent and sustained—brands take generations to build, and we just have never committed to that." Finch said. "One of the challenges we have, and an opportunity, is our brand still sits about 1988, because that was Calgary's coming-out party to the world."
Whether our city drops the cowboy hat or not, Calgary's reputation is already shifting.
For Martino and Wang, Calgary's relatively affordable housing, varied cultural offering and diversity, as well as our city's strong sense of community have been a pleasant surprise for the millennial couple.
"That's why I became a defender of Alberta out there," Martino said. "Because people truly believe that it's the most boring place on Earth."
Ximena González is a freelance journalist whose work has also appeared in The Globe and Mail, The Tyee and Jacobin.
CORRECTIONS: An earlier version of this story mischaracterized Matt Masters as a cowboy musician. In fact, he is a country singer. David Finch was also described as an associate professor at Mount Royal University's (MRU) Bissett School of Business; in fact, he is a professor at MRU's Institute for Community Prosperity. The Sprawl regrets the errors.

Support in-depth Calgary journalism.
Sign Me Up!
We connect Calgarians with their city through in-depth, curiosity-driven journalism—but we can't do it alone. We rely on our readers and listeners for support. Join us by becoming a Sprawl member today!