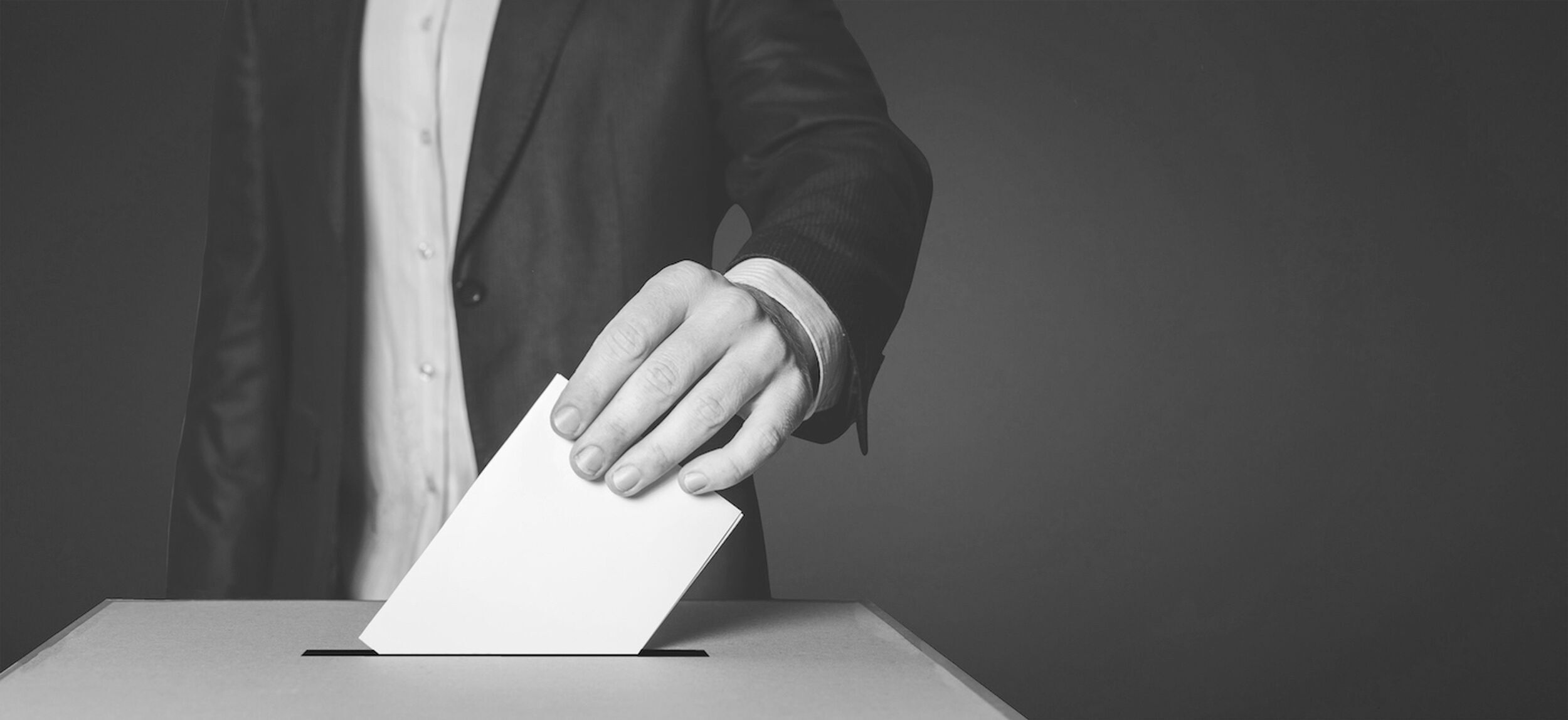 Who's trying to sway your vote in Calgary's municipal election?
These are the PACs registered with Elections Calgary.
Do you know who's behind the political ads you see?

It's often unclear—particularly in this year's municipal elections.
Third-party advertisers (TPAs), also known as political action committees (PACs), are set to exert significant influence on the campaigns underway. But new rules passed under the current UCP government make it easy for their funding sources to remain unknown until after the election—giving wealthy individuals who can afford to donate $30,000 outsized political influence over the political conversation.
TPAs must register in municipal races if they spend more than $1,000. The Sprawl is tracking those registered groups in this list, which will be kept updated. There are currently no TPAs registered with Edmonton Elections, but numerous TPAs have registered in Calgary (you can find the Elections Calgary registry here).
Do you know information we should add to this list? If so, email us at hello@sprawlalberta.com. We will be maintaining this list throughout the election.

Calgarians for a Progressive Future (Calgary's Future)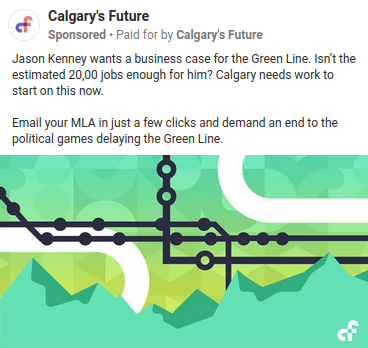 Who they are: Calgary's Future was the first TPA to register in Calgary for this year's election. The group is supporting issues like public health (including COVID-19 protocols), sustainable development, and building the full Green Line immediately.
Who's behind them: Led by a group including Calgary District Labour Council president Alex Shevalier, Calgary's Future is so far the only TPA to have filed financial disclosure documents with Elections Calgary. Those documents show total contributions of $1.7 million—nearly all from labour unions—as of December 2020.
Who they are: Calgary Tomorrow is essentially a pro-Jeff Davison PAC, and not much more. Davison, who was elected as Ward 6 councillor in 2017, is running for mayor. Calgary Tomorrow's sparse website talks about the need for leadership and the importance of this election, and then lists Davison's record as a first-term councillor. The group initially opted to take advantage of rules that allow PACs to register without publicly disclosing their existence until after the election, resulting in a brouhaha about the relationship between Calgary Tomorrow and the Davison campaign.
Who's behind them: "We are Calgary citizens that care deeply about our City and the direction of Council in the next four years." No names are provided on the website, but the group's registration lists Gerald Albert as the primary contact. Calgary Tomorrow did not respond to emailed requests for information.
Who they are: It's all in the name. Fluoride Yes! has one focus: persuading Calgarians (and candidates) to support reintroducing fluoride into the city's water as a public health measure. Council voted in February to include a plebiscite on the issue during the municipal election.
Endorsements: No explicit endorsements, but the group has a detailed account of candidate positions on fluoridation on its website.

Who they are: The Lead Calgary website describes the group as passionate Calgarians from different backgrounds, none of whom seem to want to publicly attach their name to the project. Even so, political transparency and accountability are among their stated beliefs, along with reducing the size and cost of government, cutting taxes, and ending "the influence of special interests and political insiders at city hall."
Who's behind them: William McBeath is listed on registration documents filed with the city. McBeath's LinkedIn profile lists his current position as managing director of far-right media outlet True North Centre for Public Policy, and he has previously been quoted as a spokesperson for Save Calgary, another right-wing PAC that isn't upfront about its people.
Endorsements: None listed.

Look Forward Society for Political Action of Alberta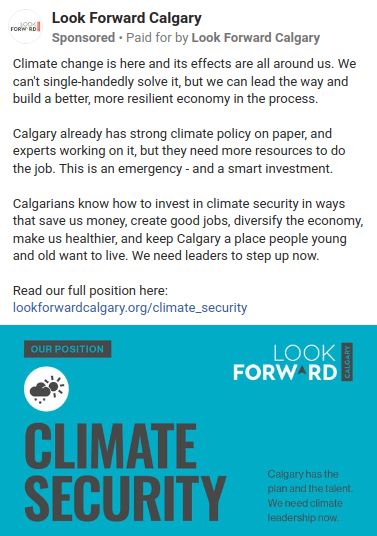 Who they are: Look Forward frames themselves not solely as political advertisers, but also as "a bridge between communities, political organizers, and candidates." They advocate for public transit, climate security, poverty reduction and housing affordability, among a list of other issues.
Who's behind them: Executive director Pete Meadows said in an email that all of the group's funding is from donations and membership sign-ups. "We have a couple of hundred members, including a few dozen active voting members."
Board members are not currently listed on the website. Meadows said the group is planning to post them, and submitted the following names of board members to The Sprawl:
Quinton Rafuse - Interim President
Aman Adatia - Vice President
Kristine Vasquez - Secretary
Ujal Thakor - CFO, Treasurer
Colleen Bowman
Gail Garden
Sameer Mawji
Christina Owczarek
Brooke Simaluk
Jess Wiseman

Ward 3 - Jasmine Mian
Ward 4 - DJ Kelly
Ward 6 - Lana Bentley
Ward 8 - Courtney Walcott
Ward 9 - Gian-Carlo Carra
Ward 10 - Abed Harb
Ward 11 - Kourtney Branagan
Ward 12 - Evan Spencer
Prosper Calgary Initiative
Who they are: Prosper Calgary's website is vague about policy positions. In an email, Dr. Emeka Dean Nwakanma mentioned issues such as working against discrimination, supporting mental health, concerns about taxes, homelessness, and funding emergency services as among their priorities.
Who's behind them: Although the website lists the names of several people involved with the PAC, the only one with any information about the person is Nwakanma. His LinkedIn page shows he holds a PhD in Library and Information Science from McGill University, and lists his current position as a health and safety coordinator with ATCO. In an email, Nwakanma said funding comes from "donations from Calgarians."
Responsible Representation Political Action Committee
Who they are: According to their website, RRPAC wants to identify and support candidates that meet their criteria—namely, problem solving, relationship building and financial acumen. There's nothing about specific policy positions, and requests for further information were not returned.
Who's behind them: Four people, most notably outgoing Ward 12 councillor Shane Keating, identified as the group's founder. Questions about the group's funding sources went unanswered, but their website has a call for donations, and also states they are "seeking supporter corporations who are willing to financially contribute at different levels."
Ward 9 - Gian-Carlo Carra
Ward 13 - Diane Colley-Urquhart
Ward 14 - Peter Demong

Taylor Lambert is The Sprawl's Alberta politics reporter.
CORRECTION 08/28/21: A previous version of this list erroneously stated that Lourdes Juan is a board member for two PACs. She only sits on the board of one, RRPAC. The Sprawl regrets the error.
Support in-depth Calgary journalism.
Sign Me Up!
This is a dire time for the news industry in Canada—and we need your support now more than ever. The Sprawl connects Calgarians with their city through in-depth, curiosity-driven journalism, but we can only keep doing this if readers and listeners pitch in. Join us by becoming a Sprawl member today!