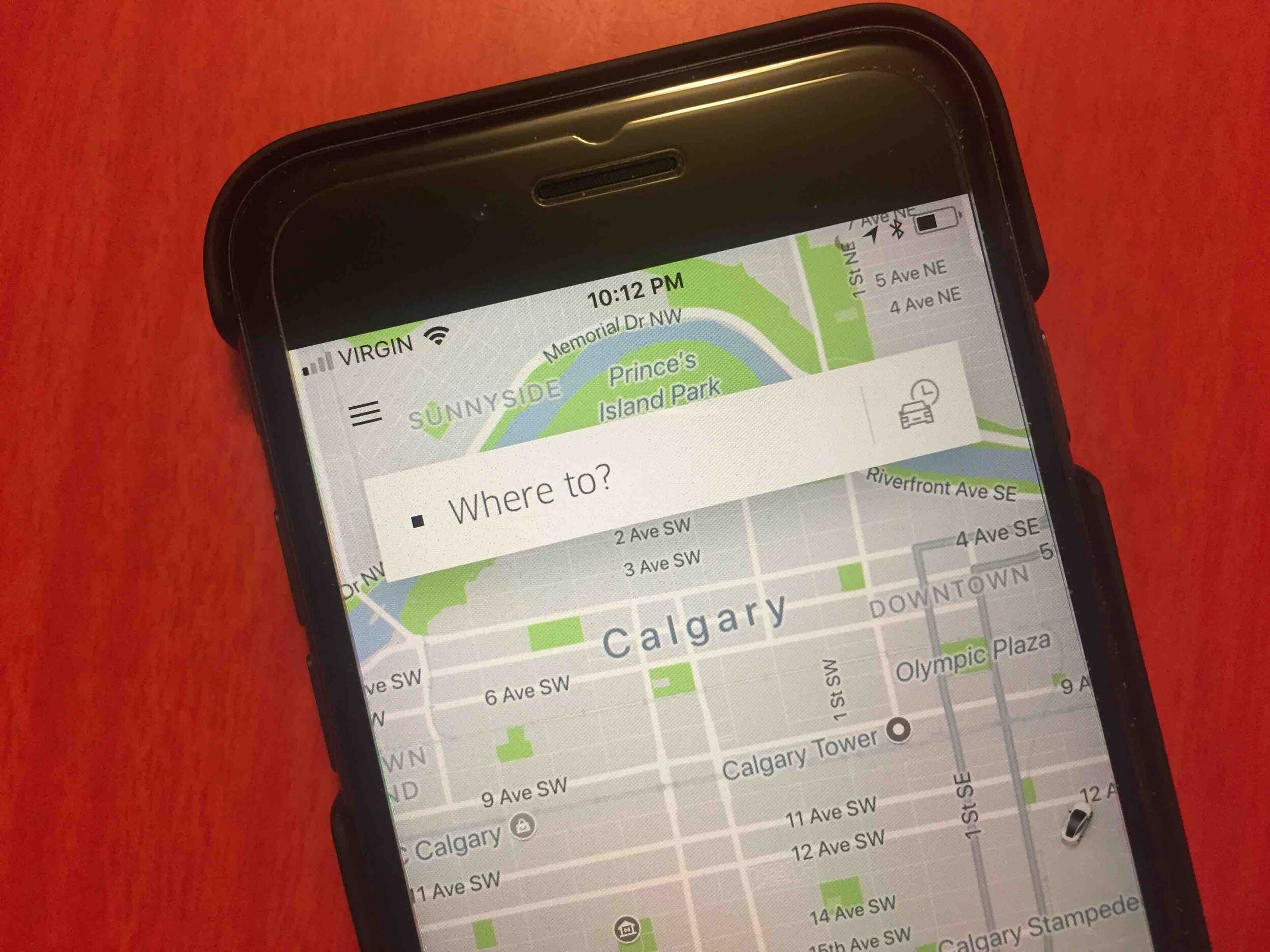 '

We need another tool': Calgary Transit eyes Uber partnership
How things change. It wasn't so long ago that Uber and city council couldn't agree on anything.
How things change. It wasn't so long ago that Uber and city council couldn't agree on anything. In early 2016 Uber left town in disgust; Mayor Naheed Nenshi, meanwhile, was caught on video saying they were "honestly the worst people in the world to deal with." (More famously, he referred to then-CEO Travis Kalanick, who resigned earlier this year amid myriad controversies, as a "dick.")
Today, Uber has a new CEO and Calgary is struggling to run transit service to new neighbourhoods on the city outskirts. It's expensive and ridership is down—which means revenue is down. Now Uber, which returned to Calgary in December 2016, is being touted as a possible solution, at least in part, to the city's transit woes.
At city council on Tuesday, transit GM Doug Morgan said the city is looking at ridesharing companies as possible partners to help solve the so-called "last mile" problem—the portion of the trip between, say, the LRT station and home. "We're looking at some pilot projects that use innovative service delivery where we perhaps don't have enough ridership for a bus," Morgan said. "So can we use things like Uber or Lyft — or a different innovative service delivery — to get in quickly with a lower-cost service?"
A pilot is coming in the first half of 2018, Morgan said.
"Even in industrial areas where it's low ridership, we need another tool." —Calgary Transit director Doug Morgan
The idea is not new. Cities throughout North America have gone this route (including L.A., Minneapolis and Oakland, to name a few), and many others have considered it (including Edmonton). In Boston, the local transit agency partners with Uber and Lyft on what it calls an "on-demand paratransit" program. Users pay $2 at most for a trip, and the transit agency covers the rest up to $40.
Morgan brought up the Boston example at council Tuesday, and some council members are amenable to the possibility. "It's not necessarily Uber," said Nenshi. "The last mile question is one that has perplexed transit systems for a long time. It's the most expensive part of the program… Given new technologies like car2go, Uber and others, there may well be an opportunity to think of that last mile in a new way."
Some cities are going even further down the transit-rideshare road. Los Angeles has put out the call for a private company to help create what it's calling "microtransit." The new public-private service would have virtual bus stops and fluid routes based on demand: "on-call when riders want it, where they want it," according to the transit agency.
Councillor Shane Keating, who represents the city's far southeast (Ward 12), is open to the idea of an Uber partnership. He believes the city needs to stop trying to offer the exact same services everywhere. "It can be different services for different areas depending on the needs," he said. "We've got to get to the point where there are many different ways for us to provide an excellent service — not identical, but excellent."
But as has been shown elsewhere, Uber may not be as wonderful as its sleek interface suggests. Stewart Midwinter, one of Calgary's urban cycling pioneers who became a paraplegic after an accident six years ago, warns that replacing transit buses with rideshare would harm people with mobility challenges. "I rely on those buses," said Midwinter. "Uber's taken huge heat in other cities because generally, their vehicles are not accessible." Uber has some wheelchair accessible vehicles, called UberWAVs, but only in certain markets—not including Calgary, currently.
In addition to transit, Midwinter uses Calgary Transit Access, the city's service for Calgarians with disabilities. But the service has its limitations: you have to book before 1 p.m. the day before the trip is needed, for example.
When Midwinter takes regular transit buses, he hopes it's a full-sized one and not a shuttle, because the small buses—which are used on quieter routes, or at off-peak times—only have space for one wheelchair or a stroller. If the spot's taken, he's stuck waiting up to half an hour for the next bus. "If you're going to cut back the service and move to Uber, it just means that more people with disabilities will lose their mobility," he said. "I don't have the answer, but I just know that taking disabled people out of the picture is not a great solution."
Councillor Druh Farrell is likewise skeptical. "As we move toward building a more accessible city, I can't imagine Uber replacing Calgary Transit," she said. "Transportation is changing so we have to keep an open mind on new trends. However we also have to recognize our responsibility to provide a city that's accessible for everyone. And we haven't done a great job in the past."
Support in-depth Calgary journalism.
Sign Me Up!
We connect Calgarians with their city through in-depth, curiosity-driven journalism—but we can't do it alone. We rely on our readers and listeners for support. Join us by becoming a Sprawl member today!