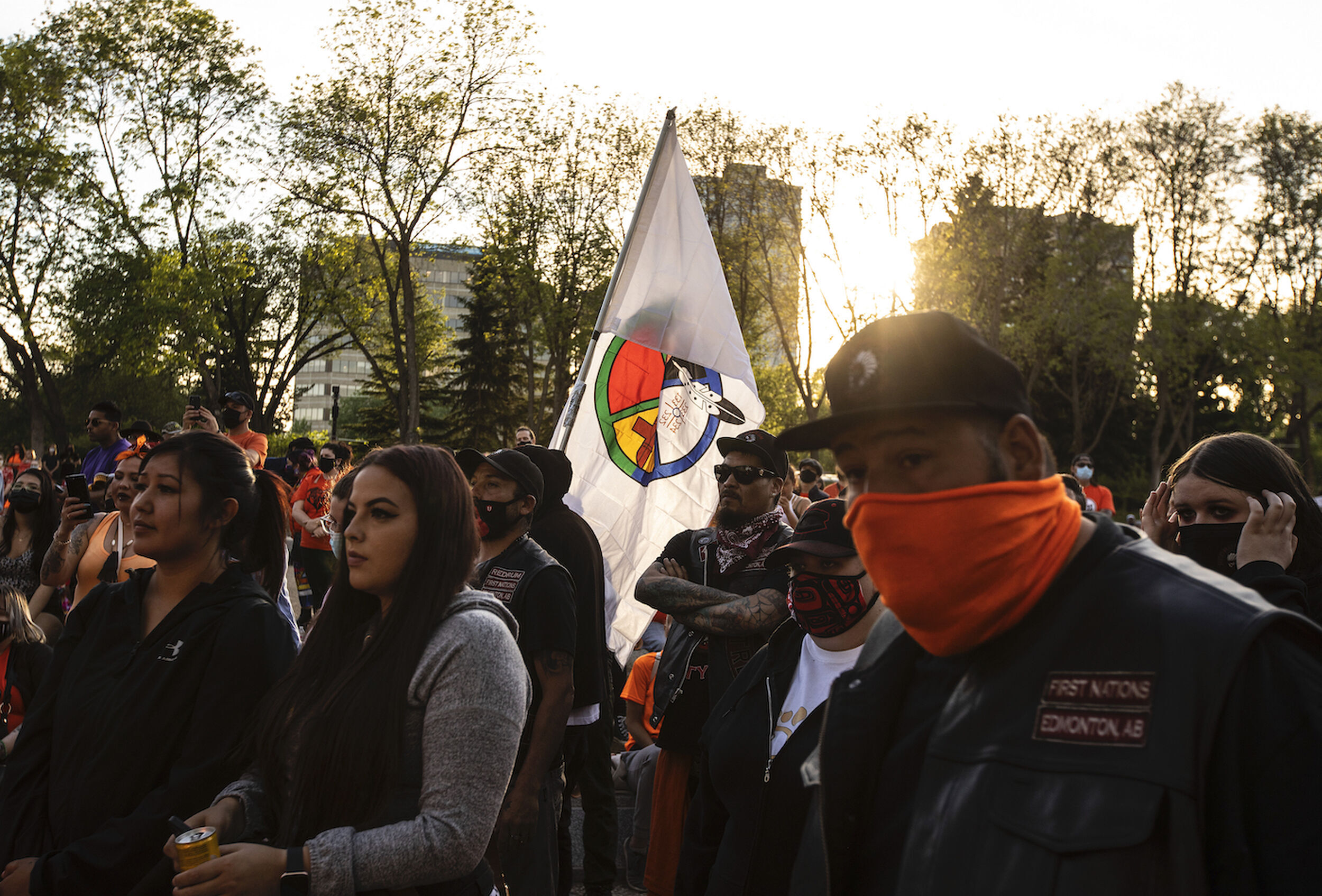 Sprawlcast: Two Indigenous activists on why they fight
A vigil for residential school victims brought them together.
Support in-depth Calgary journalism.
Sign Me Up!
We connect Calgarians with their city through in-depth, curiosity-driven journalism—but we can't do it alone. We rely on our readers and listeners to fund our work by pitching in a few dollars a month. Join us by becoming a Sprawl member today!
Sprawlcast is a collaboration between CJSW 90.9 FM and The Sprawl. It's a show for curious Albertans who want more than the daily news grind. A transcript of this episode is below.
---
CHERYL BAPTISTE: These kids would have been future elders, even to me now, and that's a knowledge that I'm never going to be able to experience.
AUTUMN EAGLESPEAKER: Use your social media platforms and influence your family and friends, and keep sharing the messages. Keep sharing your own stories. Keep sharing other people's stories, so that it keeps on attention and it's not just going to be cycled out for the next news story.
JEREMY KLASZUS: You just heard Autumn EagleSpeaker, who was one of many people who spoke at a vigil outside Calgary City Hall on May 31. This was days after the Tk'emlúps te Secwépemc First Nation announced that it had found the bodies of 215 children at the Kamloops Indian Residential School. And in the wake of this news, numerous vigils happened across the country—including Alberta's cities.
In this Sprawlcast, we're going to hear from two young First Nations activists who are on the front lines of organizing. The Sprawl's deputy editor in Edmonton, Hamdi Issawi, has more.
(NOTE: In this episode there is discussion of the impacts of residential schools. If you're a residential school survivor experiencing distress, the 24-hour National Indian Residential School Crisis Line is available for support: 1-866-925-4419)
---
HAMDI ISSAWI: On the night of Monday, May 31, in Edmonton, about 300 people arrived at the Alberta legislature building to mourn the recently discovered victims of the Kamloops Indian Residential School. Children's shoes, candles and teddy bears lined the steps around a memorial on the north side of the building. It was a second vigil of its kind in two days, but this one was organized by Mekwun Moses, a 23-year-old Cree student at Maskwacis Cultural College. Recent events gave Moses a new perspective on the tragic news. She just given birth to a brand new baby girl.
MEKWUN MOSES: She's two weeks old.
ISSAWI: Two weeks old! Wow. No wonder you're so busy. I don't blame you at all.
ISSAWI: It also must be very exciting, though, to have a new addition to your household.
MOSES: Yeah, yeah, we're very happy.
ISSAWI: I can't believe you planned and organized this with two weeks! That's amazing.
MOSES: Yeah, two weeks—frickin' a week and a half postpartum—and I was just up there, you know, standin' for the people.
ISSAWI: I never would have guessed. One thing, one thing I noticed when when you were talking about 215 children, you refer to them as "babies" a few times, and I was wondering: given that I now know that you're you're a new mother, has that changed your outlook? Do you think that played a role in maybe motivating you to act and organize?
MOSES: It definitely did. Just having my baby two weeks ago, and then hearing about all of this, it makes you view things a little bit differently because now you know how much love that a parent has for their child. I was just so emotional about it because thinking about what my people went through, and all our families, and all this intergenerational trauma, I can't even imagine any of that happening to any of my children—just the heartbreak and how much it would have affected the other parents who had lost their children all that time ago. It definitely did play a big role, because I just I felt so much more, I guess, because I could understand more of how a parent would feel if that makes sense.
ISSAWI: Mm hmm. Is this the first time you've ever organized anything like this?
MOSES: No, I had a rally in Maskwacis before it was (an) anti-racism rally, and I think CTV News ended up coming out and talking to us about it as well, and it was just posters kind of just standing by the highway.
CTV ANNOUNCER: Dozens gathered in Maskwacis today condemning what they call a racist social media post connected to a Ponoka school being put in a hold and secure on Friday.
MOSES: And it made the community really, really upset about the racism that we experienced out there. This was when I was living in Ponoka as well. So, I organized a rally in Maskwacis just kind of like protesting against racism, and a lot of people came out to that one.
ISSAWI: So you've done this before? Would you consider yourself an activist?
MOSES: Yeah, at this point I would.
ISSAWI: What, what made you decide to, you know, go in this direction?
MOSES: Basically, I started college for Indigenous social work—been doing it for four years now. Through my education, it's kind of taught me so much and really put my anxieties aside about really wanting to speak out and standing for what's right, if that makes sense. So through that I've been really connected into the community a lot more, just through my education. That's kind of just what sparked it. It kind of made me not really afraid to want to do these type of things and to encourage everyone else to speak up about it just because—I go by knowing that I'm part of the generation that is responsible for change.
ISSAWI: So, tell me a little bit more about what sparked, I guess—how am I gonna say this—what motivated you to organize this vigil.
MOSES: A lot of the emotion that I felt with the 215 children being found in Kamloops—I, myself, and a lot of the First Nations community was really affected emotionally and mentally by this impact. It's something we've been experiencing our whole life. So, what motivated me to do it was how I felt about it, which was kind of just a lot of sadness, a lot of anger and a lot of drive that this needs to change, this needs to be known, that this is what we went through. This is Canada's history and it needs to be surfaced. That's what drove me to do it.

We're not gonna stand by. This is not going to be silenced in Canada's history anymore. Everyone needs to know about this.
ISSAWI: What effect did you want to have on the community that you gathered there, or maybe the ones that didn't show up too?
MOSES: Basically, I think, I think my goal from creating the event was having our First Nations and Indigenous people to come together and be able to mourn this together and be able to just be around each other, because we've all been affected, we all understand this—how it feels—and we all come from families that have experienced this. And I think the takeaway that I wanted everyone to have was kind of like a bit of comfort that this has gotten recognized finally, and that we were able to do something together for these children that were found. And then it kind of turned into more of like a protest than a rally because, you know, so many people are upset about it. And I think, then, the takeaway was more of, like, we're not gonna standby, this is not going to be silenced in Canada's history anymore. Everyone needs to know about this. And that ended up being ultimate takeaway, I think.
ISSAWI: Do you see a vigil as an act of protest? Or is that just the way that this one happened? Is that just a component of this one, given the circumstances?
MOSES: I think, yeah, given the circumstances, the vigil ended up kind of being a protest. There's so much feelings and emotion for our people to go through this again with our history being surfaced, and then knowing how much it really hurt us. And it still does. And I think that's what ended up bringing it into a protest was—well, for me, I was angry at the fact that it's taken so long, and people are still struggling and going through trauma from our history, and this is kind of like the circumstances of what happened with residential schools. That's where the anger comes from, I think, for me.
ISSAWI: And you don't have to answer this at all, but I'm curious. You mentioned a little bit about it at the rally, so I thought I'd ask, but are you comfortable talking about how the effects of the residential school system affected you and your family?
MOSES: I think, for me, I wanted to speak on behalf of myself and my family because it's another drive for me; it's another way that I see that I can change the outcome of what our generation goes through and the way we handle it. Given that my family had gone through the '60 Scoop, therefore I don't know my biological grandparents, because both of my parents were taken away (at a) very, very young age from their biological parents themselves. So, it's a really huge impact, and it's caused a lot of emotions of feeling lost or lonely for my parents. Ultimately, a lot of the '60 Scoop was children being placed in homes with white people, and taken away from their families. So knowing that my parents went through that I can see the ultimate outcome from it, which ended up unfortunately being addictions, and I ended up losing my mother. She passed away in 2013. My dad still struggles. He's gone through addictions. He's sober now. Everything he's gone through, it ultimately made him choose substance abuse to cope. From my education, I can understand this now—why my parents had made the choices that they did. It's because they experienced so much trauma, and a lot of that was not really supported, or they didn't have a lot of help in a lot of ways. So, for me to think about it, when I think about my parents, I can say that they came from that, and I came from them. But knowing the history and knowing how I can heal and help other people heal from it can be the ultimate generation of change, and it's why I encourage everyone else to do it, especially the youth.
ISSAWI: Some change is already happening. in Calgary students finally want a long fought battle to change the name of Langevin School, named after Hector-Louis Langevin, one of the architects of the residential school system. And in Edmonton, Mayor Don Iverson is trying to rename Grandin LRT station, which is also named after an early advocate residential schools.
MOSES: Definitely, I do agree that things like that are happening, because of the movement because of so much that has been sparked in the media that like things are finally being changed. I would definitely encourage more of that to happen. Because, by making those changes, it's kind of like recognizing what's wrong about it, and making it right, and making First Nations people be comfortable again, and being heard, and we're not invisible, and that these changes really do matter. It's a huge statement for the renaming to happen, and even the lowering of the flags was a really big statement as well. It's kind of like an ultimate move of respect for what's going on, and I'm kind of just wanting to make it right. I think more of that is probably going to happen with more of this movement, because it's, it's pushing people to make the changes that are supposed to happen.
ISSAWI: When I was at the vigil in Edmonton, Mekwun said something that struck me.
MOSES: I want all of you (who are struggling) to know that you can change how you interpret it into your future. You can take something that hurt you and you can change it into something that will drive you. That's me saying that none of you should ever, ever stop fighting for what's right, for what our people need to be heard for.
ISSAWI: At the same time, she sees herself as a member of the generation that can break the cycle of trauma spurred by the residential school system. But she's not going it alone.
CHERYL BAPTISTE: Mekwun's right, 100%. This isn't easy work, you're constantly reliving a different type of trauma—doing it—especially such as this whole situation. And like I said, it's really hard having to listen to my knowledge keepers and how much they're hurting right now.
ISSAWI: Cheryl Baptiste is a 24-year-old freelance artist with Cree, Ojibwa, and Blackfoot roots. She lives in Red Deer, but even from 150 kilometres away she was keeping an eye on the event in Edmonton, and even had a hand in helping Mekwun organize it.
BAPTISTE: I actually have yet to meet her. I met her through social media, and she had reached out to me because we have relatives—like my own aunties and uncles and my grandparents had to go through residential schools, and this has just taken a really, really deep effect on the community. So, I was just wanting to play any part that I could, so I was helping her connect with different groups and people in Edmonton and just try to help her set up the speakers and drummers and stuff.

These kids would have been future elders, even to me now, and that's a knowledge that I'm never going to be able to experience.
ISSAWI: So it's safe to say that this is news, locating the remains of those 215 children, that really struck you. Did it resonate with you?
BAPTISTE: It did, because having family members describe their experiences, and just what they had to go through, is absolutely terrible. I honestly believe I'm a child of generational trauma, because, growing up, my mom was a very dysfunctional person. But that was just how her parents were as well. She also had to go through the system of residential schools. So, like I said, my family is having a really, really difficult time about it. My mom keeps crying on and off. Even today, she was like, "Everything just feels different now." It's just like a part of past that she doesn't want to relive, and it's just right up in your face. It's everywhere on social media right now, and he's having a hard time even just wanting to be on Facebook.
ISSAWI: And the response it this has been actions like the vigil. How do those help? Or do they help?
BAPTISTE: It does help a lot. It helps bring healing, and it's just a way to remember these kids that just never came home. The survivors are really fortunate to be here today. And it's just sad to think about—these kids would have been future elders, even to me now, and that's a knowledge that I'm never going to be able to experience. We just wanted the acknowledgement, and to commemorate these people. Being Indigenous, you don't get treated very well. I knew about residential schools for a long time, and I have people talking to me now who are older than I am, who had no idea about anything that happened through residential schools. So it's just having that acknowledgement, and people actually believing you—it validates people's experiences, and if anything it's like a call to action as well. It's a catalyst for Canada to recognize that it's built on a colonial system.
ISSAWI: When he's talking about this, or when you said it could lead to a social movement, what what role do you see yourself playing in it, if you do see yourself playing a role in it at all?
BAPTISTE: I do a lot of advocating for children in the foster care system, and MMIWG2ST+ (missing and murdered Indigenous women, girls, two-spirit and transgender individuals). I've spoken about residential schools and I'll try to also smash stereotypes. I feel like, if it becomes a social movement, which I personally believe it will, because this is something that Canada cannot brush under the rug. These were innocent children—215 innocent children they just found. That is absolutely unavoidable, it's inexcusable, and there needs to be some form of reconciliation.
ISSAWI: And I was wondering, do you see vigils in this case—maybe not in all cases, but in this case—as having like a dual nature? Maybe one part remembrance, one part protest?
BAPTISTE: Oh yeah, 100%. I feel like Indigenous people have been angry for a while. There's a lot within our system that is very oppressive towards Indigenous people and is built to work against us. Even when I go out to protests, I'm always yelling, just because there's—you can protest, but sometimes you still won't get that acknowledgement. It's just a matter of what Mekwun said, it's been too long, and Indigenous people know our history, and there just hasn't been any form of reconciliation or trying to make it better.
ISSAWI: Like Moses, Baptiste says a brush with racism in our own life put her on the activist path.

I was just kind of fed up because nobody's bothered to stand up for me.
BAPTISTE: I'm kind of still a baby activist, or what really got me into it was last year when all the protests were popping up. I was in a very, very public place—I just wanted to order some food, actually—and there was a group of people in front of me. They were talking really disrespectfully about George Floyd, and very distastefully. I just didn't feel like it was appropriate because there was kids around and everything they were saying was just very wrong. So I decided to step in and say something and they started racially discriminating towards me instead.
ISSAWI: What were they saying to you?
BAPTISTE: The one lady just looked at me, and she was like, "I feel like super sorry for you, because you're never gonna have an easy life, because you're not white." It's not the first time I've been told something along those lines. I was just kind of fed up because nobody's bothered to stand up for me and I left without getting a meal. I was frustrated with how everything was in the world, and I felt very hurt by that statement, so I decided I was gonna go protest outside of the courthouse on my own. I made a post on Facebook, and then it blew up. There was so much support in the community and it was a beautiful day.
ISSAWI: So tell me about that: What were you protesting? How did that day play out?
BAPTISTE: The first one that I held was just about racism in general, and then I actually held a second protest afterwards and 700 people showed up—that one was specifically for George Floyd and BLM (Black Lives Matter). The BIPOC (Black, Indigenous, people of colour) community came out and it was just really great, and we fundraised $2,500 for the native friendship society here.
ISSAWI: Wow, that's impressive.
BAPTISTE: Yeah, that was just my first few protests.
ISSAWI: Is there something that you'd like to see in your lifetime through the activism that you're doing, or the actions that you're taking part in?
BAPTISTE: Yeah, I'd like to see them improve our welfare system, especially with how foster care is within Indigenous children. We're overrepresented, and I'd like to see something done with missing and murdered Indigenous women and girls—especially those two. And I would like them to do something about the bodies at all these residential schools because they are going to find more, and that's a fact. I know, there are marches going be happening in the bigger cities. I feel like more of those are going to probably be popping up.
ISSAWI: Are you going to be playing a role in them?
BAPTISTE: I would absolutely love to. Probably the biggest thing that I love doing is being a part of the organizing. I love being there to speak and like educate people and connect with people in the communities, and that's something that I love doing.
ISSAWI: Yeah, I was gonna ask you like, besides like, the obvious, like the the intent or the original intent of the action—whether it's a vigil or March or protest—what do you get out of it? Is there's something else, something maybe intangible, that you get out of involving yourself in this experience?
BAPTISTE: I think the biggest thing for me is the fact that I just want the younger generation to have a better future. I just want young people to know as well, that change is possible. Being a part of the change is scary, but you can make it happen as long as you actually believe in the cause and your knowledge. I'm only 24, so I just feel like it's inspiring for the younger generation, and it encourages them to want to get up and go out.
Hamdi Issawi is The Sprawl's Edmonton editor. Follow him on Twitter @hamdiissawi.
Support in-depth Calgary journalism.
Sign Me Up!
We connect Calgarians with their city through in-depth, curiosity-driven journalism—but we can't do it alone. We rely on our readers and listeners to fund our work by pitching in a few dollars a month. Join us by becoming a Sprawl member today!