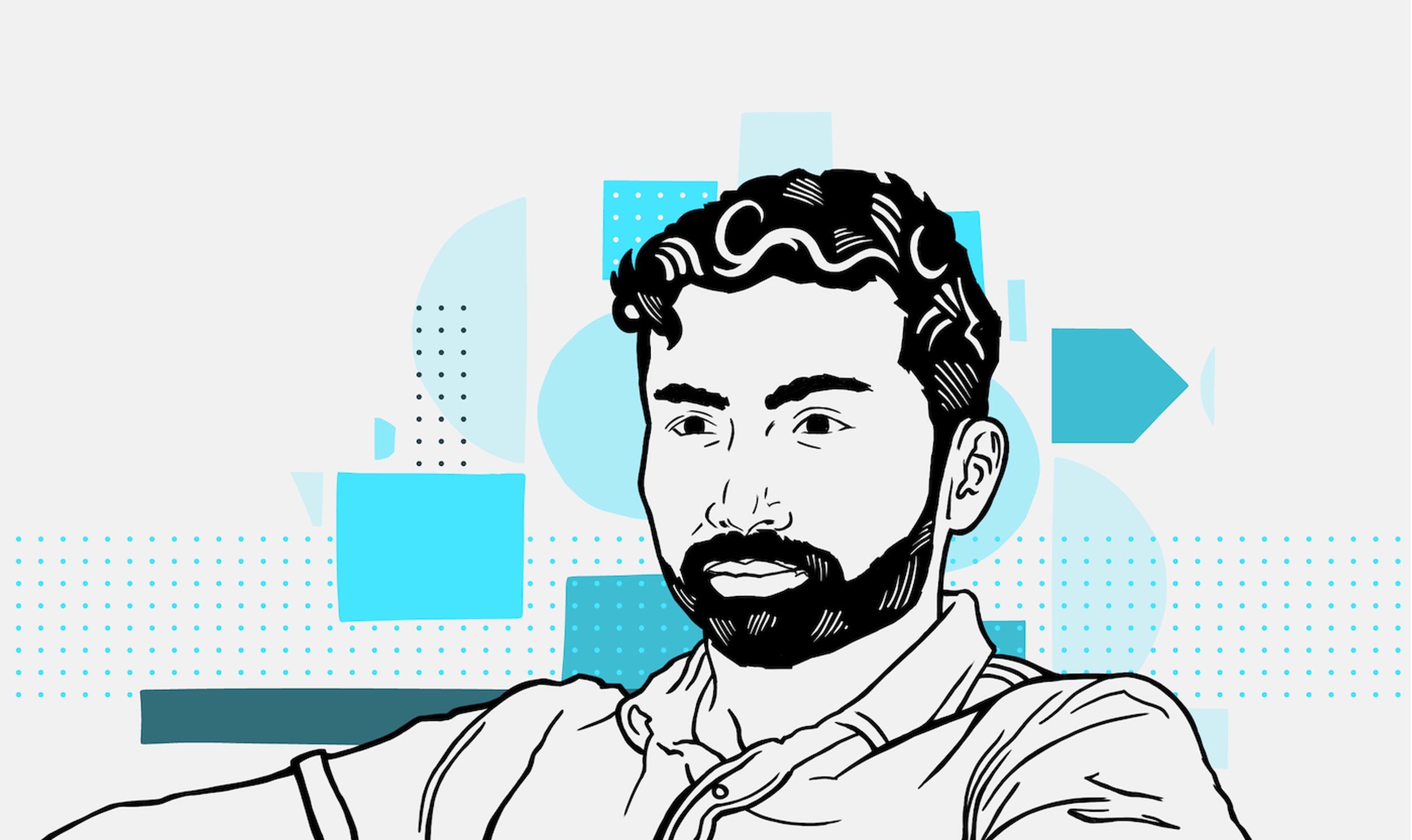 Suhail Panjwani: An immigrant teacher's longing to belong
His teaching practice has a focus on relationships.
Before you read this story...
At The Sprawl, we want to hire another journalist to dig into stories that others won't. Join our community and help us grow our independent newsroom! You can sign up for as little as $5 a month. By pitching in, you're making our journalism sustainable. Sign Me Up!
To close out 2020, we're bringing you 20 stories from an extraordinary year. Doctors. Teachers. Entrepreneurs. Activists. These are the stories of ordinary Albertans who were changed by circumstances beyond their control—and what they did to make their worlds, and ours, a little better.

---

Suhail Panjwani believes the future of teaching lies in self-care and community care. Currently doing his PhD in education, 33-year-old Panjwani teaches math and science at a Calgary school.
These days, every moment of his teaching is live-streamed, and he's responsible for his students' social and emotional well-being in unprecedented ways. He knows his profession is in the middle of a massive shift.
"I've come to realize that the primary focus of my practice is not content," Panjwani said. "It's people and relationships. And if we can't take care of each other, especially in these times, then often the content isn't even going to be received."

Panjwani has started Meditation Mondays with his junior-high students—impressive, considering his school's demographic is pretty mainstream. They do "brain breaks" where they stop, drop, and dance.
If we can't take care of each other… the content isn't even going to be received.
He's not afraid to be vulnerable with them. "I don't care, like I actually don't care, what people think," he said. "That's work to me, and it's important for my students."
This year has changed the way he thinks about the classroom, but also his role in it as a racialized teacher.
Born in Mumbai, Panjwani is Desi—his heritage and community are integral to how he moves in the world. Behind him, as we speak on Zoom, are two portraits—one of Tupac ("such a prophetic voice in the black liberation movement"), the other of Biggie ("one of the true godfathers of hip hop culture"). Race is something he thinks deeply about.
But at his school, he's frequently the only non-white person in the room, and he still doesn't feel safe to bring up topics like racial justice or Black Lives Matter.
It's been on his mind for a while—his dissertation touches on it, and he has a blog to store his thoughts—but he's longing for a greater sense of belonging at work.

I'm feeling pulled towards wanting to be in spaces that are predominantly people of colour.
"I'm feeling pulled towards wanting to be in spaces that are predominantly people of colour, you know?" He pauses, emphasizing that he still loves his current job. "But I definitely feel like I'm ready to go back to those spaces, and serve communities that look like the ones that I grew up in."
These reflections are also a form of self-care and community-care: Showing up authentically creates space for his students to do the same.
"That transcends the conversations around homework or teaching, right?" Panjwani said, somehow looking both exhausted and exhilarated.
"I think I've created a really different space in my classroom where kids feel like they can trust me, and be honest with each other, which I think is really beautiful."

Brianna Sharpe is a freelance journalist who covers LGBTQ2S+ issues, politics, parenting, and more. She lives on a mini-acreage in the Alberta foothills with her family.
Support in-depth Calgary journalism.
We connect Calgarians with their city through in-depth, curiosity-driven journalism—but we can't do it alone. We rely on our readers and listeners to fund our work by pitching in a few dollars a month. Join us by becoming a Sprawl member today! Sign Me Up!