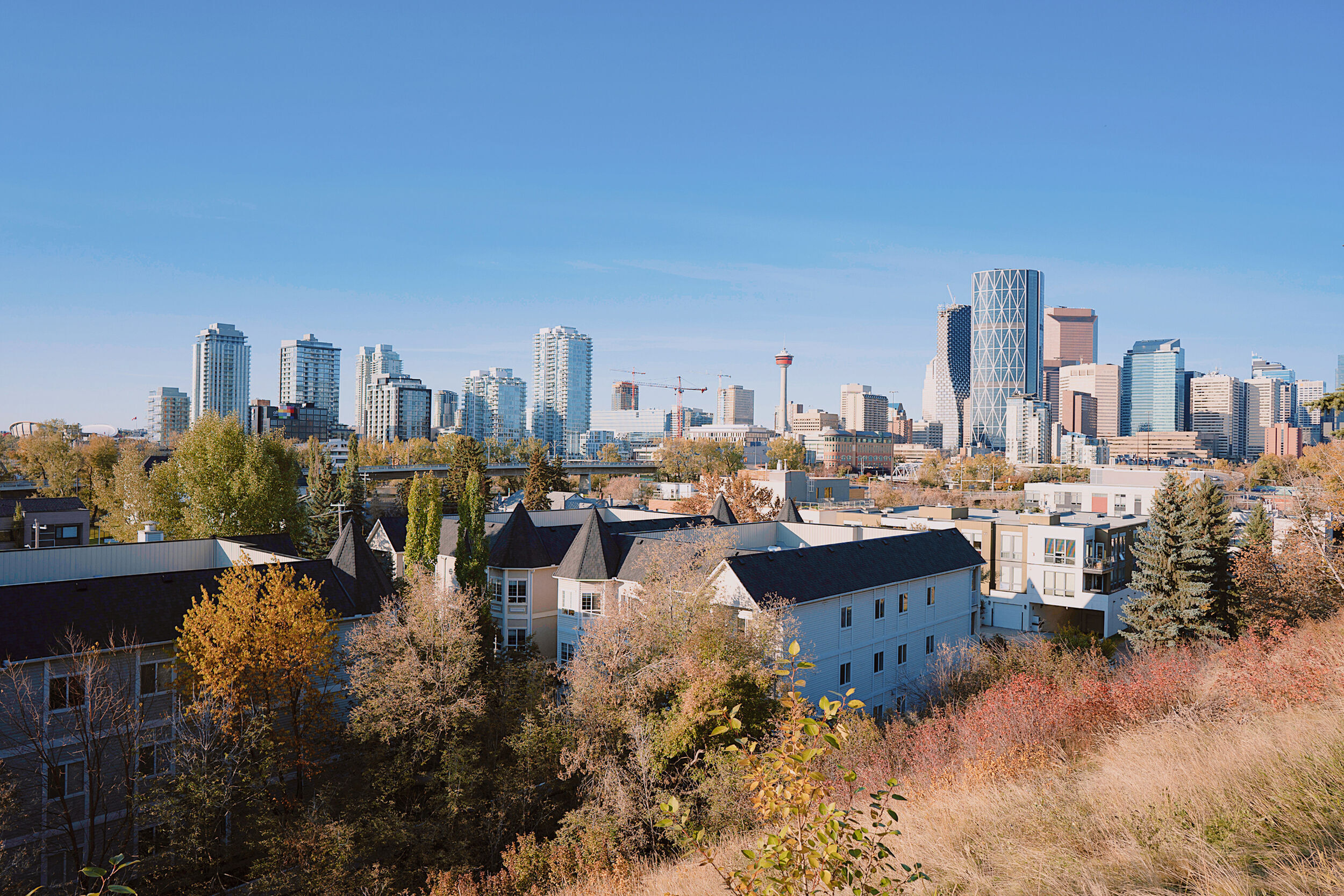 The city's new plan to counter sprawl
Are Calgarians ready for denser communities?
Since city council approved building 14 new communities in July 2018, there's been many discussions about how our city grows.
A year and a half later, there's a quote I still think about often. It's from Francisco Alaniz Uribe, co-director of the Urban Lab at the University of Calgary, speaking about sprawl shortly after council's decision.

"One of our main challenges is that we have so much space," Alaniz Uribe told Star Metro, "We are not forced to be creative by forces of nature, by oceans, by mountains, or other limiting factors, so we have to force ourselves."
A major move is now underway to force ourselves to grow inward.
But in a city accustomed to developing outward, changing how existing neighbourhoods evolve is contentious. The city's proposed Guidebook for Great Communities outlines a new planning system for all of Calgary's established communities.
The guidebook introduces a new "urban form classification system" in place of existing designations, which has some communities voicing concerns about increased density. The document also makes way for future major changes, including a renewed land-use bylaw and a new approach to local area plans involving multiple communities. (That approach is being tested with nine communities in the North Hill Communities Local Area Plan.)

Reactions to this document are mixed. While some people are pleased new policies will enable a denser city everywhere, others are concerned about what such development will mean for their streets and neighbourhoods. Will community heritage and neighbourhood character be maintained?
Plus, confusion abounds on all sides over what the guidebook actually proposes. That uncertainty seems to be fueling fear around the incoming changes to all established communities.
The Federation of Calgary Communities has concerns about limited engagement for the guidebook, a lack of awareness that it exists, and the complexity of the nearly 150-page document.
"There are good things in the guidebook, but we just need to pause, or maybe just slow down a little bit," said Toun Osuntogun, an urban planner with the Federation of Calgary Communities. "The guidebook is really the beginning for other changes that are coming, so people need to understand this first."
This is going to affect all Calgarians and all of our communities, and we need to pay attention.
"This is going to affect all Calgarians and all of our communities, and we need to pay attention because this is going to determine how our city grows and changes well into the future," said Leslie Evans, executive director of the Federation of Calgary Communities.
Like Osuntogun, Evans says there are some "very exciting pieces" in the guidebook, but she questions how it's all being rolled out.
"There's not been allowed enough time to actually consult with community and consult with residents about this to see if the city got it right," Evans said.
The guidebook went before city council's planning committee last November, and it returns March 4. In April, the guidebook is expected to head to council to be considered for adoption.

Community associations are starting to get the word out about these important policy changes, albeit each in their own way. In a recent Inglewood community newsletter, the guidebook was described as "Trojan Horse legislation" that could lead to inner-city communities being reduced to "homogenous blobs."
The city acknowledges a departure in engagement compared to past policy initiatives.
"We haven't [done public engagement] because we want to do this differently, because that type of engagement hasn't been working in the past to actually get us to the outcomes we want," said Lisa Kahn, the city's coordinator for the legislation and land-use bylaw team, with Calgary growth strategies.
We've struggled to work with communities to create community plans that implement that larger city vision at the local level.
I spoke with Kahn and her colleague, Stephen Pearce, a senior planner with Calgary growth strategies, who were both involved in the guidebook's creation. "I know it looks like just a document, but it really is a change in how we do things," Kahn said. A key shift is moving from a helicopter approach — a top-down, aerial view of communities — to a people-centred approach, designing for the experiences of people in an area.
Pearce sees the guidebook as a tool to finally realize the goals outlined in Calgary's Municipal Development Plan.

That plan, adopted by council in 2009, is a long-term vision for how Calgary grows and develops. "We've struggled to work with communities to create community plans that implement that larger city vision at the local level," Pearce said. He says the guidebook bridges that gap by connecting high-level city policies to local area plans that guide growth and development in communities.
The need for all communities to adopt density and offer a range of housing choices is something Kourtney Branagan recently experienced firsthand. Branagan, president of the Haysboro Community Association, was involved in crafting the guidebook. Following a separation from her husband, Branagan, a mother of two, could not find a suitable place to rent within her community.
I think that people are stuck in fear and not able to see the opportunity that transformation can give them to stay in their neighborhood.
Her neighbourhood's limited zoning for multi-unit housing meant she ended up moving one community over, where she rents in a new infill fourplex. "It felt really disheartening to not be able to stay in my community," she said.
Branagan has heard anti-density sentiments in response to the guidebook. "I think that people are stuck in fear and not able to see the opportunity that transformation can give them, to stay in their neighborhood, to stay in their communities, to stay connected to people," she said.

The guidebook for great communities goes to PUD today. And yes, it's about more than density. But it is about is choice, something many communities lack in our city. So rather than fake narratives here's my actual one about why our city needs to re-think growth. #yyccc #yycplan pic.twitter.com/qmLOiNbsRy

— Kourtney Brangan (@KourtBranagan) November 6, 2019
So what to make of all this? I hope awareness of the guidebook, and an understanding of its implications, continues to grow. The City of Calgary could ramp up its efforts, communicating what the guidebook means and addressing some of the common concerns.
At the same time, people in Calgary need to approach these changes — and there are many — with an open mind. Forcing ourselves to grow inward rather than outward is not going to be easy, but it is necessary.
Cailynn Klingbeil is a freelance journalist based in Calgary. Her writing has appeared in numerous publications including The New York Times, The Guardian, The Globe and Mail and CBC.
---
Support in-depth Calgary journalism.
Sign Me Up!
We connect Calgarians with their city through in-depth, curiosity-driven journalism—but we can't do it alone. We rely on our readers and listeners for support. Join us by becoming a Sprawl member today!