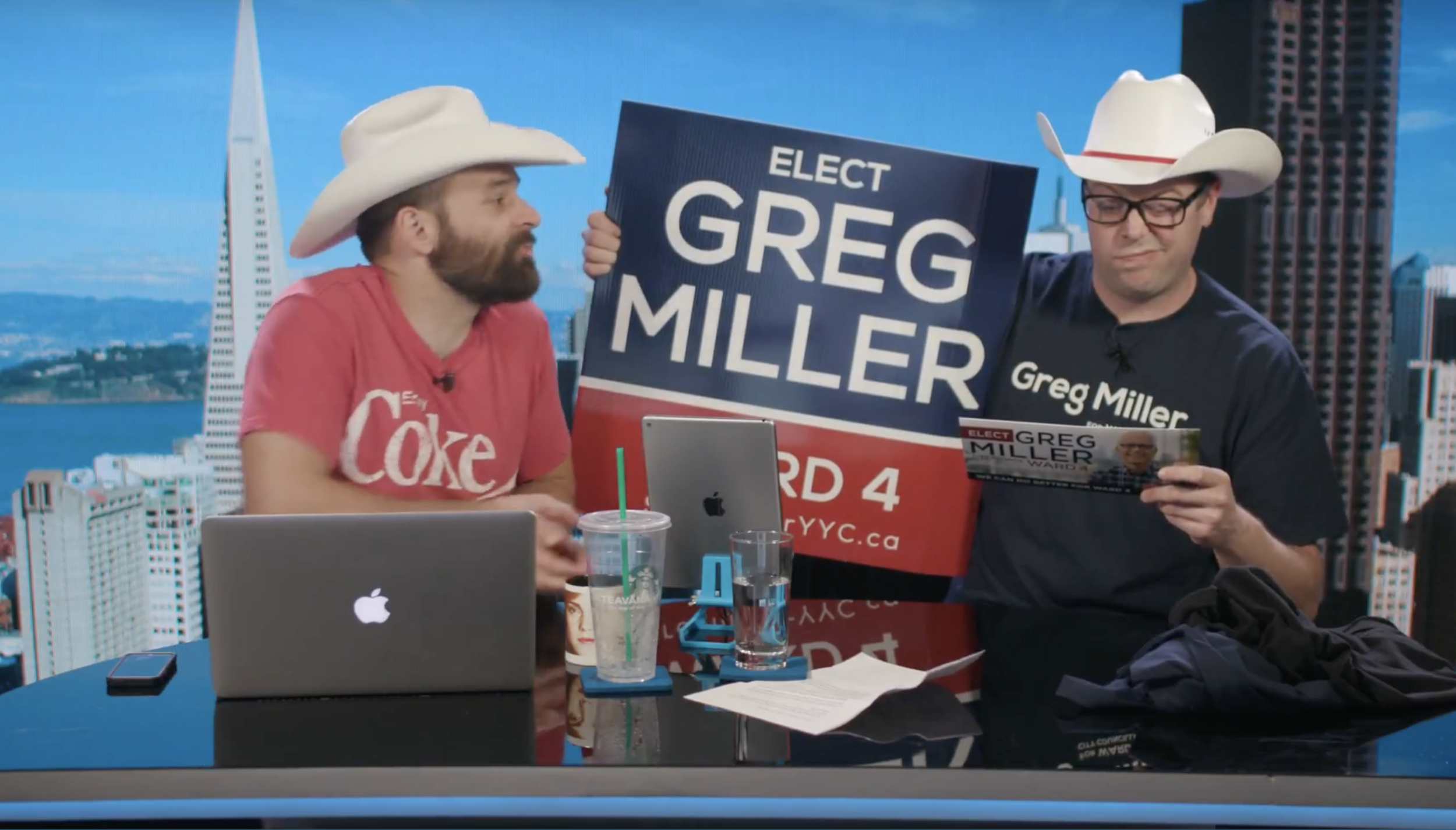 American internet comic tries to throw Calgary Ward 4 vote
NHL Commissioner Gary Bettman isn't the only American inserting himself into Calgary's municipal election.
Greg Miller, a popular San Francisco-based video game comic and YouTuber, on Friday posted a video endorsing Greg Miller, candidate for Ward 4 in Calgary. Miller is one of three candidates running against incumbent Sean Chu, who is widely known (though not perhaps in San Francisco) for his rabid opposition to cycling infrastructure.
Canadian Greg Miller said American Greg Miller reached out to him a week ago after coming across a tweet with one of Canadian Greg Miller's lawn signs. "He said, 'Hey, what does it take to get one of your signs and a shirt?'" recalled Canadian Greg Miller. "And I said, 'Well of course—this is what we do because we're good neighbours.'"
Canadian Greg Miller FedExed American Greg Miller a sign, some shirts and also threw in a couple of made-in-Calgary Smithbilt cowboy hats.
On Friday, American Greg Miller was decked out in the Calgary garb on his online show, The Kinda Funny Morning Show.
He went on to read a bit from Miller's campaign literature.
"Greg Miller gets the internet in a way most people don't," said Miller. "Greg Miller is a name you can trust. Greg Miller deserves your vote for Ward 4. Why? 'CAUSE OF HIS NAME, GREG MILLER."
"AND IF YOU DON'T VOTE FOR HIM, YOU'RE GOING TO HAVE A PROBLEM WITH AMERICAN GREG MILLER. AND YOU DON'T WANT ME COMING TO CALGARY, CANADA."
Is this not, we asked Canadian Greg Miller, American influence in a Canadian municipal election?
"American influence?!" replied Canadian Greg Miller. "Well, I think it's a lot of fun on social media — but I'll let others read into it what they will."
"If you can't have a little fun when campaigning, what's the point?"
Support in-depth Calgary journalism.
Sign Me Up!
This is a dire time for the news industry in Canada—and we need your support now more than ever. The Sprawl connects Calgarians with their city through in-depth, curiosity-driven journalism, but we can only keep doing this if readers and listeners pitch in. Join us by becoming a Sprawl member today!