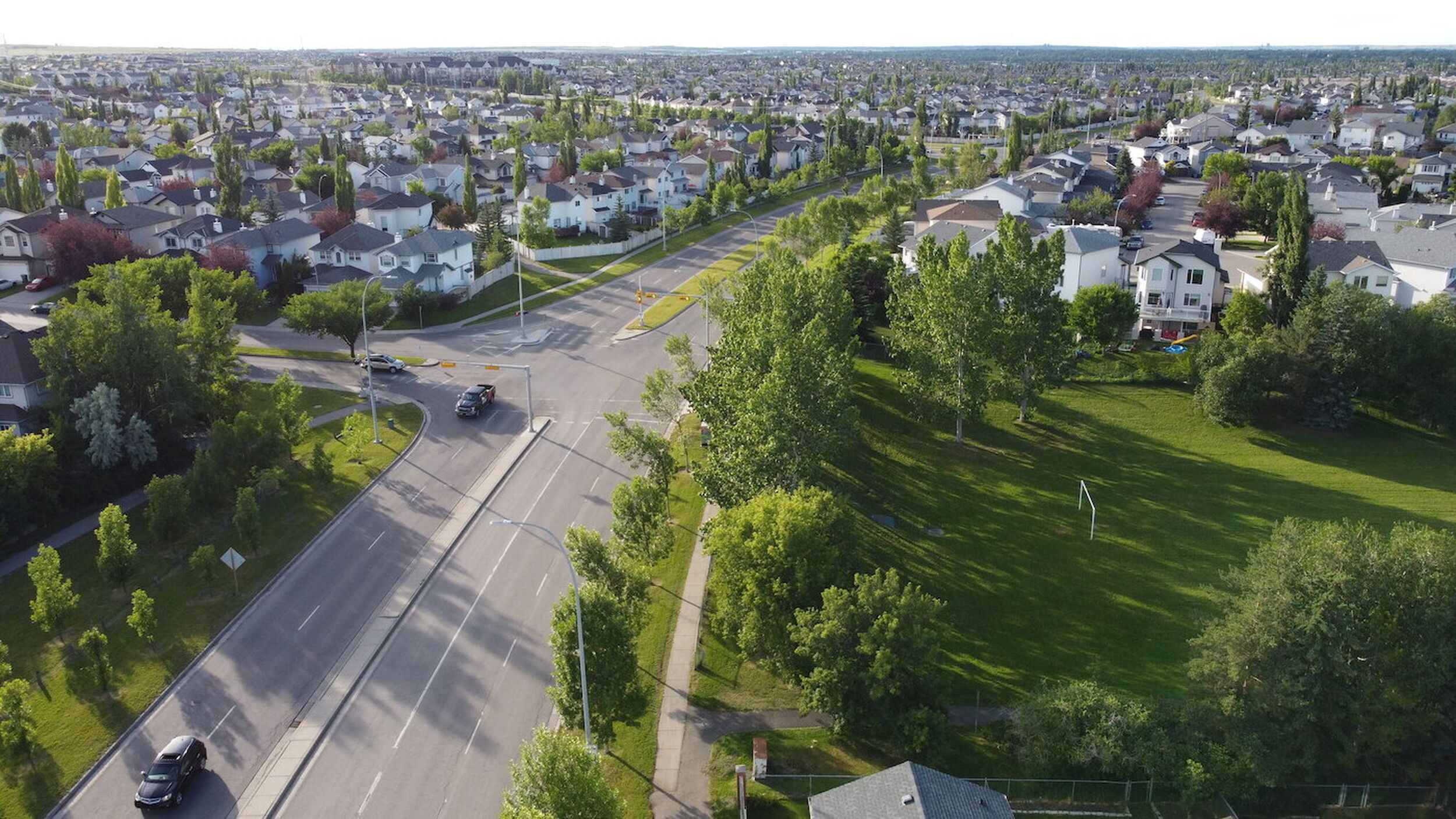 Calgary families choose the suburbs — why?
Pushed out of the inner city, many don't have a real choice.
The negative consequences of urban sprawl are well documented. The suburbs are bad for the environment, bad for our health, and often also bad for our sense of community. Yet, in 2018 Calgary city council approved the development of the infamous 14 new communities in the outskirts of the city, pushing the limits of the city's budget, infrastructure capacity, and environmental resilience.
For those of us who enjoy the perks of inner-city living—the amenities, walkability and vibrancy of our communities—it can be hard to understand those who've chosen to drive everywhere in exchange of "more bang for their buck," a big yard and a two-car garage.
Calgary's urbanites can be smug about choosing a more sustainable lifestyle in livable communities. On the surface, suburbanites seem to have chosen the opposite: an unhealthy lifestyle and individualistic values that perpetuate Calgary's unsustainable sprawl with no consideration for the environment or taxpayers' money.
But this is vastly simplistic.
Rather than asking what's wrong with suburbanites and their supposedly misplaced values, maybe we should first take a look at what options are really available to them.
Calling the inner-city home
The City of Calgary defines as inner-city the communities developed before the 1950s. That is, communities closer to the city's downtown core such as Inglewood, Bridgeland, Mission and Sunnyside.
Nearly 100,000 Calgarians call the inner-city home, but they are a rather homogenous crowd. For instance, Calgary's 2019 civic census shows that nearly half of inner-city residents have a post-secondary education. Most live alone or with a partner, and don't have children.

The average household size in the inner city is 1.2 people per dwelling.
With a median household income of $72,700, what choices do Calgary families really have?
Inner-city residents represent only 7% of Calgarians, but lots of young people are drawn there. One in three Calgarians between the ages of 20 and 35 live in the inner city. In contrast, 20% of Calgarians live in the far suburbs, or what the city calls "building out" communities. The rest live in the established communities in between.
"Building out" communities include neighbourhoods like Tuscany, Panorama Hills, Evergreen and Auburn Bay.
Residents of these communities have at least one child living at home—the average household size in "building out" communities is 2.8 residents per dwelling. These communities also have the highest rate of preschool-aged children.
When it comes to raising a family, most Calgarians seem to prefer the suburbs over the inner-city.
Accommodating a growing family
According to the Calgary Real Estate Board, in the second quarter of 2020, a detached or semi-detached home in the city centre (which includes most of what the city considers inner city) is in the upper $600,000s, a stark difference to other areas in the city which are closer to Calgary's benchmark price of $475,033. In the city centre, the most affordable option are apartments starting in the $200,000s.
But apartments are rarely a feasible option for families.
When he first moved to Calgary from Uzbekistan, Farkhod Fayzullaev rented a two-bedroom apartment in a high rise at Eau Claire with his wife, Umida, and their two young children. But when Umida became pregnant with their third child in 2016, they realized their apartment was too small to accommodate a growing family.

I don't see myself living in the inner city because I don't think I will be able to afford it.
"There was no place for us to put even a crib in that apartment," Fayzullaev recalled.
But finding a suitable place was difficult. "When we started looking, most [apartment buildings] don't offer three-bedroom apartments," he said. "They were all two-bedroom and smaller, and quite expensive."
As much as they loved the area and the lifestyle, they had to move out of the inner city to Evergreen in the far southwest. Fayzullaev says that a three-bedroom house with a bonus room for half the rent was too appealing—despite the "awful" commute.
Although Fayzullaev would prefer to live in a denser community and drive less, "I don't see myself living in the inner city because I don't think I will be able to afford it," he said. "Maybe when I'm old and my kids move out."
Kate Stenson and her husband Andrew are in a similar situation. They live in a one-bedroom condo in Bankview. With plans to start a family, last year they were planning to sell the condo and upsize to a place that would better accommodate a growing family.
"We definitely want to be inner city," Stenson said. "If we could pick where we wanted to live and affordability wasn't a question, then Sunnyside would probably be what we would be looking at."

One of the main factors we look at is how much we would have to drive to live in this neighbourhood.
But affordability is a question. So they're looking at Bowness, which is further than she'd like. "[One] of the main factors we look at is how much we would have to drive to live in this neighbourhood, and try to keep that to as much of a minimum as possible."
Stenson and her husband are also looking at housing alternatives like co-op housing. "We've been on the waitlist for Sunnyhill co-op for two or three years," Stenson said. "But it feels like one of those things where tomorrow we get a phone call or in 10 years."
With their first baby due in November, Stenson says they will try to make things work in their one-bedroom condo for now. "We'll see what we can do… it's kind of amazing how creative you have to get."
But some young families do get to live in the inner city.
Tiffany Freeman and her partner, Daniel J. Kirk, are raising their three boys in Sunnyside. They've lived and worked in the neighbourhood for nearly 10 years.
"I couldn't imagine doing it any other way," Freeman said in reference to raising her family in the inner city. "The reason behind that is the proximity to everything. They [the kids] can walk to school and [we] can walk to work."

A main contributing factor of how we are able to live comfortably in the inner city is, one: we rent, and two: we have a good landlord.
When their youngest boy was born in June, they briefly considered moving to a larger home in Hillhurst, but given the convenience and affordability of their current home, they decided to stay.
"A main contributing factor of how we are able to live comfortably in the inner city," said Kirk, "is, one: we rent, and two: we have a good landlord, and I know that's not always the case."
For families already living in the suburbs, inner-city living can be a distant dream.
Crystal Reynolds and her husband Jon, along with their two teenage daughters live in Calgary's most populous community: Panorama Hills. They've lived in the community since 2009, and they quite like it. The "pathways, green spaces, ease of getting out of town, the size of the house that you get" are some of the suburban perks Reynolds listed. "Overall, it's a good community. It is very diverse. I love it," she said.
But Reynolds misses the inner-city lifestyle, the amenities, the sense of community and letting her daughters walk to school. "I went to school in Crescent Heights," she recalled.
More recently, Reynolds and her husband decided to sell their home in Panorama Hills and move to the inner city. Although their daughters still live at home, they felt trading off the extra space for community amenities was worth it.
"I had a pretty good idea of where I'd love to live," she said, "Crescent [Heights] area would have been brilliant… But budget-wise we had to go a little bit more north."

Missing middle is the right price-point for young families who want to live in ground-oriented multi-bedroom units.
But when housing prices fell last year, they put their inner-city dreams on hold and took their home from the market. "We'd be paying people to buy the house," Reynolds said.
While evidence suggests that living in the suburbs is more costly in the long-term, in the short-term, disregarding the costs of a longer commute provides a solution to an imminent problem—shelter for a growing family.
"Inadvertently, by neglecting to consider the cost of transportation… banks are actually increasing your cost of living by encouraging you to live farther away," wrote Peter Schryvers in his 2019 book, Bad Data.
If cost is keeping young families from staying in the inner-city, how can the city support them to let them stay?
Calgary city hall is working on a new planning framework that might bring about some change—the Guidebook for Great Communities. Ward 9 Councillor Gian-Carlo Carra says that part of the problem is the lack of supply of what urbanists call the "missing middle." That is, the housing between one- and two-bedroom apartments in a high-rise, and a three-bedroom single or semi-detached home.
"Between the dense environment, with a $300,000 opening price, and the single-family environment with a $1.3-million opening price, you've got a million dollars of buying power missing from the marketplace," Carra said.
"Missing middle… is also the right price-point for young families who want to live in ground-oriented multi-bedroom units."

And the Guidebook is meant to facilitate the development of a variety of housing typologies and address the "missing middle."
To provide Calgarians with real choices… changes to zoning need to be complemented by other strategies.
Adding this "missing middle" to the pool of housing options seems key to allow young families to stay, but few developers are building it.
"Doing that type of housing at scale is challenging," said Alkarim Devani, president of Calgary developer RNDSQR. "Building 100 townhomes, the total cost per unit is significantly cheaper than for building four."
But the lack of "large swaths of land" where you can reach that scale, Devani says, is a problem with building in established communities. What he thinks would bring in some immediate change is developing city-owned land—where the city itself can drive the right kind of development.
To provide Calgarians with real choices and mitigate Calgary's urban sprawl, changes to zoning need to be complemented by other strategies.
Cities around the world are tackling affordability in a variety of ways: from building multi-tenure developments and co-op housing, to market interventions like rent controls.
In my upcoming monthly feature, Street Front, I'll delve into these alternatives, the challenges they present, and the possibilities they could bring about to change Calgary's housing landscape. Stay tuned.
Ximena González is assistant editor of The Sprawl.

---

Now more than ever, we need strong independent journalism in Alberta. That's what The Sprawl is here for! When you become a Sprawl member, it means our writers, cartoonists and photographers can do more of the journalism we need right now. Become a Sprawl member today!

Support in-depth Calgary journalism.
Sign Me Up!
This is a dire time for the news industry in Canada—and we need your support now more than ever. The Sprawl connects Calgarians with their city through in-depth, curiosity-driven journalism, but we can only keep doing this if readers and listeners pitch in. Join us by becoming a Sprawl member today!