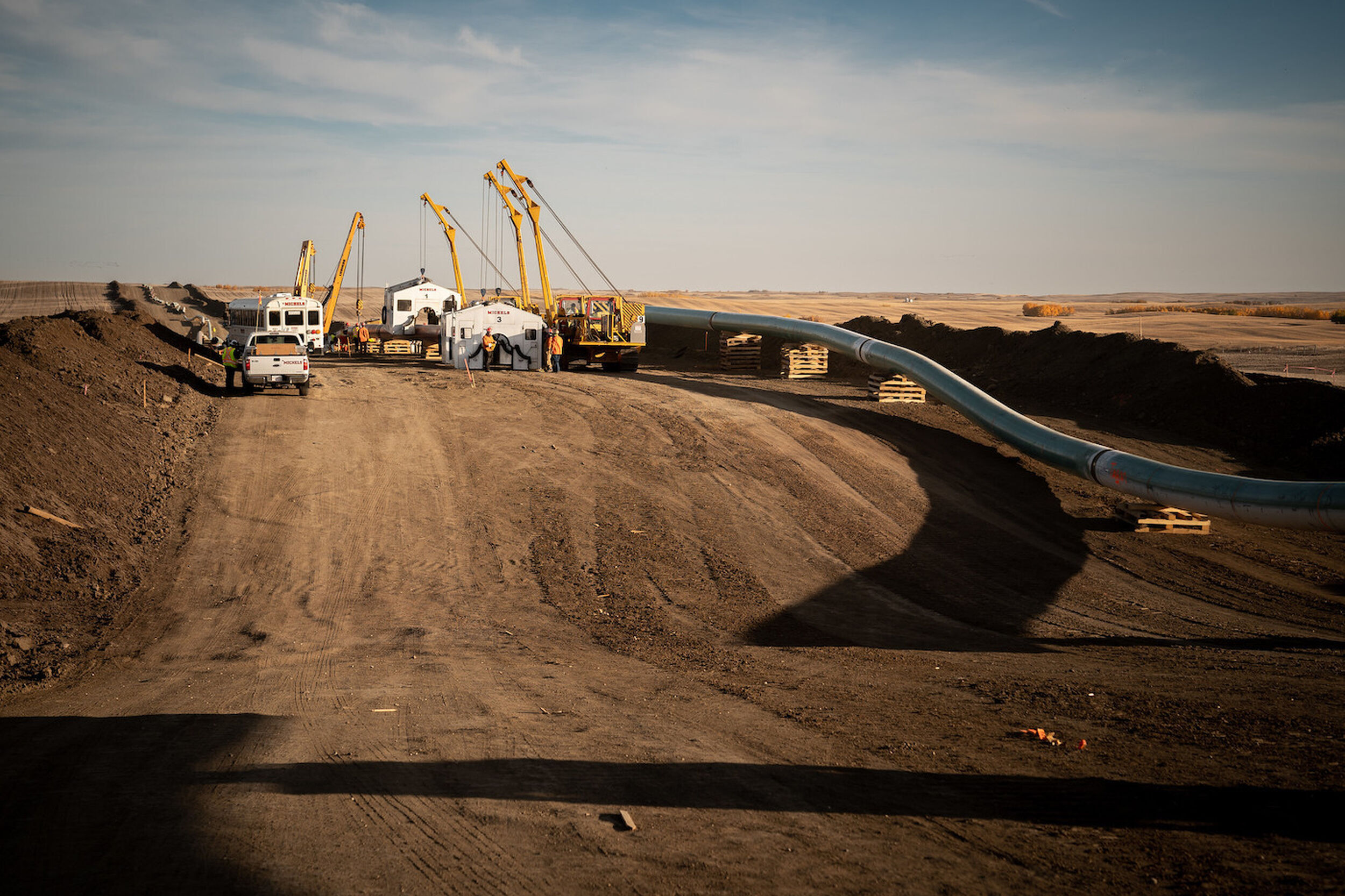 How Alberta threw away $1.5 billion on Keystone XL
Investors are wary of risky pipelines — so Kenney stepped in.
In January, Alberta Premier Jason Kenney held a press conference and called for economic sanctions against the United States.
That bit of bluster got some attention. But the real headline was that newly-inaugurated U.S. president Joe Biden had just cancelled the Keystone XL pipeline expansion, and Kenney had lost more than a billion dollars of Alberta's public money.
The media had framed the investment as a gamble, as though Kenney were throwing taxpayers' money around a casino.
It's an apt metaphor, according to a new report from the International Institute for Sustainable Development (IISD), which found that oil and gas pipelines in Canada received at least $23 billion in support from governments over just the last three years amid tepid market interest in such projects.

Often, private investors are not willing to make these massive investments, because they see that projects are politically risky.
Kenney's Keystone wager is an instructive case study on why public funds keep pouring in to controversial fossil fuel projects in an era of ever-worsening climate change—and why this "places public money at financial risk for current and future generations," as the IISD report puts it.
"It stems from their blinkered view that oil and gas is the past, present and future of Alberta," said University of Alberta political scientist Laurie Adkin.
Taking on risk that private investors won't
The IISD report examined government financial support for three projects: Keystone XL, Trans Mountain, and Coastal GasLink. Notably, over $10 billion of the total came after the start of the COVID-19 pandemic. The federal government's ongoing tab for Trans Mountain accounts for $16 billion on its own.
Fossil fuel extraction and development has been highly lucrative not only to Alberta but Canada, contributing billions of dollars to the economy and providing livelihoods for thousands of workers. (Shareholder profits are another story.)
This goes some way to explaining why governments in Canada are so eager to open their wallets for pipelines, says Vanessa Corkal, an energy policy advisor and the author of the IISD report.
"Often, private investors are not willing to make these massive investments, because they see that projects are politically risky and they might be tied up for years trying to get through regulatory processes, they might be dealing with protests that disrupt construction," she said.
"What we're seeing in Canada is governments stepping in to provide that last bit of finance that pushes the project to actually go forward. I think that's what happened with Keystone (XL), but it's also happened with other projects in Canada."
Put another way, as the market increasingly sees major fossil fuel investments as risky business, Canadian governments both federal and provincial have taken it upon themselves to mitigate that risk with the public purse.
And in the case of Keystone XL, the risk was readily apparent.
When Kenney became premier in April 2019, he had been in Alberta politics less than two years. Keystone XL, meanwhile, had been working its way through the various hurdles of planning and regulation for more than a decade.
Proposed in 2008 as a major extension to the Keystone pipeline system that carries diluted bitumen and synthetic crude oil from Alberta to Texas, this new section—termed "XL" for "export limited"— was meant to eventually transport an additional half a million barrels per day.
But Keystone XL faced years of opposition, including legal challenges and protests along its route, and rejection from Barack Obama. It seemed increasingly unlikely to move forward.
And then, the election of Donald Trump in 2016 changed what seemed possible. Though still facing many obstacles, with a new pipeline-friendly administration's support, Keystone XL had wind in its sails again.

Alberta was ready to provide even more than $1.5B
When the UCP took office in Alberta in 2019, the Keystone XL expansion was stalled. Trump's approval of the project was blocked by a U.S. federal judge in 2018 who ordered a new environmental review. Trump then issued a new presidential permit in 2019, expediting that process, which environmentalists decried as illegal.
This is when Kenney put Alberta's money on the table.
In addition to the $1.5 billion investment, Alberta also announced it would provide loan guarantees worth $6 billion beginning in 2021—a particularly significant form of support given the amount of risk the province was taking on regarding those loans.

It stems from their blinkered view that oil and gas is the past, present and future of Alberta.
With construction finally beginning, the thinking behind it was likely that Alberta's investment would give the project a significant and public vote of confidence in order to sustain the project's momentum and keep TC Energy in the game.
Politics, no doubt, also figured into the decision. Having spent his time in opposition framing Rachel Notley and the NDP as enemies to the economic interests of Albertans, Kenney had set himself up as being able to succeed on this particular issue where his opponents had failed. Now he had to prove it.
Two weeks after Alberta's Keystone XL investment announcement, a U.S. judge blocked construction yet again. Environmental and Indigenous groups continued to demonstrate against a pipeline intended to cross numerous bodies of water, sensitive ecological areas and aquifers.
It would still be a couple months before Joe Biden would explicitly say that he would cancel the project if elected president. But given that Biden served under a president who twice rejected Keystone XL, as well as his own previous comments—and given that Biden never trailed Trump in polling during 2020—there were plenty of red flags.
Perhaps Alberta's investment was meant to try and preemptively convince a potential president Biden to let the project proceed. If so, that gambit failed, and nine months later Kenney would be calling for economic sanctions against the United States.
'What kind of economy do we want?'
This was a clear effort from a government to put a thumb on the scale of the market. Adkin points out, as others have, that Kenney's neoliberal, free-market principles seem quite flexible when it suits his political interests. Most recently, the Alberta government purchased a 50% stake in a refinery northeast of Edmonton.
"It seems that he viewed this as a way of showing the world that he was going to stand up for Albertans' interests, and go a step further than the NDP had," Adkin said.
The $1.5 billion investment made by Kenney is gone, though TC Energy, which owns Keystone, has launched a NAFTA trade complaint against the U.S. to the tune of $15 billion. The Alberta government is considering joining that lawsuit, which could add considerable costs to the money already lost.

The risk when governments put money into risky projects is that they'll keep doubling down.
There is also the possibility of selling off equipment and materials for the would-be pipeline, which was 8% completed; it's unclear how much value could be recovered from such a yard sale, but it's likely to be a fraction of the $1.5 billion.
Corkal points out that Albertans actually got lucky in a sense—Kenney had also promised billions more in loan guarantees that would have put Alberta on the hook for more than $7 billion if the project had proceeded.
"The risk when governments put money into risky projects is that they'll keep doubling down," she said.
The bigger risk, though, is climate change. The billions that Kenney was willing to put on the line could have been spent on clean jobs or transportation or a transition for workers—in other words, reducing the financial risk for green projects instead of a pipeline.
"The question is, what kind of economy do we want," Corkal said. "From a climate perspective alone, there's an argument that these investments are the opposite of what we should be seeing."

Taylor Lambert is The Sprawl's provincial affairs reporter.
Support in-depth Calgary journalism.
Sign Me Up!
We connect Calgarians with their city through in-depth, curiosity-driven journalism—but we can't do it alone. We rely on our readers and listeners to fund our work by pitching in a few dollars a month. Join us by becoming a Sprawl member today!