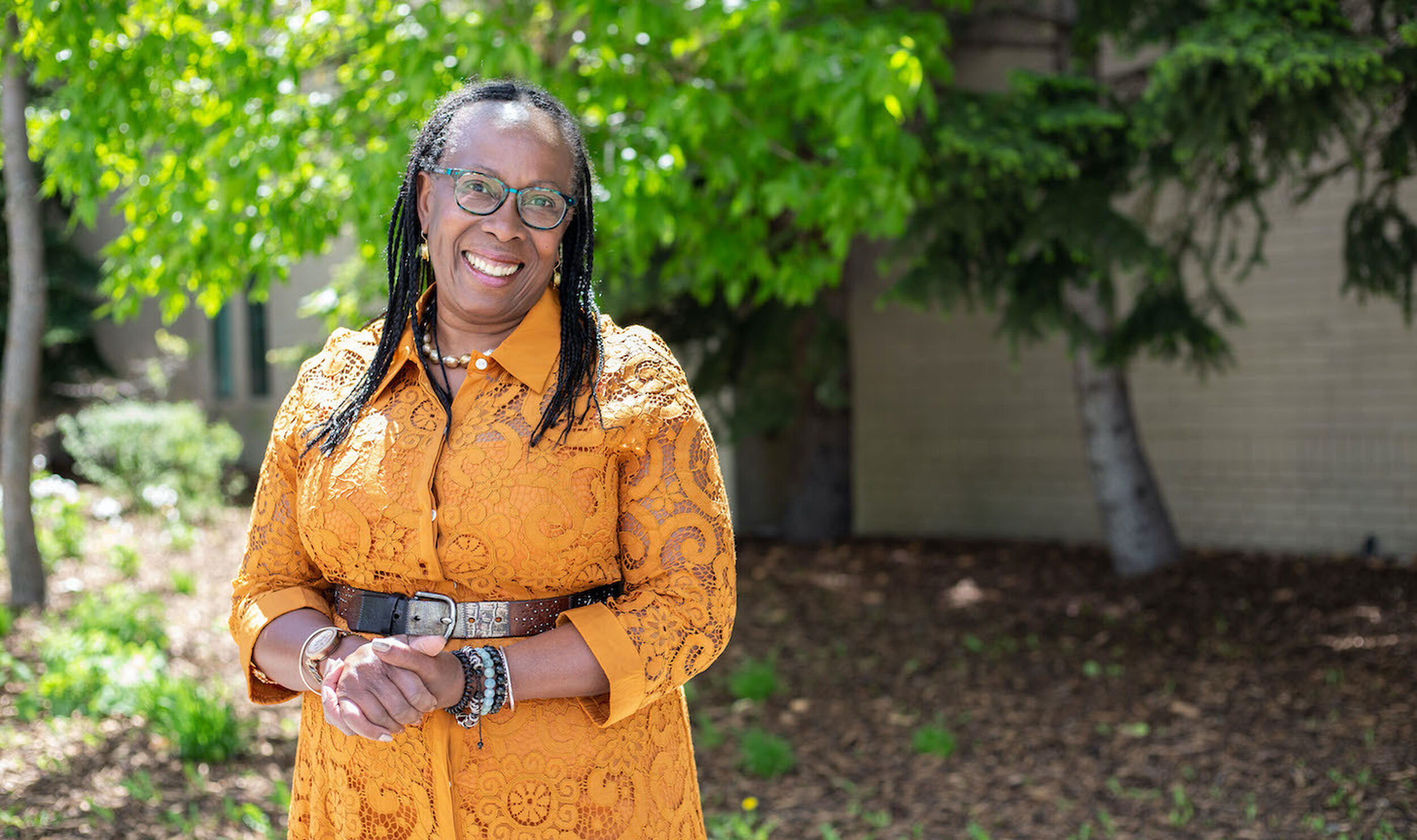 Expelling racism from the classroom
Calgarians advocate for anti-racist curriculum.
Marva Ferguson is an assistant professor in the department of child studies and social work at Mount Royal University. She moved to Canada from Jamaica in the 1990s after a tough breakup and a need for change.
But her career has taken her beyond the realm of personal change and into the study of socio-cultural issues which many racialized Canadians know all too well.
Growing up in the small farming town of Labyrinth, in St. Mary, Jamaica, she watched her father, a minister, and mother work to provide their community with support and resources that ultimately influenced her to seek to help others in her own way.
"One of the things that he [my father] has always said to me is, 'Speak your truth and do what is right,'" she said.

Whether ​'intentional' or not, racism is racism and classrooms are not always a safe haven.
She has worked with the federal government to counsel staff who have experienced various traumas in their lives, including discrimination. Her scholarly interests include the integration of newcomers and the integration of racialized students into Canadian classrooms, where some of the first steps to overall unification and embrace of diversity can begin.
Beneath Canada's 'tolerant' stereotype
For many Canadians, it can be easy to fall into the stereotypes that we are kind, we are accepting and we are tolerant. Perhaps that's the reason micro and macro-aggressive acts of racism are often viewed as a "one-off" rather than an indication of an oppressive framework which many of our systems are built upon.
Ferguson is one of the people working to address that framework from the inside, out.
Racism exists everywhere. Whether "intentional" or not, racism is racism and classrooms are not always a safe haven. It's a tough conversation to have, but acknowledging there is racism in the classroom is the first step.

It solidifies the perspective that teaching and education come from the dominant culture — and it's very unfortunate.
Whiteness throughout K-12 and post-secondary classrooms is a contributing factor to a system that may seem normal if you live your life without the conciseness of difference. But students of colour and students of a visible minority are faced with a lack of representation every day, from their teachers to their learning materials.
"It solidifies the perspective that teaching and education come from the dominant culture—and it's very unfortunate," Ferguson said.
"We have to start to observe the classroom. We have to listen to the language students are using because we always say that the K-12, they're mimicking what is happening in the family and then what they're learning in their social environments."
And these learned attitudes don't just affect students of colour, they leak through to interactions with racialized professors and instructors. From the coded language in her evaluations to aggressively racist attitudes, Ferguson is no stranger to that reality.
The harms of microaggressions
Microaggressive behaviours are just what the name suggests—the discriminatory attitude is veiled enough to not seem like a "big deal." Without a double-consciousness, the attitude below can seem harmless.

I've had students come into my office in tears.
For example, Ferguson used to bring snacks into her classes for her students. One day, a student dropped a candy wrapper on her desk and told her she could be the one to throw it out.
"I just stood up there and thought, 'This cannot be happening.' And I said I would never again put myself through this anymore."
Beneath that small, almost confusing act, is a level of disrespect that a white, male professor is almost guaranteed not to experience.
Racialized students might not yet have a name for the feeling that they experience when, early in their academic careers, they are being spoken over or disregarded by their white peers. But that doesn't make their experiences any less real.
"I've had students come into my office in tears and what they have said very openly is that they feel isolated. They feel as if they don't matter."

Part of what I am wanting to do is ensure that their voices are heard
But Ferguson's isn't a call to hopelessness. Rather, it's a call to education.

"Part of what I am wanting to do is ensure that their voices are heard," she said. "And to ensure the syllabus is representing the diversity from the position in which we speak."
Community pushes for anti-racism education
She's not the only pushing for representation in the syllabus. As the public spotlight finally turns to the education system, local activists are using that opportunity to gain the attention of public officials.
Nicole Dodd, Cindé Adgebesan and Pam Tzeng are calling Alberta's Education Minister Adriana LaGrange to seriously address racism in the classroom.
Moved by the recent protests in Calgary, the three came together and started an email campaign urging officials to include anti-racism teaching and Black Canadian history in Alberta's K-12 curriculum.
"We wanted to do something tangible to make an impact to allow for this change in mentality to be followed by a change in the thing that we had all experienced together, which was our formative education," Dodd said.
"Anti-racism is a practice. It's a building of skills over time to be able to relate to people and to see the systems that we're participating in that we're just kind of all surrounded by," Tzeng added.
"Teachers and students need to develop those skills."

Anti-racism is a practice. It's a building of skills over time.
"It's to reform the current curriculum by adding minority perspectives—as opposed to the strictly white narrative that's currently used to discuss major historical events," said Dorsa Zamanpour, the organization's executive director of culture.

Ferguson says that in order to address the issue, institutions must actively work to bring in the voices of marginalized communities and further ensure that those voices are welcome within educational institutions.
The onus doesn't just fall on teachers and professors. Education begins at home where learned attitudes are solidified.
She says that beyond the work at home and in the classroom, minority students need to keep their mental health in mind.
"Ask for help, reach out," she said. "Remember that it's not so much about you, it's about the other person who is saying the comments... and not to sit and stew in the messiness of what's going on around you."
Ferguson is currently researching the experiences of individuals who came to Canada as children and who, years later, are reunited with their parents. As for the future of her work, Ferguson hopes to return to Jamaica, once it's safe, to visit high schools and support the students in developing plans for their own futures.

Hadeel Abdel-Nabi is The Sprawl's staff writer intern.


---

Now more than ever, we need strong independent journalism in Alberta. That's what The Sprawl is here for! When you become a Sprawl member, it means our writers, cartoonists and photographers can do more of the journalism we need right now. Become a Sprawl member today!
Support in-depth Calgary journalism.
Sign Me Up!
We connect Calgarians with their city through in-depth, curiosity-driven journalism—but we can't do it alone. We rely on our readers and listeners for support. Join us by becoming a Sprawl member today!